To sustain this free service, we receive affiliate commissions via some of our links. This doesn't affect rankings. Our review process.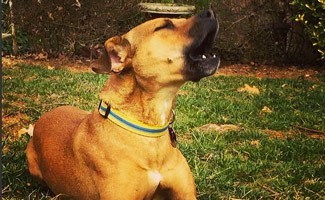 Spring is here!! And that means it's time to get off the couch, grab the leash and get outside with your dog. I cannot think of a more exciting time of year for us humans or our canine friends when everything is blooming and hope springs eternal (or at least the flowers do!). And speaking of Spring, we've got lots of new articles to spring on ya that will also hopefully help you out as you dive into warmer weather.
How To Avoid A Heat Stroke In Warmer Weather
As the weather heats up, so does the car. So be super careful when driving around with your dog in tow. Here are some tips as well as symptoms to help keep your dog out of heat stroke danger.
CAUTION: If You Buy Pet Meds Online, Read This Before Your Next Order
You've probably heard lots of horror stories about buying human medications online from Canada, Mexico, India and beyond but what about your pet's meds? Do you know where they come from and are they safe? You should take similar precautions to research the online pet med provider thoroughly before you place your next order. This new article has some very quick and easy tips to help you make a smart and budget-conscious choice.
Dog-Friendly Travel: Plan A Mountain Getaway With Your Dog
A trip with your dog is always better than one without which is why I took my dogs along on my most recent trip to the mountains in Asheville, NC. Read all about it and get started planning your dog family trip ASAP.
Plan Ahead: Pet Insurance Helps You Be Prepared Financially For Emergencies
You have health insurance to protect your wallet against emergencies and so should your pet. Read about one of our top picks in this month's pet insurance review of Healthy Paws.
Dog Health: Achoo! Does Your Dog Have Allergies?
Does your dog have itchy skin all of a sudden? Is she sneezing more than usual? Here are some tips to help you look for allergy symptoms in your dog and also some remedies to help you get your pet feeling better in no time.
April fools is right around the corner but no reason to fool around when it comes to your dog. Go ahead and enjoy the warmer weather with your dog on a walk tonight – he will be so thankful. In fact, he might even jump for joy!
What is your best dog tip for summer?
Disclaimer: The information provided through this website should not be used for diagnosing or treating a health problem or a disease. It is not a substitute for professional care. If you have or suspect you may have a health problem, you should consult your health care provider.
Disclaimer: This website contains reviews, opinions and information regarding products and services manufactured or provided by third parties. We are not responsible in any way for such products and services, and nothing contained here should be construed as a guarantee of the functionality, utility, safety or reliability of any product or services reviewed or discussed. Please follow the directions provided by the manufacturer or service provider when using any product or service reviewed or discussed on this website.