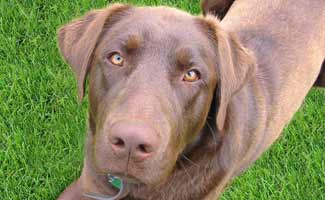 Despite the fact that the groundhog saw his shadow a few weeks back, we are still getting pretty encouraged by the warmer weather on the horizon. And, no one is more excited than my dogs. After a week of snow and ice here in NC (see pic below), they are now spending all their time in the sunshine and the 65+ degrees temperature in the backyard enjoying the rays and outdoor adventures!
New Stuff this Month
We've been busy this past month bringing you new tips and tricks to help you and your pup live an even happier life together. Here are a few of the ones we thought you might enjoy for this 2014 March Newsletter from Canine Journal!
Pet Friendly Dog Hotels
With all this cold weather, who's ready for vacation?!? We know we are so we just finished our review of pet friendly hotel chains so that you find the best place to stay with your dog on Spring Break, Summer Vacation or anytime really! We even picked out the best of the best so you know which is the most puptastic lodging choice while traveling.
Top Dog: Super Smiley
Every month we have the pleasure of interviewing one very special celebrity dog who is out there making it big in the world! This past month, we were joined by Super Smiley who answered some questions and really inspired us with his story of dog rescue education. Plus, he is a Flash Mob sensation with his Super Smiley Flash Mob 4 Kindness.
Pets Best Insurance Review
We also did a deep dive into Pets Best, another pet insurance option for you this month. And we want to remind you that you have lots of options, but when an emergency happens, you will not want to have to worry about your finances while also worrying about your pet's health. While your pet is healthy is the best time to do your research, get a few quotes and get signed up for a pet insurance policy to make sure you are covered when it matters most. We have lots of info on our site to help you out with understanding why this might be a sound investment for your pet's health and your sanity.
Rawhide Bones: The Good, The Bad & the Downright Dangerous
A lot of us turn to rawhide bones to entertain our pups and keep them from chewing up our furniture and shoes. But, are they safe? And are there certain ones that are safer than others? We've done the research so you can get the low down in one quick and dirty article.
Welcome New Peeps!
It's always exciting to welcome new subscribers to our newsletter and this month we say a big sloppy hello filled with tail wags and kisses to Denise, Steve, Deb, Altha, Neil, and Jim. You've made a great choice in signing up to get lots of free tips, tricks and even maybe an exclusive deal or two from one of our partners! We hope you enjoy and share this newsletter with your friends and family to help their canines live a happier, more fulfilling life too!
Happy tails to you, Michelle