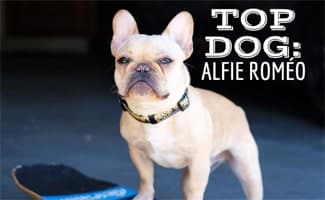 Alfie Roméo is an adorable Frenchie from California who claims to be a "promoter of laughter, silliness and smiles." He and his brother Tobi will light up your Instagram feed with adorable photos of them playing and hamming it up for the camera. Learn more about their breed, tips on being famous and celebrity pups he admires in our latest top dog interview.
How did you and your parents meet?
We first met online. We exchanged photos when I was three weeks old, and it was love at first site. We sent photos and communicated weekly via text until my mom came to pick me up in Kentucky when I was 12 weeks old.
How'd you get the name Alfie Romeo?
Well, picking my name was a joint family decision among my parents and four human siblings (although mom had veto power). Imagine a family who cannot even decide on where to go out for dinner without arguing, let alone decide the name of a new puppy. It took 2 months to agree on a name.
My brother, Joey picked "Alfie" and my mom added "Roméo" (pun intended)…as in the car brand Alfa Romeo.
What's a Fawn Frenchie?
I wish I had a more exotic answer, but the word "fawn" is actually my color. In the Frenchie world, my color is called "fawn."
What do you like most about California?
What I like most about California life is the weather. I DON'T do winter or rain. I DO beaches and sunshine.
Do you like to share the spotlight with your brother?
Ok, I will admit that Tobi is definitely my BFF, but…c'mon! Does ANYONE REALLY want to share the spotlight with his brother? But, honestly, I think we make a great team together. I annoy him, and he's a good sport about it (usually).
What are some of your favorite pastimes?
Indoors, I would have to say making my humans happy by playing fetch with them. For some reason they love to throw balls and toys down the hall, and it makes them so happy for Tobi and me to chase them. Gotta keep the humans entertained sometimes.
Outdoors, I love to skateboard. I have two boards. One I keep in the family room for indoor practice and another board my mom keeps in the trunk of the car. The best is when we go early to the skateboard park. We try to practice at least twice a week.
Lastly, I wouldn't be a true Frenchie if one of my favorite pastimes wasn't sleeping and snuggling. The humans LOVE this, and I have to admit, so do I.
Do you have any pet products that you love?
Besides popcorn? Hmmmm…Popcorn is THE ultimate! But let's see…my favorite food, after popcorn, would be watermelon. Sometimes my mom gives me an entire half of watermelon and lets me eat it on the back deck (sharing with the bro, of course). I also love to chew on femur bones (ok, that's the primitive wolf in me).
My favorite toy would be my "mint" that I play fetch with in the hall. If you follow me on Instagram, you've probably seen me and Tobi fighting over it.
Who are some of your favorite fellow dog celebrities?
Some of my favorite "celebrity" dog friends I follow are one of the all-time greats, Manny (@Manny_the_frenchie)! How can you not love a dog who sleeps in sinks?
I love Bluenjy (@Bluenjy) with his unique talent of holding food and things with his paws. He can feed himself. This little guy is deaf and one special Frenchie.
My favorite skateboard idol would have to be Eroc (@erocdog).
And, my all-time favorite pug is none other than Doug (@itsdougthepug).
Any tips on being Instagram famous?
Honestly, I didn't seek Instagram fame. Fame found me. Be real. Be genuine. Be down to earth and true to who you are as a Frenchie. Engage with all of your followers and respond to comments and questions.
Above all, HAVE FUN with your posts. If you are truly having fun, you will come across as genuine. Let people see all sides of your personality. From the stubborn obstinate puppy who refuses to poop outside in the rain, to the silly goofball who does rollie pollies for attention, to the sweet innocent puppy who snuggles up tight on your legs.
What's next for Alfie?
I wish I could be profound and say I intend to cure cancer or rid the world of all evil. But, honestly, I don't plan beyond my next nap or my next treat. I just want to keep on living the dream and making humans and fur friends smile and laugh as much as I can.
If I can bring a smile to at least one human's day, then I am a happy little puppy. Nothing "makes my day" more than getting a comment or direct message that says "Alfie, you made my day."
Thanks Alfie for taking the time to chat with us. Learn more about Frenchies in our french bulldog article.
What do you love about Alfie?