To sustain this free service, we receive affiliate commissions via some of our links. This doesn't affect rankings. Our review process.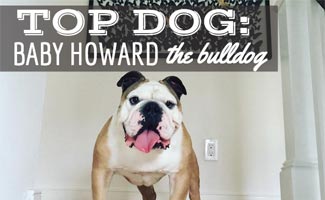 Our latest Top Dog interview is with Baby Howard the Bulldog. He was found at 6 weeks old wandering the streets of NYC and was turned into a shelter. He was so grateful when he was adopted. Now he devotes his time to spreading awareness for other homeless pets as a Rescue Ambassador and therapy dog. Along the way, he's made his way into the spotlight by modeling for Ralph Lauren and Tommy Hilfiger ads and acting for HGTV's Posh Pets, E's Ice Loves Coco, and more. If that's not enough, Baby Howard won the honors of AKC Best in Class for 6 to 9 month olds at the LIBC Puppy Match in 2011 and he is now AKC certified. Learn more about this accomplished bulldog in our exclusive interview.
How did you and your humans meet?
I was 6-weeks old and found wandering on the street of Brooklyn, NY in March of 2011. A good Samaritan found me and dropped me off at the local police station. One of the officers took me to Animal Care Centers of NYC, Brooklyn Shelter. Since I was so tiny (only 7 lbs), one of the shelter volunteers took me to foster so I wouldn't have to go into general population at the shelter. They alerted local rescue groups and the Long Island Bulldog Rescue (LIBR) stepped in with the help of the NYC Mayor's Alliance to spring me from the Shelter. On March 28, 2011, one of the LIBR volunteers came to pick me up and I went into her home to foster. Long story short, I looked at her and it was love at first "Woof". My parents adopted me officially in May 2011!
Why are you named after Howard Stern?
My mama was a volunteer with LIBR and one of their biggest supporters was Howard Stern and his lovely wife, Beth. Since I already had a huge personality and a knack for entertaining, they decided to name me "Baby Howard". Since Uncle Howard was the "King of Media", I would become the "Prince of Rescue Media" and help to share awareness and support for all homeless animals.
What's been your favorite gig and why?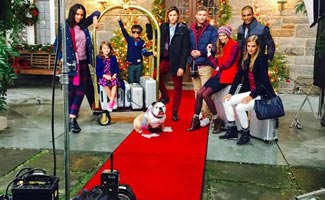 My Absolute FAVORITE gig was for "Comcast" this past year. I was filming a commercial where I was required to chew on one of the BIGGEST bones I had ever seen. It was also basted with butter so I would lick more (like that was even necessary LOL!!!). The Metropolitan Opera was a huge highlight too. So much fun having the amazing Renee Fleming pet me during each performance while I listened to her beautiful voice singing. So soothing!
Video: Baby Howard Watching Opera
See Baby Howard watch some soothing opera sounds (in an adorable bow tie).
How does one go about getting a puppy agent?
Learn your basic commands and feel confident in front of people, cameras and lights. I would say Google in your area and see if there are any local animal agents that would take you on. Emailing pics and talking about some of the cool stuff you love doing and feel comfortable doing always helps!
What are some of your favorite past times?
My favorite thing to do is take a dip in my bone-shaped pool! I love to jump in and out and fetch toys and be silly. Playing and having puppy camp outs with my bestie, Teddy Roosevelt the Bulldog is another ultimate fave!
How have your siblings taken to your brush with fame?
They make sure to keep me in check. Princess is the alpha of our pack and Bella is second in line. I listen to all their suggestions on how not to become a big diva. Humble and happy is the way to go! I'm so grateful for being rescued and being able to help other animals who are still in need of homes.
What's your best trick?
Basically, I will do anything for a cookie. But my best trick is to bark on command. Bulldogs are not known to be huge barkers so this was a fun trick to learn.
Have you met Howard Stern?
I love Uncle Howard and Aunt Beth Stern. I have never met Howard as he is super busy and wakes up really early for his radio show. He has mentioned me several times over the years. I have kissed Aunt Beth on the lips and have joined her for several TV appearances on HGTV and The Today Show. She is a kind, beautiful lady who does so much for animals in need!
What advice to you have for other potential pup parents?
ADOPT DON'T SHOP! Rescue organizations and shelters are filled with potential BFFs for you. The initial period for a rescued pet can be scary. Be patient with the transition time. You won't be disappointed. Rescued animals often are already trained and super smart (especially the senior pets). Adopt and save a life!
Anything else to add?
Another fun thing I LOVE to do is go to schools for "Meet and Greets" and help spread awareness for shelter animals. My mama and I read books to the kids and I get to sit, cuddle and give sloppy kisses to them. These kids are so smart and they are so eager to learn and organize ways they can help. We had several schools participate in school-wide drives to collect goodies for shelter animals.
Checkout Baby Howard bulldog on Instagram, Facebook and YouTube.
Thanks Howard for all you are doing to spread the love for adoption and for sharing your lovely story with us.
What do you love most about Baby Howard
Disclaimer: This website contains reviews, opinions and information regarding products and services manufactured or provided by third parties. We are not responsible in any way for such products and services, and nothing contained here should be construed as a guarantee of the functionality, utility, safety or reliability of any product or services reviewed or discussed. Please follow the directions provided by the manufacturer or service provider when using any product or service reviewed or discussed on this website.