To sustain this free service, we receive affiliate commissions via some of our links. This doesn't affect rankings. Our review process.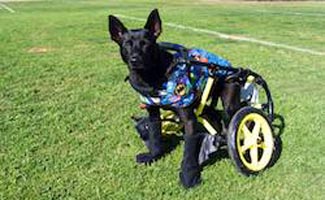 Top Dogs is a segment where we feature a Q&A session with a famous canine.
Batman is this week's Top Dog. After being hit by a car on the streets of Taiwan and being left to die, Batman drug himself across multiple lanes of traffic to a secluded alley. His first rescuer used him to raise funds for other rescue dogs, and Batman was left at a private shelter, with his wounds and injuries uncared for. When his second rescuer, Yenchi, found him, his hind end was severely infected from the accident, and he was bleeding from the mouth. Yenchi immediately began the process of taking over Batman's rescue and Batman spent eight months recovering in a Taiwan foster home. Soon after, US-based rescue organization, Love & Second Chances, decided to bring Batman to the United States. He earned his name from his first foster parents, Eray and Anjolee and in 2012, earned the title "Happiest Dog in America" in a contest by HUB TV Network. He found his fur-ever home soon after with Pam and Dale Goldwater. You can find him on Batman's Facebook page.
1. What's Your Favorite Treat?
My mommy makes the best peanut butter treats I've ever had.
2. Who's Your Best Playmate And Why?
I like play "face-eater" with my brother, Porthos, and my sister, Daisy, because they don't go easy on me just because I'm "special."
3. How Old Are You (In People Years)?
Hmmm. Nobody is really sure, but we think I'm around three-and-a-half in people years.
4. If You Could Be Any Dog For A Day, Who Would It Be?
That's a hard one, because there are so many great dogs to choose from. I think, today, I would be Luscious Lucia from Long Island. She has an inoperable cancer tumor on her face. I'd trade with her so she could be pain-free, without drugs, and even though I have a special need too, she could feel what "normal" feels like for a day.
5. How Do You Feel About Cats?
I love them! I have two housemates, Hunter, who likes to hang out with us dogs, and Whiskers, who is a cranky old lady. I try to play with Hunter by giving him licks and little nips; he pretends he doesn't like it, but always comes right back for more. Silly cat.
6. We Think We Know, But We Still Have To Ask: Who's Your Favorite Super Hero?
No, really, you don't have to ask: I love Batman 🙂 He stands for good and so do I.
7. Where Did The Name For Your Fans, "Minions" And "Minionettes" Come From?
My dad started calling them that. A minion, by definition, is a follower. Many, many people follow my Facebook page. Then we just had to add the male and female equivalents.
8. How Did You Get Your Name?
My first foster dad, Eray Bekir, named me Batman because of my ears and because I was sent to them with another little dude named Alfred. I think he named me perfectly.
9. Who's Your Favorite Fellow Celebrity Dog?
My favorite celebrity dog is Hooch, from the movie Turner and Hooch. He was a great dog. I want to be like him when I grow up.
10. What's Your Advice For Disabled Dogs Everywhere?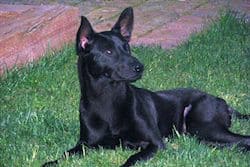 My mommy writes my paw-tographs, but I dictate everything she writes. This is my favorite one: "A little love, a little courage, and a lot of determination can make miracles. I know because I am one. Never give up." If I had given up, I would have never even made it out of the alley in Taiwan. But I didn't (give up). And look where I am now! Miracles do happen.
Nominate A Top Dog
Have a Top Dog you think is worthy of being featured here? Post your nomination below and a brief description of why that special pup deserves some red carpet treatment too.
Disclaimer: This website contains reviews, opinions and information regarding products and services manufactured or provided by third parties. We are not responsible in any way for such products and services, and nothing contained here should be construed as a guarantee of the functionality, utility, safety or reliability of any product or services reviewed or discussed. Please follow the directions provided by the manufacturer or service provider when using any product or service reviewed or discussed on this website.