To sustain this free service, we receive affiliate commissions via some of our links. This doesn't affect rankings. Our review process.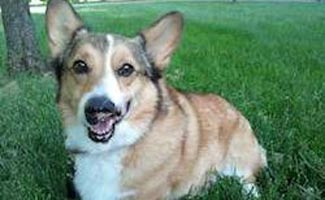 Top Dogs is a segment where we feature a Q&A session with a famous canine.
Benny Corgipants is this week's Top Dog. In November 2010, Benny was rescued from an awful puppy mill in northwest Kansas by the Corgi Connection of Kansas. During his time at the puppy mill, Benny was attacked and his injuries were left untreated, the missing pieces of his nose and lips left him disfigured, but not unhappy. Today he shares a loving forever home with his 11-year-old Corgi big brother, Biggie, a Cockatiel, and, "ugh" he says, "two cats." He loves people (especially girls), rides in the car, long walks, and making new friends. You can join his 3,000+ Facebook fans and follow his adventures here.
1. What's your favorite treat, Benny Corgipants?
My favorite treat is bacon, but I do like the thrill of forbidden treats. You know, things picked up off the ground that humans think are disgusting.
2. Who's your best playmate and why?
My favorite playmate is Herkie (Hercules) the Chihuahua. I like him best because he is smaller than me. I am kind of scared of larger dogs.
3. How old are you (in people years)?
I'm probably about 7 (I don't know for sure).
4. If you could be any dog for a day, who would it be?
I would like to be Ernie the Corgi from Australia (aka Ernie Ozzy). Almost every day, he goes to a beautiful beach and he looks so happy, always smiling with his big, swishy tail.
5. How do you feel about cats?
I don't like 'em. They are stupid. And I really hate it when they want to rub up on me. Grrr.
6. We see you like to dress up: What's your best favorite accessory?
My favorite accessory is my Brave Coat. It's a grey raincoat that keeps the rain off my back and it makes me feel handsome and brave.
7. Can we also follow your adventures on Instagram?
Nope. Mama's low tech, she hasn't moved to Instagram yet. But Facebook, I am there.
8. How did you get your name?
I was rescued by Corgi Connection of Kansas. Marte DeMars (Jeanette's hubby) named me Benny C. after a childhood friend that he admired that had a facial deformity. My Mama named me Benny Corgipants when she started my Facebook page.
9. Who's your favorite fellow celebrity dog?
My favorite celebrity dog is Harley. He's a one-eyed Chihuahua that was rescued by National Mill Dog Rescue. That rescue organization and CCK are my heroes! Harley has been through a lot, like me, and he works hard to help other dogs and speaks out against puppy mills.
10. What's your advice for disabled dogs everywhere?
Well, when I got to my forever home, I was scared of everything and worried that someone would hurt me again. My Mama and Daddy try to treat me like a regular dog, but they also try very hard to be consistent and patient with me and give me time to learn to trust again. So my advice for other mistreated or disfigured dogs or people would be to put the past behind you and open up your heart again and love. People will love you for who you are on the inside, not what you look like on the outside.
Nominate A Top Dog
Have a Top Dog you think is worthy of being featured here? Post your nomination below and a brief description of why that special pup deserves some red carpet treatment, too.
Disclaimer: This website contains reviews, opinions and information regarding products and services manufactured or provided by third parties. We are not responsible in any way for such products and services, and nothing contained here should be construed as a guarantee of the functionality, utility, safety or reliability of any product or services reviewed or discussed. Please follow the directions provided by the manufacturer or service provider when using any product or service reviewed or discussed on this website.