To sustain this free service, we receive affiliate commissions via some of our links. This doesn't affect rankings. Our review process.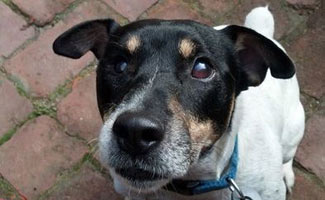 Baxter the blind dog is the mascot of The Blind Dog Cafe in Washington DC. His owner, Jonas Singer has been featured in the news including The Washington Post and PBS. But we were curious to get to know the dog who inspired the cafe. When not running around the cafe, Baxter and Singer can be found running their other venture, Union Kitchen. We sat down with Baxter to get to know the real deal behind the name of the coffee shop, infamous for its mouth-watering, award-winning chocolate chip cookies. And although he's got his own cafe named after him, Baxter is a pretty humble dog who enjoys the simple pleasures in life.
Baxter, tell us how and when did you and Jonas meet?
Me and Jonas met about 4 years ago. I'd been bumping up and down the east coast, literally, and one day this lady just takes me to his house. I got up his stairs fine, no problem even considering the eyes, or lack thereof. Got inside. Peed on his couch. And then the lady left. I wonder when she's coming back…
Was it love at first sniff?
I don't remember Jonas sniffing me. But we get along.
How old are you and do you have any siblings?
I can never remember my birthday, maybe on account of bumping my head a lot. I feel young. But the knot on my head does seem to be getting a lot bigger. There is another dog, Bertie. She's a real piece of work. I can say that because she's my sister. But if you say that, I will literally rip your throat out.
How did you feel when they decided to name a cafe after you?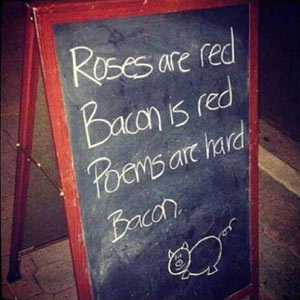 You'd think if it's named after me, they'd be more generous with the bacon. Jerks.
Any perks of having a business named after you?
Bacon.
Do you get involved with the business or are you pretty paws off?
Oh yeah. I mean, you gotta keep an eye on your bacon. I do a close personal walk through and inspection probably 4-5 times during each visit I make to the cafe. I just barge through the back door and storm the kitchen. The staff really appreciates the accountability, I think.
do you have a favorite food item on the menu?
I'll go with bacon.
Canine Journal: (This answer was especially surprising to us. Ha!)
Any other hot spots to hang out in DC besides the Blind Dog Cafe?
Ya know, I just love peeing on things. Places where I can do that, where I can pee on things, that's really where I like to go. It really opens up the city to me. I like walking on sidewalks where I can pee on things. And I loooove walking on grass where I can pee on things. That and the top of the Washington Monument; I hear the view is amazing.
Canine Journal: (We hope you didn't pee on the Monument, Baxter!)
When not running a business, what do you like to do in your free time?
Eating bacon. Peeing. I'm also into sleeping. Bertie and I like to wrestle a bit, so we'll do that. Eating is up there. And pooping. I also really enjoy Nate Silver of FiveThirtyEight.com.
Who is your business mentor/idol and what other celebrity dogs do you admire?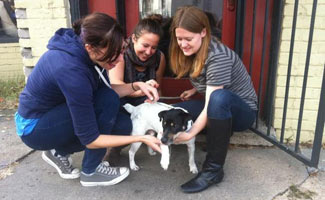 Are you familiar with the book Good to Great? I ate that the other day. When Jonas came home he started screaming and crying, "How will I ever be greeaaaatttttt?" What a drama queen that guy.
Anyways, the answer to your question is no. I'm a dog, man. I eat and poop, I don't have a business mentor. If I did have to name an influence, I would say Jonas. He's wise and caring and, from what I can tell, super handsome. (Please don't print what follows – I'm only saying Jonas because he feeds me and he is seriously insecure and if he reads this and I don't say he's my idol or whatever he is going to fuh-rEEK out.)
Since you live in DC, have you spotted or are you friends with Bo and Sunny Obama?
Have you spotted or are you friends with Barack and Michelle Obama? Lady, I'm a dog. I eat, pee, and sleep. Have I not made that clear? Jeez.
Anything else you'd like to share with us?
Yo, for real, I once ate one of those chocolate chip cookies from The Blind Dog Cafe. Jonas never lets us eat them because he's like "It will seriously kill you!" Like I said, drama queen. Anyways, I snagged one. Darn good, those cookies. Yeah, I was in a coma for like 8 hours, but it's all good. Worth it. So you all should come down to Blind Dog and get some cookies. And, while you're here, bring me some bacon. Editor's note: Blind Dog Cafe has closed.
Disclaimer: This website contains reviews, opinions and information regarding products and services manufactured or provided by third parties. We are not responsible in any way for such products and services, and nothing contained here should be construed as a guarantee of the functionality, utility, safety or reliability of any product or services reviewed or discussed. Please follow the directions provided by the manufacturer or service provider when using any product or service reviewed or discussed on this website.