To sustain this free service, we receive affiliate commissions via some of our links. This doesn't affect rankings. Our review process.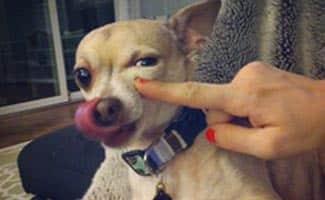 Top Dogs is a segment where we feature a Q&A session with a famous canine.
Who better to kick off our Top Dog series than with Burger from the Young House Love blog (view their book on Amazon: Young House Love). Burger was kind enough to take precious time away from hiding under the covers and roaming around his parent's Sherry and Jon's home improvements to share some insight into what it's like being a top dog in Richmond, Virginia. It's a tough job but someone's gotta be man's (and woman's) best friend. Now let's get to know Burger better, shall we?
1. What's your favorite treat?
Peanut butter is heaven in a spoon. (We couldn't agree more Burger!)
2. Where are your favorite hang out?
I love to go bug hunting outside. You should see it. It's impressive.
3. What's your best trick?
I'm really good at the "leave it" command. So my mom or dad can hold a glistening piece of bacon right in front of my nose and say "leave it" and I won't so much as look at it, but I'll scarf it down the second they say "take it."
4. How old are you? (in people years)
I'm 6. (Really? You don't look a day over 5!)
5. If you could be anyone for a day who would it be?
A human, so I could open the pantry and the refrigerator myself.
6. Who do you like best? (Sherry, John or Clara?)
Clara! She always has something sticky and delicious on her hands – I'm partial to jelly.
7. How do you feel about cats?
Ironically I loathe them less than most dogs. I know, I'm a disgrace to dogs everywhere.
8. What's your favorite fellow celebrity dog?
I have always looked up to the Taco Bell dog. He paved the way for feisty tan chihuahuas like myself.
9. Do you have any nicknames?
I probably have a million: The Burgs, Burgsie, Burgmeister, Burg-dorf Goodman, Burgercita, the list goes on…
10. And just for fun….What's your favorite home improvement project to date?
I hate the noisy ones, but painting's fine with me.
Thanks Burger!
Thanks for throwing us a bone, Burger. Want to get to know him more and read more fun in the life of Burger and his family? Check out his cute little face gracing the cover and pages of their new book, in a bookstore (or virtual bookstore) near you!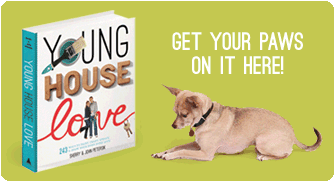 Nominate a Top Dog
Have a Top Dog you think is worthy of being featured on CanineJournal.com? Leave your nomination and a brief description in the comments below.
Disclaimer: This website contains reviews, opinions and information regarding products and services manufactured or provided by third parties. We are not responsible in any way for such products and services, and nothing contained here should be construed as a guarantee of the functionality, utility, safety or reliability of any product or services reviewed or discussed. Please follow the directions provided by the manufacturer or service provider when using any product or service reviewed or discussed on this website.