To sustain this free service, we receive affiliate commissions via some of our links. This doesn't affect rankings. Our review process.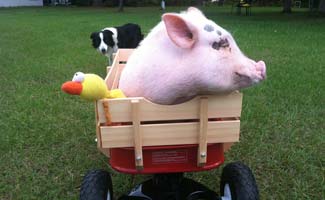 Yep, his name is Chris P. Bacon (pronounced Crispy Bacon!) and he's a pig. So, why are we interviewing him here on Canine Journal? Well, the answer is simple – pigs are animals too and they deserve some airtime for their awesomeness as well! Plus, he's got an important message to share. Check it out!
Chris P Bacon, Can You Tell Us a Little About Yourself?
My name is Chris P Bacon. I am a piglet who was born without the use of my back legs. I was adopted by my dad, Dr. Len Lucero, who is a veterinarian. Dr. Len adopted me and took me into his home to look after me and give me the best life possible. He built me a tiny wheelchair out of toy parts and let me run around the house. Many people found our story fascinating and called me inspirational. My life has been wonderful and dad hopes to share it with the world. I like to help others and make people smile because it makes me feel good inside. I have become very popular on the Internet. This has given me many opportunities to inspire others. We have written books, appeared as special guests at multiple children's hospitals, been in newspapers around the world, appeared at many social events supporting people with disabilities, have been on multiple TV programs and plan on doing much more. We have multiple social media pages including Facebook, Twitter, YouTube, Instagram, Pinterest and others.
What's your favorite treat?
My favorite treat in the whole wide world is grapes. Wait a minute, I mean Cheerios. No, I mean grapes. I think it's a tossup. I love them both.
How old are you?
I was born on January 13, 2013, and am now a year and a half old.
What's the story of how you were adopted?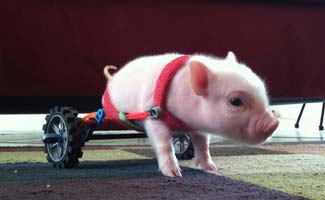 I was adopted when I was one day-old by my dad, Dr. Len. Dad is a veterinarian. I was brought into dad's hospital by a lady who didn't think that I was going to be able to live with my handicap and opted for euthanasia. My dad saw something in me and knew that he had to give me a fair chance, so he adopted me. He made me a really cool wheelchair and gave me the best life ever. I love my daddy.
Who's your best playmate and why?
I have two best playmates. The first one is my friend Doinky who is a plush duck who has been with me since I was a baby piglet. We grew up together. My second best friend ever in the whole wide world is my sister Aspen the border collie. She loves me and looks out for me. We play lots of games together.
What's your best trick?
I only know a couple of tricks. I shake, give kisses and will do anything for food. I think the trick that people like the most is the kisses. There is nothing better than getting smooches from an adorable pig.
What makes a pig the best choice as a pet?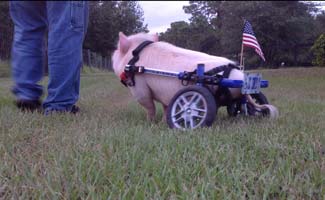 I may be a little bit biased to say that pigs are the best pets. We are very, very smart and will do almost anything for food. We are hypoallergenic, easily potty trained and very, very adorable.
Do you like bacon?
I don't know if I could like bacon. I think it would be a little weird even trying. Let's move on to the next question.
Who's your favorite fellow celebrity pet?
I have lots of celebrity pet friends, but I would have to say that my favorite is Lentil Bean, the French bulldog born with the cleft palate. He came to visit me one day and we played and played and played. We had a great time and now we are BFFs!
What's your advice for other pets looking to make it into showbiz?
My advice for pets wanting to make it in showbiz is to be yourself. Be true to your beliefs and do whatever comes natural. People love honesty and you will feel very good about yourself for being honest.
Disclaimer: This website contains reviews, opinions and information regarding products and services manufactured or provided by third parties. We are not responsible in any way for such products and services, and nothing contained here should be construed as a guarantee of the functionality, utility, safety or reliability of any product or services reviewed or discussed. Please follow the directions provided by the manufacturer or service provider when using any product or service reviewed or discussed on this website.