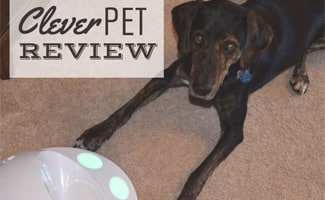 Update: The original CleverPet Hub is no longer available, but a CleverPet V2 has been announced. We will update this article when that version is released.
Are you away from the house when your dog is supposed to eat? The CleverPet Hub can feed your dog while you're away as well as entertain her. We tested the CleverPet Hub ourselves and wanted to share some pros and cons with you. We also created a video to help show you exactly how the hub works. Read our CleverPet Hub review below to learn more about this entertaining automatic pet feeder.
CleverPet
Pros
It's fun to show guests how Sally plays
Easy to set up & extremely durable
App is easy to understand, and it gives updates on Sally's progress
When Sally reaches a new level, I experience a "proud Mom" moment
I have learned to be more patient with Sally
The hub stays in place well and doesn't move around on the floor, even though Sally can be pretty aggressive with it at times
60-day return window for a full refund & 1-year warranty
Holds up to 2.5 cups of dry kibble, 18mm (dime size) or smaller
Sally learns sequences, touching lighted touchpads and exploring
Android and iPhone app
Cons
No sound to let Sally know the hub is on and ready to be played
Took 80 minutes for Sally to eat one serving of her food because it only gives 1-3 pieces of kibble per play
Can only schedule the hub to be on at exact hours (6am to 8am not 6:30am to 8:30am)
Sally lost interest in the hub and refused to play which resulted in her skipping meals
When the hub gets low on food, you have to reset the lid which is hard to lift
Kibble gets stuck in the hub and the hub stops working
The app logs me out randomly
Expensive
Must be plugged in
What Is the CleverPet Hub?
The CleverPet Hub is an automatic dog food feeder that dispenses your dog's food/treats through playing a game. The hub has three paw pads that light up to help your dog get her kibble. The dog progresses to new, more difficult challenges at her own pace through consistent play. The hub has an app that is available on iPhones and Androids, so you can see your dog's reports and what challenge she's on. The app also lets you schedule when the hub is on or off.
Our Experience With CleverPet
CleverPet sent us a hub to try out for free in exchange for an unbiased review. I tested the hub out with my dog, Sally.
Transferring From Treats to Dog Food
CleverPet recommends starting your dog out on treats and then transitioning to dog food. I started Sally out on Zuke's training treats, our vote for the best dog training treats, and slowly worked her up to eating her meals completely from the hub. Eating a whole meal from the hub would take well over an hour, and she eventually stopped playing, so she wasn't eating her entire serving. I decided to go back down to only half of her food through the hub and the rest through her traditional feeding dish. However, then she refused to eat from the hub completely. I spoke to CleverPet about this, and they recommended I feed her solely through the hub, so I began putting all of her meals in the hub again.
After a couple of days of this, Sally got a little better but eventually stopped eating altogether. She didn't want to work for her food. Out of concern for Sally's health, I chose to feed her through her typical food dish to make sure she was eating. However, I noticed that her eating habits were off even though we were feeding her using her regular food bowl. Before using the hub, Sally would be extremely hyper and excited for her meal time. After using the hub, she wasn't as food driven and she would take one piece of kibble from her dish and run to the living room, where there's carpet, and slowly eat the piece of kibble. (Sally goes to carpeted areas when she has an upset stomach, so I think she was worried she might throw up, which is why she would eat the single piece of kibble in a carpeted area. Although I'm not positive about this, this is just my speculation.) She would then return to her food dish and eat the rest of the meal. Sally also started eating grass while we used the hub, so I'm not sure if this behavior was due to the hub or something else. However, nothing else in her diet had changed at the time. The month we tested the hub was extremely hot, so she may have had a smaller appetite. I could go on and on guessing what caused this behavior, but unfortunately, I have no answers.
Overall from my experience, I wouldn't recommend giving your dog her entire serving of food through the hub. Eating one serving of food takes extremely long, and it messed with Sally's eating habits, which we're still trying to get back to normal. Perhaps it would be better for smaller dogs with smaller food servings since it wouldn't take them as long to get their entire meal.
Using The Hub While I'm Away
An automatic pet feeder is meant to be used when you're away from the house. However, I work from home, so I was always home when Sally used it, which I'm thankful for because there appear to be some flaws in it. The hub does not make any "start up" noise, so Sally didn't know when it was time to play. There were a few days I didn't tell Sally when to play, and she wouldn't eat her meals at an appropriate time of day.
The other negative of this is that occasionally the kibble gets stuck in the hub, which required me to fix it. If I were away from the house, Sally wouldn't be able to eat at all because the hub is unable to dispense food when there is a food jam. (You can see an example of this in the video below.) This happened most frequently when I put her entire serving of food in the hub.
Bonding Through the Hub
Our family grew closer together using the hub. In the beginning, my husband and I loved cheering Sally on while she ate her meals. We sat around the hub and motivated her to continue to play. When she moved on to the next level, the mom in me would come out, and I'd be extremely proud of her. I could see how hard she was working, and that she got frustrated at times and would bark/whine at the hub, but she pushed through. However, our cheering Sally on may have created a problem.
Sally is very much a "clingy dog." What I mean by that, is that she has to be in the room that we're in. Throughout the day, Sally follows me wherever I go and sleeps next to me while I work. This is incredibly sweet and endearing, but it became a problem since she stopped using the hub unless we were next to her. This may have contributed to her not using the hub as well as other dogs might. Unfortunately, my husband and I don't always want to sit on the floor for over an hour cheering her on. We have other things to do around the house. If your dog isn't as "clingy" as Sally, this might not be a problem.

CleverPet Customer Service
I reached out to CleverPet a handful of times and was impressed with every response I received. CleverPet was quick to respond and always had great suggestions to help Sally and me use the hub better. They also have a live chat feature within the app that was pretty cool and easy to use.
Sally Is Smarter After Using the Hub
Since using the hub for over a month, I feel like Sally listens to me better. Before using the hub, Sally wouldn't completely understand what I was asking of her. She was always well-behaved, but now it's like she suddenly knows English or something. I attribute this to the hub because we haven't done any other new training with her during this time.
Watch Sally Use the CleverPet Hub
Below is a short two-minute video of Sally using the hub. The video points out some highs and lows we experienced during our use.
Would We Recommend the Hub?
It depends on your work situation.
If You Work From Home
If you work from home, as I do, I think it can be difficult to have a consistent schedule for the dog. Since I'm home, I distract Sally enough that she isn't as intrigued by the hub as she is me. It's also difficult for me to justify spending $300 on an automatic pet feeder when I'm home to feed her myself.
If You Leave For Work
If I worked away from my home, I would feel a little guilty leaving Sally home alone all day long. I think Sally would get used to having the hub on at certain times of the day and would be more apt to use it to keep her entertained. Having this hub would give me comfort knowing she'd have something to entertain herself, plus, she'd be getting her meals at appropriate times. Overall, I would recommend this more for people who work outside of the home.
Your Dog Can Learn New Tricks
If you want to improve your dog's learning abilities and keep them entertained throughout the day, CleverPet Hub is a great option. CleverPet is our pick for best automatic dog feeder for teaching your pet. It is ideal for food-motivated dogs who are play oriented. After using the hub for five weeks, Sally was a better listener, and I was more understanding of her abilities.
Would you buy the CleverPet Hub?