To sustain this free service, we receive affiliate commissions via some of our links. This doesn't affect rankings. Our review process.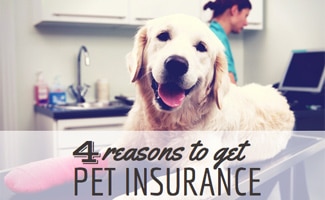 Murphy's Law states that anything that can go wrong will go wrong. Pet owners know this better than anyone when their dog steps in that one little thing in the yard you forgot to pick up, then runs inside and jumps up on the couch. Luckily for me, I was able to remove the stain and the couch was allowed to stay in the living room (instead of being sent to the basement forever). The problem is, sometimes the issue isn't as minor as a little mess inside of your house. For pet owners, sometimes the problem can be much more threatening and costly. For this reason, it's important that pet owners consider buying pet insurance to protect their loved ones (and their wallets) from some of life's most unfortunate accidents.
How Does Pet Insurance Work?
Each company differs slightly when it comes to protecting your pet, however pet insurance works on the same basic principles as most other forms of insurance. But, unlike insurance for people, where you have to deal co-pays and different coverage amounts for different procedures, pet insurance works differently. You generally pay your vet directly, and then submit for reimbursement through your pet insurance provider. The pet insurance company will then review and pay the agreed upon percentage of the bill for items that are covered by your policy. Usually all you need is an itemized receipt from your vet. Also, there is not a list of veterinarians you have to choose from; any vet you're comfortable with is fine by most pet insurance providers.
Here's a quick video further explaining the benefits of having and understanding your pet insurance.
Dog and Cat Medical Insurance Facts
According to the Americans Pet Products Association, Americans are on track to spend over $15 Billion in veterinary bills in 2014.
Less than 5% of dogs and 1% of cats are covered by pet insurance.
As your pet gets older, pet insurance becomes more and more expensive.
There are plenty of plans that cover most pets regardless of age or pre-existing conditions.
Pet Insurance Cost: 4 Reasons It Is Worth It
1. You'll Never Have to Decide Between Your Wallet and Your Pet
This usually comes up in older pets, but sometimes deciding whether or not to have a surgery is one of the hardest things you will have to do as a pet owner. By having pet insurance, you can take the financial aspect out of the equation and base your costly medical decisions purely on what's best for your pet.
2. Veterinary Costs Are Rising
More and more treatments are becoming available for pets every day and costs for operations and general checkups are climbing. The peace of mind that comes with knowing that any accident will be covered outweighs the month-to-month costs of pet insurance for most owners.
3. You Can Pick a Plan That Fits Your Needs
Pet insurances can be tailored to fit your budget and needs. If you sign up when your pet is young, you have more options to choose from. These options range from major accidents only to vaccinations and general checkups. Check out our dog insurance rankings to see the different options that are available.
4. It's Easy
One of the big benefits of having pet insurance is how easy it is to be reimbursed. Most plans ask that you send in a receipt from your vet, and within a few weeks you'll receive a check for part or all of the costs from that visit. Knowing your plan is important, so you know what's covered. But most pet insurance companies make it easy to receive your payment in a quick and painless manner.
Is It Really Worth It? Real Reimbursement Stories
Some of our readers that have pet insurance for their pups have shared real reimbursement stories with us. Check them out to get an idea of what's covered (and what's not) given specific conditions and circumstance.
All Breeds Are Not Created Equal
Just like humans, every dog and cat is different. Each breed is unique and comes with its own unique set of health conditions and abnormalities that might threaten it during its lifetime. Consider the health risks associated with your particular pet and you might find that the benefits outweigh the monthly costs of having insurance.
Have you, or someone you know, had a good or bad experience with pet insurance?
Disclaimer: Information regarding insurance company offerings, pricing and other contract details are subject to change by the insurance company at any time and are not under the control of this website. Information published on this website is intended for reference use only. Please review your policy carefully before signing up for a new pet health insurance contract or any other contract as your unique circumstances will differ from those of others who may be used for example purposes in this article.