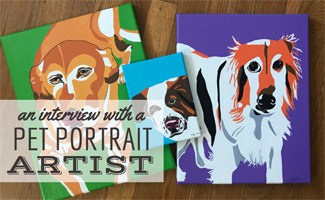 Are you looking for a way to memorialize or celebrate your pet in your home or office? Or maybe you are seeking a unique gift for a pet lover. A custom pet portrait painted by Kay Ham Art might be the perfect way to showcase your beautiful pet in your home as a new favorite work of art.
Kaylee Hamar is a product manager for Pet Treater (one of our top picks for best dog subscription box) by day and a pet portrait artist by night.
Learn the story behind her passion for painting and how you can get your paws on her work. The best part is she's donating 10% of all sales from Canine Journal readers to Project Pearl, the rescue organization that saved our Chief Dog Officer Lily so she could find her forever home here. Just use the code CANINEJOURNAL in your order to get 10% off your purchase and donate 10% to Project Pearl.
What motivated your decision to paint pets?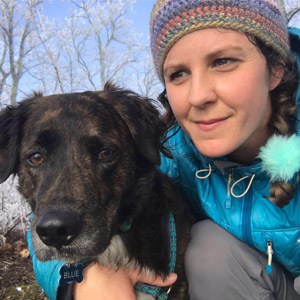 I am definitely a lover of animals (even my day job is all about animals! I work with Pet Treater, a monthly subscription for dogs and cats), but that really wasn't what started this.
My sister, Megan, had mentioned that she wanted me to paint a portrait of Hog, her pup. She mentioned that she liked the fun, colorful style, but that was kind of where the conversation stopped.
So, I got the itch and ended up painting a portrait of Hoggy-Dog for her birthday. Will, my boyfriend, said "Wow, I think you have a knack!" I laughed, and then painted our dog, Blue.
From there, I have had orders every week since!
What inspired your unique art style?
As an artist, my style really comes from whatever I am feeling. I know that colors are fun and bring people, myself included, happiness and good feelings. Being able to take a pet and turn it into a colorful and unique piece of art is amazing. It honestly surprises me every time how much I fall in love with the animal and painting as I complete them.
What do you find most challenging about painting animals?
Because each one is hand painted, I would say the most challenging part is not having more time to paint more pets!
Do you always paint from photos or have you ever painted an animal live?
Yes, I do always paint from photos. Because the portraits take a number of hours, it would be difficult to do that in a live setting.
However, who knows what the future holds! I am always open to interesting opportunities.
What makes for a good image to paint?
Clarity, especially in the face and eyes.
Other than that, a picture that shows the personality of the fur or feathered family member is also key. I want to capture the pet you love, so the more personality in the picture, the better.
What's the process like for the pet owner and for you?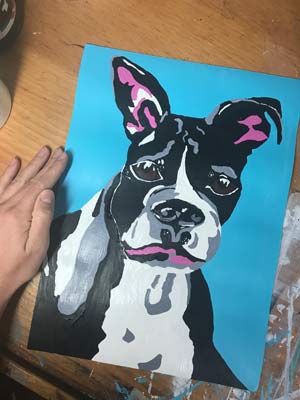 Once a pet owner decides they want a portrait, they can email me (see details above in bold about the exclusive deal offered to CanineJournal.com readers!) .
Once they let me know they would like the portrait, they email me their favorite photos. I do ask if they have aversion to any particular color to make sure that it fits their needs and style. Most of the time, the pictures tell the story, and I can capture the relationship that way.
I often receive more info and stories from the owners along with the photos, and I have considered doing a short questionnaire to capture it even more clearly.
What is the most interesting portrait you've done and why?
That is a tough question. I would say the most unique is the one of a bird because it is the only bird portrait I have ever done.
I have also done portraits of the two family dogs together, which was fun and different.
Where can one purchase your work?
Anyone can go to my Facebook page to get more info to purchase a portrait (save 10% when you mention CANINEJOURNAL).
Portraits are $300 plus shipping, and the customer can choose paper or canvas. I recommend paper if they plan to frame it. Canvas, on the other hand, can be hung independently or framed.
Any advice for aspiring artists?
Do what you like! Create a space that you enjoy being in where you can let your creative spirit fly.
Also, know when to take breaks. I am always more effective when I take short breaks while I am working. This prevents mistakes as well.
To order, visit her website and include the code CANINEJOURNAL in your message to get 10% off your purchase and to donate 10% to animal rescue organization Project Pearl in North Carolina.
Thanks Kaylee for sharing! And if you're looking for more inspiration, check out her Instagram account @kayhamart. If you are looking for alternative custom pet portraits, check out PaintYourLife. Also be sure to check out these personalized dog totes and other gift ideas for dog lovers.