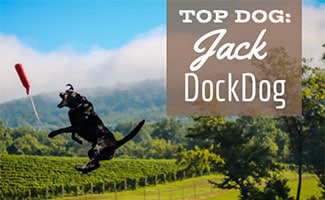 Jack is a black lab who has an inspiring story of fighting and winning against cancer while competing in sporting competitions. He is a fun-loving, dock-diving team competitor and his mom is a childhood friend of Canine Journal's co-founder, Michelle.
Jack was born in March 2009 to AKC-registered Labrador parents in rural Maryland and was adopted at 12 weeks old. It didn't take long to discover Jack's love of toys and water. When he turned 4, his parents stumbled upon dock diving. Jack and his sister Zoe have excelled at the Extreme Vertical for several years and invited several times to participate in the DockDog World Championships.
We recently had the chance to chat with Jack about his advice for being a DockDog. He also shared his incredible comeback from cancer through his holistic treatments and lifestyle.
How did you and your parents meet?
I was a Craigslist dog… BOL (bark out loud!!) That sounds funny. My mom and dad had been looking for a lab puppy and checking all kinds of websites obsessively. Mom and Dad both saw the post for me at the same time and emailed each other at the very same time. True story! I am a purebred lab and was the last puppy in my family, so they were lucky to beat out the masses! It was destiny.
How did you get started with DockDogs?
When mom and dad lived in a big old house in Baltimore, I had all kinds of stuff to do. There was a huge yard to play in, a swimming pool, a little fish pond I could cool off in after playing ball, and every weekend they would take me out to swim in the Chesapeake Bay, and we would stay out on my very own boat. I would play all day by dropping my ball from the swim platform and wait for it to float away. Then I would dive in and climb back up the ladder to bring it back… over and over and over!
When we moved to Alexandria, VA, there were no good places for pups like me to swim, and our yard was very small, with no pool. So mom did magic on the interwebs, and next thing you know we went to this pond and some guy was telling me to jump into the water after my ball, (like, duh). And everyone got super excited when I did it! It was pretty cool. The next time, I got a pretty tie with a medal to wear on my neck. Mom was thrilled, so I kept doing it.
What do you do to train?
Play ball, swim, play ball, swim, play ball, swim. Just kidding, but not really! My natural toy drive and love of the water makes this an easy sport for me. Mom just has to work on her throw! Sometimes mom uses special toys that I only see in DockDogs, and she will have me run and jump at them in the yard. We go to the pool and pond and practice with the other dogs when the club schedules it. Mostly, mom and dad know that if they use obedience training to get me to listen to them outside of the dock, that I will sometimes listen to them on the dock.
Can you share about your health issues a few years back?
It's hard to talk about, but a year and a half ago, I was diagnosed with a very aggressive form of cancer: malignant oral melanoma. One day on our way back from our Florida beach vacation, mom was loving my puppy breath as she buckled me in my truck harness and she saw something in the very back of my mouth. Next thing I know, I met more vets than I can remember. I had surgery to remove the tumor, but there were still some bad cells left. Mom was told that I would only be around for 6 months to a year, and she was not ok with that.
Mom went into action and did lots of research and worked with my favorite holistic vet and the people that make my food, Answers Pet Food. I was already on a raw food diet of Answers, but they decided to put me on a ketogenic diet to starve the cancer cells so they couldn't get me. I also got a melanoma vaccine which tells my immune system which cells to get rid of, and a whole bunch of natural supplements to help my immune system keep those bad cells from getting me.
Mom also looked at every aspect of my life to see where chemicals might come in contact with me and replaced all of them with natural products instead. As you can see, I am still around and am very happy and still dock diving!
Is there anything you would recommend to other dogs suffering from cancer?
There are lots of resources out there, including video series like "The Truth About Pet Cancer" and "Dog Cancer Series." Also, there are many knowledgeable vets and experts, books and websites. You should see them now before you get cancer, but definitely have your people do their research if you get cancer.
All of the experts agree that just as you can't feed a child fast food every day and expect that you will stay healthy, you can't feed a dog processed carbs (kibble) with fillers and binding goop every day and expect that we will stay healthy. Quality, species-appropriate food is essential, like my wolf cousins eat.
And please, limit my exposure to chemicals, whether in my mouth from a bowl, toy or detergent, on my paws through floor cleaners or yard treatments, flea and tick treatments, or more vaccines than I need. Being natural is cool!
What's your favorite food?
I love my raw food. I get chicken or beef or pork. Sometimes I get fermented raw goats milk or cow kefir. But my favoritist is the fermented raw goat cheese treats. What dog doesn't love cheese?
Outside of DockDogs, what's your best trick?
My mom thinks when I give her "hugs" is the best. I can "bow" and "sit pretty" too, but the hugs make her all melty. I give paw (fist) bumps to the dudes.
What is your best water sport tip?
Stretch and warm up/cool down before and after. Just like any athlete, we can get injured or sore after all those big jumps. Stay hydrated, and make sure your mom and dad give you plenty of shade and fans on hot days (yeah, the kind that cools you down and the kind that cheer for you).
What's your advice for other dogs looking to get into DockDogs?
If you love to chase toys, and love to swim, you'll be great! There are Jack Russell Terriers, Coon Hounds, Doberman Pinschers, and even Dachshunds that have jumped off the dock. Look online for a club or event near you and just go for it!
There are cash, prizes and a house-full of ribbons in your future! You don't even have to jump big because there are different divisions. You never know what might happen when you get off the couch. You also get to really bond with your humans! You compete as a team, so you have the best time ever!
Anything else you'd like to share?
I only started dock diving when I was 4, but I have been invited to compete in the DockDogs World Championships for the last 5 years in a row for Big Air (long jump), Extreme Vertical (high jump) and Iron Dog (a combo of Big Air, Extreme Vertical and Speed Retrieve – a timed jump and swim).
In 2014, at 5 years old, I placed 3rd overall in the Extreme Vertical Cadet Division. In 2018, at 9 years old and with cancer, I placed 4th overall in the Extreme Vertical Cadet Division. I rock the dock! I am very popular, and the announcers call me lots of cool names, like Puppy Jack and Gentleman Jack. I am blessed!
Be sure to check out Jack's Facebook page to keep up with the latest. You can also learn more about DockDogs in our dog sports article.
What inspires you most about Jack's incredible story?