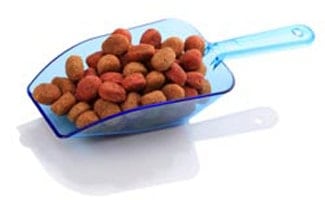 In 2007 more than 5,600 dog foods were recalled and pet owners worldwide were shaken. The dog food recall of 2012 was not as expansive as the one in 2007, but you need to know which foods to avoid and some tips to keep your dog healthy. After all, it does have the potential to cause illness in dogs and their owners. The Diamond Pet Foods' South Carolina manufacturing facility is to blame and as such, many popular dog food brands are being recalled. Below we will take a look at the foods that are being recalled and why the recall is being made.
Dog Foods Affected by the 2012 Dog Food Recall
As of May 14, 2012 the following dog foods have been recalled due to possible contamination with salmonella.
Solid Gold
Solid Gold has issued a recall for two of their dog foods with specific batch codes as a precautionary measure. To date according to Solid Gold, no cases of salmonella have been linked to these foods.
Solid Gold WolfKing Large Breed Adult Food, All sizes, Best before December 30, 2012, Batch code starting with SGL1201A32X
Solid Gold WolfCub Large Breed Puppy Food, All Sizes, Best before December 30, 2012, Batch code starting with SGB1201A31X
Apex Dog Food
Apex Dog Food has issued a voluntary recall for all of their dry dog foods manufactured on January 24, 2012. The recalled foods were distributed only in South Carolina. To date, Apex Dog Food claims there have been no cases of salmonella linked to these foods.
Apex Chicken and Rice Dog, 20 and 40lb, Best before January 24, 2013, Production code ACD0101B32.
Canidae
Canidae has issued a voluntary recall of four of their dog foods, at this time the recall covers only dry dog foods with production codes with both a number "3" in the 9th digit and an "X" in the 10th or 11th digit – and a best before dates of December 9, 2012, through January 31, 2013. These products were distributed in the following states: Florida, Massachusetts, New York, North Carolina, Pennsylvania, South Carolina and Tennessee. It should be noted that online shopping may result in the distribution of these foods to other states.
Canidae Platinum Dry Dog Food
Canidae Platinum Dry Dog Food.
Canidae All Life Stages Dry Dog Food.
Canidae Lamb Meal & Rice Dry Dog Food.
Canidae Chicken Meal & Rice Dry Dog Food.
Wellness Dog Food
Wellness Dog Food has issued a voluntary recall on one of their dog foods with specific best by dates. According to Wellness, they no longer conduct business with Diamond Pet Foods and none of their other dog foods were affected by the salmonella outbreak.
Wellness Complete Health Super5Mix Large Breed Puppy, 15 lb. and 30 lb. bags and 5 oz. sample bags with best by dates of January 9, 2013 through January 11, 2013.
Natural Balance
Natural Balance has issued a voluntary recall on some of their dry dog food options. To date, Natural Balance claims that no cases of canine salmonella poisoning have been linked with their foods and none of the recalled foods have tested positive for contamination.
5 LB Natural Balance Sweet Potato and Venison Dog Lot Code NBH1202 Best By Date: December 12-13, 2012 Lot Code NBH0103 Best By Date: March 13, 2013.
15 LB Natural Balance Sweet Potato and Venison Dog Lot Code NBH0101 Best By Date: March 5-6, 2013 Lot Code NBH1202 Best By Date: December 12-13, 2012 Lot Code NBH1203 Best By Date: December 13-14, 2012.
28 LB Natural Balance Sweet Potato and Venison Dog Lot Code NBH0101 Best By Date: March 5-6, 2013 Lot Code NBH0102 Best By Date: March 7-8, 2013 Lot Code NBH0103 Best By Date: March 12, 2013 Lot Code NBH1202 Best By Date: December 12-13, 2012 Lot Code NBH1203 Best By Date: December 13-14, 2012.
5 LB Natural Balance Lamb Meal and Brown Rice Dog Lot Code NBR1202 Best By Date: December 10, 2012 Lot Code NBR1203 Best By Date: December 21-22, 2012.
15 LB Natural Balance Lamb Meal and Brown Rice Dog Lot Code NBR1202 Best By Date: December 10, 2012 Lot Code NBR1203 Best By Date: December 21-22, 2012.
28 LB Natural Balance Lamb Meal and Brown Rice Dog Lot Code NBR1202 Best By Date: December 10, 2012 Lot Code NBR1203 Best By Date: December 21-22, 2012.
5 LB Natural Balance Sweet Potato and Bison Dog
Lot Code NBT1202 Best By Date: December 17-18, 2012
Lot Code NBT1203 Best By Date: December 28-29, 2012.
15 LB Natural Balance Sweet Potato and Bison Dog Lot Code NBT1201 Best By Date: December 9, 2012 Lot Code NBT1202 Best By Date: December 17-18, 2012 Lot Code NBT1203 Best By Date: December 28-29, 2012.
28 LB Natural Balance Sweet Potato and Bison Dog Lot Code NBT1201 Best By Date: December 9, 2012 Lot Code NBT1202 Best By Date: December 17-18, 2012 Lot Code NBT1203 Best By Date: December 28-29, 2012.
5 LB Natural Balance Vegetarian Dog Lot Code NBV1201 Best By Date: December 9, 2012.
28 LB Natural Balance Lamb Meal and Brown Rice Dog Large Breed Bites Lot Code NLB1202 Best By Date: December 12, 2012 Lot Code NLB1203 Best By Date: December 20-21, 2012.
5 LB Natural Balance Lamb Meal and Brown Rice Dog Small Breed Bites Lot Code NSL1201 Best By Date: December 21, 2012.
12.5 LB Natural Balance Lamb Meal and Brown Rice Dog Small Breed Bites Lot Code NSL1201 Best By Date: December 21, 2012.
Kirkland Dog Food
Kirkland Dog Food has issued a voluntary dog food recall on a number of their dry dog food products.
Kirkland Signature Super Premium Adult Dog Lamb, Rice & Vegetable Formula (Best Before December 9, 2012 through January 31, 2013).
Kirkland Signature Super Premium Adult Dog Chicken, Rice & Vegetable Formula (Best Before December 9, 2012 through January 31, 2013).
Kirkland Signature Super Premium Mature Dog Chicken, Rice & Egg Formula (Best Before December 9, 2012 through January 31, 2013).
Kirkland Signature Super Premium Healthy Weight Dog Formulated with Chicken & Vegetables (Best Before December 9, 2012 through January 31, 2013).
Kirkland Signature Nature's Domain Salmon Meal & Sweet Potato Formula for Dogs (December 9, 2012 through January 31, 2013).
Other Affected Dog Foods Being Recalled
The following brands are also affected by the recall. No specifics have been provided as to the recall except for the products date of manufacture: December 9, 2011 and April 7, 2012.
4Health.
Chicken Soup for the Pet Lover's Soul.
Country Value.
Diamond.
Diamond Naturals.
Premium Edge.
Professional.
Taste of the Wild.
Why Are These Foods Being Recalled?
The Diamond Dog Food plant located in Gaston, South Carolina tested positive for the presence of salmonella. As a result of this, all pet food companies that conducted business with this plant within a specific time period are recalling their pet food products.
What to Do if You Are Affected by the Recall
If you have a bag of dog food that is covered under the recall at this time the first step you need to take is to stop feeding the product. Even if your dog has not presented with any symptoms of salmonella poisoning tainted food should be discarded. It is also important that any time you handle this food; you wash your hands thoroughly to avoid contracting salmonella poisoning. Many of the dog food companies involved in this recall are offering their clients compensation for their contaminated dog food purchase. In order to see if your dog food company is offering compensation option, visit their company website. Most commonly these companies are requesting a receipt of purchase and a UPC code from the dog food packaging.
What to do if you are Unsure about Your Dog Food
Some people store their dog's food in resealable containers in order to keep food fresh, often this means that the original dog food bag has been thrown out. If you no longer have the UPC code from your dog food bag you will be unable to check the production code to see if your food is among the recalled batch. In this circumstance it is always best to discard the dog food in question. If you have discarded the bag from your dog food you may also find it difficult to claim a refund for your purchase if you suspect that your dog's food has been tainted. The best way to avoid this from happening in the future is to clip the UPC code from your dog's food and keep it taped to the resealable container with your dog's food until the food is finished.
Why is this Recall Important?
Any dog food recall is important even a voluntary one because it can not only result in our pets getting sick but in some cases (such as this) it can lead to us getting sick as well. To date, as a result of this recall, sixteen dog owners have contracted salmonella. Eleven individuals scattered across the United States and five in Canada have tested positive for the rare strain of salmonella Infantis and some have even been hospitalized. The cases in Canada are all located in Quebec; the cases in the United States are in North Carolina, Missouri, Ohio, Pennsylvania, Alabama, Connecticut, Michigan, New Jersey and Virginia.
How is Salmonella in Dog Food Contracted by Humans?
It stands to reason for most people that in the case of this type of recall dogs would become sicker than their owners; however, this doesn't seem to be the case. Dogs have a hardier immune system which may be able to effectively work against salmonella that can bring down their owners. Humans can contract this salmonella virus in a number of ways:
Touching contaminated dog food and not washing your hands immediately following.
Touching a dog bowl that has been used to hold contaminated dog food.
Touching saliva or feces of a dog that has contracted salmonella poisoning.
Contracting this strain of salmonella can be avoided by washing your hands thoroughly following any of the actions listed above AND discarding the suspect dog food.
Signs of Salmonella in Humans
Signs of salmonella poisoning in humans include: nausea, diarrhea, fever, abdominal cramping and vomiting. This illness and its accompanying symptoms can last for as long as a week. While most humans are capable of recovering from a bout against salmonella, children, the elderly or those with compromised immune systems may require hospitalization as a result of their symptoms. The symptoms of salmonella generally present twelve to seventy two hours after exposure to the bacteria.
Signs of Salmonella in Dogs
While most dogs are hardy and can bounce back from a salmonella infection once the offending source has been removed, this is not always true. In some dogs such as those taking antibiotics, the elderly, the newborn and those with pre-existing medical conditions, salmonella can have a devastating effect. Some of the common signs of salmonella poisoning in a dog include the following:
Fever
Diarrhea
Vomiting
Dehydration
Mucus in Stool
Anorexia
Miscarriage or spontaneous abortion
Weight loss
Rapid heart rate
Blood in the stool
Low white blood cell count
Low platelet levels
Low albumin
Non-regenerative anemia
Electrolyte imbalances
If your dog displays any of these symptoms it is important to take them to your veterinarian immediately in order to prevent more serious symptoms. One of the most commonly seen symptoms to develop in cases of salmonella is dehydration resulting from chronic diarrhea. Dehydration can be prevented by your vet by the administration of IV fluids. Your vet may also recommend performing a number of tests to ensure that your dog is suffering from salmonella poisoning. In a case where a dog is suffering from a severe case of salmonella poisoning the vet may recommend an antimicrobial. It is also advised to put a dog on a 48 hour food restricted diet if possible in order to help to eliminate the cause of the infection.
Why Recall Food that is Testing Negative for Salmonella?
Many people are asking why so many dog foods are being recalled if the majority of them have not tested positive for salmonella. There are two possible answers to this question. The most likely answer is that since this is a voluntary recall, companies are concerned about their image and the possibility that consumer's pets will become sick. By issuing a voluntary recall these companies can show that they genuinely care about the health of consumers pets rather than try to hide the fact that they did business with Diamond Pet Foods. The second possibility is that companies are not being forthcoming about potential cases of contamination. Considering the ramifications that companies may face if they are concealing information however, it is more likely that there simply have been no confirmed cases of salmonella in foods that are currently making this claim.
What Dog Foods Are Safe?
With so many types of food being recalled, dog owners may begin to feel overwhelmed that they are running out of dog food options. This should not be the case, since only certain batch numbers and foods with certain expiration dates were affected. There are a number of safe bags of food that have been produced by these large name companies, it is simply up to you to check basic information to ensure a food type is not covered by the recall. It is generally not recommended to change your dog's food unless they develop sensitivities or other health related issues related to the food they are on. With that said, some dog owners, particularly those in small towns, may find a shortage of "Safe" dog food options. If you find yourself in this position, you could consider ordering your dog's food online to be delivered to you, or you can attempt to switch to a new food.
Switching Your Dog to a New Food
Switching your dog to a new food is always recommended as something that should be done gradually. Read the exact steps to take when changing your dog's diet to make sure the transition is a smooth one.
How Many More Foods Will Be Affected?
The current string of dog food recalls have many pet owners anxious over whether their dog food brand will be recalled next. Since the contamination has already been announced, most companies that use the Diamond Pet Food Company in their production, have already recalled potentially contaminated foods. That is not to say that more companies will not follow, but it is likely that the bulk of companies have already made their announcements, since a slow response to recall could result in numerous lawsuits. If you have any questions about your pet food brands involvement in the current 2012 dog food recall don't hesitate to contact your pet food manufacturing company to get answers.
Additional Pet Food Recalls in Mid 2012
Updated on September 7, 2012
Increasing numbers of dog owners are considering a raw based diet or home cooked food as mid 2012 has brought even more pet food recalls in to the news headlines.
Bil-Jac Dog Food Recall
The most recent dog food recall as of the time that this article is being written, has been made by Bil-Jac. The limited recall is based on the finding of mold in a number of bags of food within a specified batch. Bil-Jac Foods, located in Medina, Ohio issued a recall for 6 LB Adult Select Formula Dog food bags from batch 1792-02 of dry food. The expiration date on these bags is December 27, 2013 and there were a total of 1,024 bags of food affected.
So far the veterinarian on staff for Bil-Jac Foods has stated that only a few bags in the batch being recalled were found to have mold present. There has yet to be a determination of what type of mold is present in the food, but it is believed that the mold is due to a higher moisture count than usual in the batch. Previous pet food recalls have been made by other pet food companies for the same reason and in these cases the recall was made due to the presence of Aspergillus fungus.
What is Aspergillus Fungus?
The fungus Aspergillus can frequently be found on dead leaves, compost piles, decaying vegetation and in stored grain. The presence of Aspergillus in the dog food causes the food to spoil and the fungus itself causes the production of Aflatoxins. Aflatoxins are mycotoxins (metabolites produced by the fungus organisms) and are particularly toxic and known to cause cancer. Once Aflatoxins enter the body they proceed to the liver where they are metabolized.
How Are Aflatoxins Monitored?
Since Aflatoxins are capable of contaminating many food products (human food sources included) the Food and Drug Administration has established what they call "action levels" for Aflatoxin presence in foods, both human and animal. These rules according to the FDA are as follows:
20 ppb for all food for human consumption and for corn and other grains intended for immature animals (including immature poultry) and for dairy animals, or when its destination is not known, and for animal feeds, other than corn or cottonseed meal
When these unsafe levels of Aflatoxins are found in foods, those foods are recalled immediately. An example of one Aflatoxin recall in recent history is the Diamond Pet Food recall in December of 2005. In this recall 19 products that were distributed in 23 states were recalled.
The Effects of Aflatoxin Exposure
Most importantly, pet owners want to know what exposure to Aflatoxins means and how it will affect the health of their pets. Research shows that Aflatoxin exposure can result in liver disease in some dogs, but not all. Data indicates that the potential for developing liver disease is related to the amount of the toxin ingested as well as the time period over which the toxin was ingested. An article in the Journal of the American Veterinarian Medical Association article entitled "Potential for dietary protection against the effects of aflatoxins in animals" suggests that toxic levels of Aflatoxin in dogs is 100 – 300 ppb and requires exposure continuously for multiple weeks in order for dogs to show signs of toxicity. It is also noted that there is no evidence available currently that indicates whether dogs that have suffered toxicity in the past will suffer negative health effects in later life as a result of exposure.
Is There a Cure For Aflatoxin Exposure?
While pet food (and human food) recalls are made as soon as the presence of Aflatoxin releasing fungi is detected, there are cases where the products have already been released on the market. In these instances exposure to Aflatoxin's has already occurred. There is currently no cure for exposure to these toxins and treatment is focused on treating the symptoms and providing supportive care. Veterinary care may consist of intravenous fluids that contain dextrose, active vitamin K and B vitamins in addition to a restricted high quality protein based diet with minimal but adequate carbohydrate content.
What Will Happen to Bil-Jac Foods?
A recall has already been issued for the affected foods from batch 1792-02 with an expiration date of December 27, 2013. The recalled food is being tested by a laboratory outside of Bil-Jac to determine what effects the mold contamination could have on consumers. The veterinarian for Bil-Jac, Dr. Bingham states that the company is being overly cautious in the matter to ensure that consumers can continue to trust the Bil-Jac brand name. In the meantime, Bil-Jac has issued a company statement on their website for the affected bags of 6 LB Adult Select Formula Dog Food. They emphasize that currently on 6lb bags of food have been affected by the recall and offer consumers the opportunity to contact them with any questions by calling toll free at 800-321-1002 x 239, and ask for Shannon, during business hours, M-F, EST.
The small batch recall is unlikely to affect long-term consumers of Bil-Jac foods; however, whether it will tarnish their name for new or future customers is unknown at this time. What is known is that with so many pet food recalls taking place over the past few years, more consumers are looking in to small locally produced kibble options and raw feeding. While both of these options are good choices for our dogs, the bigger question remains – when will harsher regulations be placed on dog food manufacturers? If stricter monitoring took place of the manufacturing facilities product recalls would be few and far between and most pet owners agree that it would be worth an extra $1 or two per bag of food to ensure their pet food quality.
Dry Dog Foods Are Not the Only Concern
The dog food recalls that are commonly seen in the news paper or on the local news are often related to dry kibble type foods. The truth is that as a dog owner, there is more than just dry kibble to worry about when it comes to dog food contamination. Over recent years both wet dog food and dog food treats have also become products of great concern in terms of the potential for contamination. Many wet dog foods and dog treats are manufactured in the same factories as many of the recalled dry dog foods making them susceptible for cross contamination as well.
Recent Dog Treat Recalls
One of the most recent and longer lasting recalls on dog food products has been on as number of dog treats, most particularly chicken jerky treats. In recent years chicken jerky treats that were manufactured in China were recalled after many dogs became ill after eating them. More recently however Nature's Deli Chicken Jerky dog treats have been added to the recall list.
The initial recall of Nature's Deli chicken jerky dog treats was made on 10/4/2012/ This recall applied to chicken jerky treats that came in a clear plastic bag with the Nature's Deli logo containing 2.5 lbs chicken jerky dog treats and marked with UPC bar code 647263800208. Products with the lot number of BEST BY 091913 DEN were initially recalled after testing positive for the presence of salmonella. These products were sold through Sams Club's in the following states:
Colorado
Iowa
Idaho
Illinois
Kansas
Missouri
Montana
Nebraska
Oklahoma
South Dakota
Utah
Wyoming
On December 6th the recall was extended to products with the lot number of BEST BY BESTBY061913DEN. These treats were sold at Costco stores through Denver and Colorado. The production company – Kasel Associates Industries Inc. has yet to voluntarily recall these treats however, through working with the Federal Drug Administration Cost Co has pulled all of the questionable products off their shelves. According to the FDA, Costco will also be contacting customers who have purchased the product to give them detailed instructions on how they can return and exchange their product.
It was first noted that something was amiss when in September 2012 when a sample of Kasel dog treats tested positive for salmonella. In November, 2012 after another batch of these jerky treats was tested by the Colorado Department of Agriculture it showed up as being contaminated by salmonella also. To date no reports of illness have been made associated with this contamination; however, anyone who has purchased these treats should return them to the store where they were purchased.
Tips to Avoid Recalled Pet Food and Treats
Whenever there is a pet food or treat recall, pet parents want to know how they can avoid their pets being affected by the recall or any future recalls. The first step when a recall is issued is to check your pet's food to make sure that it is not affected. You should always keep the section of your pet food bag that contains the lot number even if you keep your dogs food in a separate container. Having the lot number handy will make it easy to identify your dog foods lot number. If your dog's food is affected by a recall immediately stop feeding it to your dog and contact the manufacturer for any details on the recall. In most cases of contamination recalls are voluntary and few dogs actually suffer from symptoms; however, in few cases there is potential for internal damage to affected dogs (such as with the Chinese corn gluten dog food contamination fiasco a number of years ago.) In these cases it is important to contact the manufacturer to obtain information on what has caused illness and how to proceed with veterinary care in addition to obtaining coverage for medical bills. Treating your dog's symptoms should always be your first priority with any pet food recall.
If you have not been affected by a pet food or treat recall but are still concerned with the current regulations monitoring dog food quality there are a few steps that you can take to improve your dog food safety.
Purchase high quality dog foods. Higher quality dog foods have less filler ingredients and most frequently this is this type of ingredient that is contaminated.
Buy domestically made dog foods. In the case of the corn gluten contamination, the corn gluten in question was imported from China where safety standards were lax. Buying dog food that uses only domestic ingredients helps to ensure that ingredients are under higher scrutiny in terms of their quality. It is important to make sure that food is made from domestic ingredients and made in the United States. A good example of such a domestic dog food is Fromm Family dog foods which are made solely from US ingredients.
Try to buy dog foods that are made in smaller batches. This is a little more difficult to do but some smaller dog food companies advertise that their foods are made in smaller batches making them easier to identify. This allows for these companies to more readily identify contaminated batches of food and recall them.
Consider other feeding options. If you have the financial resources there are other feeding options available that reduce the likelihood of your dog being affected by contaminated foods. Many people choose to feed a raw diet that eliminates unnecessary fillers and focuses on fresh raw meats and such. Another option is to make your own dog food from human grade ingredients. This step is a little more drastic and takes both time and money; however, many people resorted to this amid the corn gluten contamination.