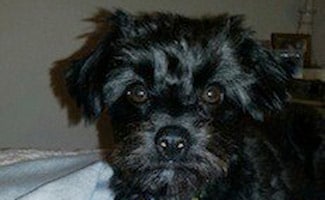 Dog Tales is an ongoing column on featured guest writers and readers who are sharing the stories of their beloved canine chronicles.
Karen, a Furry Angel Foundation volunteer, was one of Charlie's fosters. Even though he's found his forever home, he still "writes" to her every week to tell her how happy he is with his new home. This is Charlie's story as shared from his owner.
"It had been several years since we had any animals. Coming from Oregon where we had a self-sustaining farm, if was a hard adjustment for us. We had pigs, chickens, horses, cows, sheep, goats, rabbits, ducks, dogs and cats. For awhile, we'd been thinking of getting a small dog since we now are in the city with a lot less yard. We figured that God would make sure we got a dog when He was ready for us to have one. One night while surfing online somehow this picture popped up and it was Charlie (to this day I have no idea how I found myself on the Furry Angels website). It was love at first sight. We had never heard about the Furry Angels Foundation, but we emailed a request to see if he was available. The foundation responded and after finding out what he had been through, we knew he was the one.
The foundation had taken him in and gave him all his shots, neutered him, micro-chipped him and provided a vet check. Charlie was literally skin and bones and severely malnourished. He was petrified of any noise, especially the sounds that came from a park (kids playing, basketballs, and skateboards). After a week with his fosters, Susanne and Karen, he was fattened up. They felt a growth in his leg and had it inspected. It turned out to be a BB from a pellet gun. Someone had used him as target practice.
The adoption process was easier than I imagined. The people at Furry Angels Foundation really know what they are doing and they take great care in making sure the rescues are going to the right homes. Donna brought Charlie to see the house and he was determined to stay. Usually the foundation takes them and considers the situation before they leave a dog with the potential owners, but Charlie would not go. He just sat on the couch with us and has been here ever since.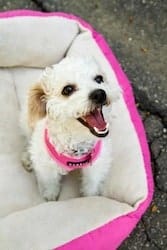 Charlie is now so happy and carefree. He is finally getting all the love and attention he deserves. The fosters and foundation did a fantastic job bringing Charlie back to life and we are so thankful they did. We were amazed at all the foundation does for these rescues; they know they deserve a better life, and a fresh start filled with love and care.
We recently adopted another foster from Furry Animal Foundation, Betty Lou. She is thriving here and several neighbors have fallen for her as we have. Just knowing that she and the others are saved to be loved is a wonderful gesture and we want to do what we can to help the foundation and the rescues. These dogs have been a blessing for us, as I'm sure they have been for others."