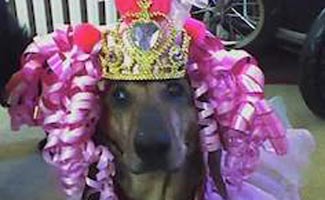 Dog Tales is an ongoing column on featured guest writers and readers who are sharing the stories of their beloved canine chronicles.
Although I have fostered scores of dogs, some as long as a year, Gracie was the first one I felt compelled to keep. My main breed is English Cocker spaniels, but I also had an interest in a mini Wirehaired Dachshund, so I volunteered to foster for DRNA (Dachshund Rescue of America). The fourth dog I was cared for was Gracie, a seven-year-old, smooth-standard dachshund.
She was from a shelter. Her owners had given her up because they 'had too many dogs.' I was mystified as to why someone would give up a dog like Grace. She was totally well-behaved, got along with my other dog, was house-broken and, as I have told her many times, 'did not know how to be bad.'
Despite this, I did not plan to keep her as I felt she'd do best in a home with no stairs. (Doxies are prone to back problems.) I should have had a clue to my real feelings when I became too critical of everyone who applied to adopt her.
Although she'd seen three vets before I got her, they all missed a sizable lump in her neck, which I discovered a short time after she arrived. The lump turned out to be thyroid cancer, and at that point the adoption applications dried up. Although she had surgery, the vet did not feel that radiation or chemotherapy was in her best interest. Her prognosis was uncertain. And so, I just decided Gracie could stay with me for whatever time she had left.
Gracie was a big kisser. I swear she knew that she had been given a second chance by all who helped get her into a permanent home. There is a wisdom in her eyes, a look that says 'I understand what's happening and everything will be fine.' She just goes with the flow. If she were a person, I know she would take care of me and see me through any crisis calmly.
In the seven years we have shared since then, this dog has shown more pluck, courage, and class than I could ever imagine. She has a large fan club; everywhere she goes, people fall in love with her. I have tried to learn from her, for example, to walk into a room full of strangers assuming everyone has gathered there for me, as she does. She is stubborn but never mean. The first time she saw the ocean, she went 'meh,' and turned around to meet the people on the beach instead.
When I decided to become a Tellington Touch practitioner, Gracie came to all of my trainings and happily let scores of students practice their skills on her.
Grace has faced many challenges. One year after she had surgery for a recurrence of her cancer, she had emergency surgery for a slipped disk. She had a difficult post-op recovery, but never whined or complained. She was left with weakness in her left leg. In order to take a long walk, I bought a pet stroller for her. She loves to survey the world as it goes by. Years later, a stroke felled her. While recovering, I confined her in a small room for her safety, however, when I returned she had pushed through the barrier and to greet me at the door. I still don't know how she did this. She does have a residual ataxia (balance issue), but she just adjusted her gait and, with persistence, got wherever she needed to go in the house. She even taught herself to use "pee pads" and avoid stairs.
A few weeks ago, we faced what I felt was her final challenge when she awoke one day with a totally limp left rear leg. I tried to use a sling to hold up her rear, but even her front legs didn't seem to be able to compensate. Her neurologist shook his head, having very little to offer. I decided to see her acupuncturist, and after 2 treatments (including laser therapy), Gracie has astonished her health care team by now standing up to eat and drink, toddling a few steps, and basically maintaining her dignity. She will not give up.
Above is my favorite picture of Gracie. It was taken the day she won the 'Most Beautiful' category at the Mid-Atlantic Doxie Phest Halloween parade. This was not the first time she allowed me to dress her up for a festivity. Although she competed from her stroller, her regal bearing and total acceptance of a crown on her head won over the judges. I swear you could almost see her wave to her admirers.
To me, Gracie epitomizes the best aspects of rescue. She is a dog that came into my life unexpectedly. She was given up by someone unable to appreciate the gem they had. She was a senior, and exemplifies the advantages of adopting an older dog who is already settled but has lots of life left. And I swear, she has been grateful for all I have done, but it is I who will always be grateful for the love, laughs and life lessons she has given me all these years."