To sustain this free service, we receive affiliate commissions via some of our links. This doesn't affect rankings. Our review process.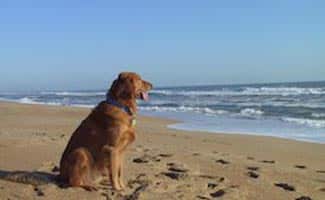 Dog Tales is an ongoing column on featured guest writers and readers who are sharing the stories of their beloved canine chronicles.
Nancy Bishop, a reader and the author of this article, lives in North Carolina with her husband and two surviving dog-children, Rusty and Bella Mae.
"Our first dog as a couple was a Golden Retriever named Remington. My husband was not allowed to have a dog while growing up so when our new neighbors moved in with a litter of Golden puppies, Ken had to adopt one of them. Three-month-old Remington joined our family in early 1999 and quickly made Golden lovers of us. He was a huge part of our family until we lost him to liver cancer in July 2008. No warning, he just stopped eating and was gone within a month after the vet diagnosed his disease. We were devastated.
Along Came Busby Beagle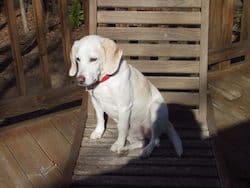 We still had our first rescue dog, Busby Beagle, who joined the family in 2004 and was a great brother to Remington. A 15" Lemon Beagle, Busby was found along the road on my way home from work one day. Not having ever seen a Lemon Beagle, I thought he was a small lab until the vet confirmed what he actually was – a beagle with no dark coloring, mostly white. He quickly worked his way into our family, even though beagles are VERY different than Goldens! We have learned that stray beagles are typically the result of not being good hunters and are simply not looked for by their hunting owners when they wander off. Busby had a great nose on him and loved sniffing around our wooded yard for any wildlife that may have passed through but probably wasn't a hunter. He was a snuggler and loved nothing more than to cuddle in his daddy's lap or with his brother. The vet estimated Busby to be 4-5 years old when I found him and he gave us six wonderful years until we lost him to kidney disease in 2010.
Hello, Rusty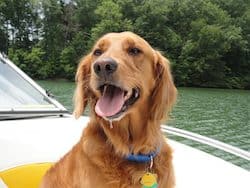 After we lost Remington, we definitely wanted another Golden and looked to the NC rescue groups in our area. Because we had Busby who didn't play much at that point, the rescue group wanted to be sure we adopted a dog that would not drive Busby crazy with puppy antics. We were matched with Rusty, a 2 ½ year old boy in November of 2008. He had lived with an older dog before and had a very gentle, laid back disposition. He was surrendered to Golden Rescue because his family was having wood floors put down and did not want him to 'ruin' their floors. (We call the scratches 'character marks' in the wood floor in our kitchen!) Rusty and Busby had a great friendship for the two years Busby remained with us after we adopted Rusty. The amazing thing was how much Rusty resembled Remington in color and disposition, only shorter in stature. And, like Remington, he loves going boating and chasing tennis balls. Rusty also has a 'job' of getting the morning newspaper every day with his 'pay' being a treat.
And Then There Was Bella Mae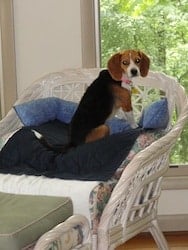 For over a year, we were a single dog family with Rusty and four cats, all adopted, too. My husband wanted another beagle and forwarded me a 'Beagle Needs a Home' e-mail in March of 2012. An adorable little 13" girl had been found almost in the same spot where I found Busby years before. I agreed to go with Ken to check her out that night and we took Rusty along to see if they meshed. Ironically, we had both been thinking about the same name, 'just in case' – Bella Mae. She was indeed adorable and loved Rusty so she came home with us after a stop at the pet store to pick out her pink collar, harness and leash. The vet estimated she was about a year old and, surprise, she came into heat the week after we brought her home. So, off she went for spaying.
A Doggone Good Life
Bella Mae has added so much to our family. She is our first female dog and definitely thinks she is alpha in this family. Rusty and Bella Mae love to run like wild things around the dog yard, then curl up together and nap. She gets along with the cats who don't hesitate to pop her on the nose if she gets too out of hand. But best of all, she has turned into the lap dog my husband wanted. If he sits down in his recliner, she loves nothing more than to gaze adoringly into his eyes and snuggle up with him. We've made it through the first year with her puppy antics and she has settled down into a nice routine of resting between her wild runs through the house or out in the yard. While he may sometimes find her a bit of a nuisance for stealing whatever toy he happens to have, we think Rusty would miss not having his little sister to romp and snuggle with. And we can't imagine our life without these furry children."
Do you have a dog rescue story? Share your thoughts on the comments below.
Disclaimer: This website contains reviews, opinions and information regarding products and services manufactured or provided by third parties. We are not responsible in any way for such products and services, and nothing contained here should be construed as a guarantee of the functionality, utility, safety or reliability of any product or services reviewed or discussed. Please follow the directions provided by the manufacturer or service provider when using any product or service reviewed or discussed on this website.