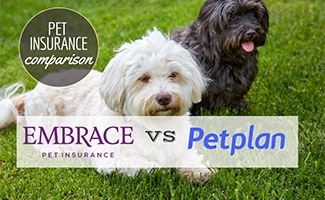 Embrace and Petplan are both big players in the pet insurance industry. You may have heard about Embrace through your insurance carrier if you have Allstate, Geico, or USAA because they sell policies administered by Embrace. Meanwhile, you may have heard of Petplan through Walmart because Petplan services pet insurance policies purchased via Walmart.
No matter where you've heard of them, you're probably wondering if they're reputable companies. Do they offer thorough coverage at a reasonable price? Find out which one we rank better and why.
Visit Embrace's Website | Visit Petplan's Website
Policy Coverage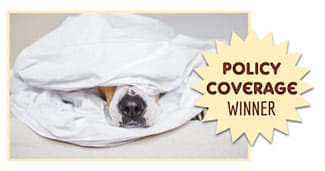 The table below shows what Embrace and Petplan cover.
Note: Both companies cover X-rays, blood tests, ultrasounds, cat scans, MRIs, rehabilitation, specialized exams, surgery, hospitalization, emergency care, specialty care, chronic conditions, cancer, euthanasia, hereditary conditions, congenital conditions, and prescription medication.
| | Embrace | Petplan |
| --- | --- | --- |
| Overall Ranking in our Pet Insurance Reviews | 4th | 5th |
| Pre-Existing Conditions | | |
| Illnesses Waiting Period | 14 Days | 15 Days |
| Accidents Waiting Period | 2 Days | 15 Days |
| Hip Dysplasia Waiting Period | 6 Months | 6 Months |
| ACL Waiting Period | 6 Months | 6 Months |
| Behavioral Therapy | | |
| Alternative/Holistic Therapies | | |
| Wellness Care Available For An Extra Fee | | |
| Exam Fees | | |
| Enrollment Fee | $25 | |
| 30-Day Money-Back Guarantee | | |
| Annual Payout Options | $5,000, $8,000, $10,000, $15,000, $30,000, or Unlimited Available Via Phone | $5,000, $15,000, or Unlimited |
| BBB Rating | A+ | A+ |
| Underwriter | American Modern Property and Casualty Insurance Group | XL Specialty Insurance Company |
| A.M. Best Rating | A+ | A+ |
As you can see, both companies are quite similar in their coverage offerings. The big differences are that Embrace offers an optional wellness plan and shorter waiting periods for both accidents and illnesses.
One thing to know is that Embrace doesn't cover illnesses for pets enrolled after their 14th birthday (however, if the pet is enrolled before turning 14, full coverage will continue as long as you pay your premium). However, we still think Embrace offers better coverage compared to Petplan.

Policy Coverage Winner: Embrace
Customer Service & Reputation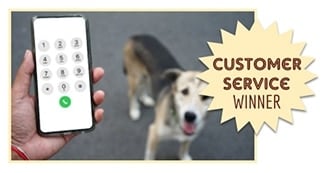 The majority of Embrace's complaints consist of claims going unpaid or low reimbursement. However, these complaints aren't entirely fair since many of the reasons for unpaid claims are explained in the policy that the pet parent signed. For example, complaints about orthopedic surgeries not being covered because of the six-month waiting period or a low reimbursement due to the coverage details the policyholder selected.
Unfortunately, this shows us that many policyholders don't thoroughly read or understand their policy before purchasing it. (We're hoping to help our readers be more informed when they sign up for a policy!) Embrace's customer support team has proven very responsive to complaints, and we saw many responses from them in our research.
As for Petplan, the complaints vary more widely. For example, some customers claim to have had their coverage limits adjusted without their approval. Other customers complain about high premium increases, having to submit claims multiple times, needing to follow up multiple times to get a claim resolved, and more.
This is disappointing to hear because Petplan used to have one of the best customer service reputations in the business. It's also odd that we saw Petplan responses to positive reviews but not negative ones.
Petplan has undergone many changes in recent years, including an underwriter change, and most recently, an acquisition by Warburg Pincus, a global private equity firm. While significant company changes like this can bring good things, they can also create more turbulence and complaints, which may explain some negative reviews.
Embrace is the winner for this category because we found more Petplan complaints, and we saw evidence of Embrace actively trying to resolve any bad blood between it and its customers.

Customer Service & Reputation Winner: Embrace
Claim Repayment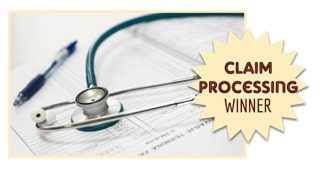 Embrace averages an eight to nine-day claim repayment for accidents and illnesses and five days for wellness-related claims. This is shorter than many competitors.
Petplan averages 22 days for claim repayment via check. However, if you opt for direct deposit, they may get your money back to you 5-10 days sooner. A 22-day claim repayment is toward the long end of the spectrum, but if Petplan can repay your claim via direct deposit in 12 days, it is a more average timeline.
Petplan does offer PetVetDirect, which reimburses veterinarians directly, leaving no need for reimbursement to you. However, this may not be available through all vet offices so be sure to ask your vet before you sign up.
In the end, Embrace has a much shorter claim repayment, even when you consider the Petplan direct deposit option. This is why Embrace wins this category.

Claim Repayment Winner: Embrace
Plan Customization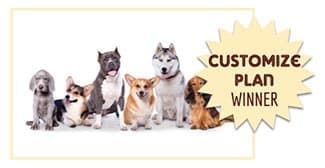 The other significant differences between these two companies are the level of plan customization available and age restrictions.
Embrace offers five deductible options ($200, $300, $500, $750, and $1,000) and six annual payout limits ($5,000, $8,000, $10,000, $15,000, $30,000, and unlimited). However, new customers must call Embrace to access the unlimited payout option. This is uncommon because other pet insurance companies (including Petplan) allow you to sign up for unlimited online.
Petplan offers three deductibles ($250, $300, and $500) and three annual payout options ($5,000, $15,000, and unlimited). Both companies offer 70%, 80%, and 90% reimbursements.
If your pet is older than 14, accident-only coverage is the only option available from Embrace. Both companies offer enrollment for pets as young as six weeks old.
Although Embrace technically has more deductible and annual payout options, we're disappointed that it requires pet parents to call in for unlimited payout limits. A phone call to Embrace complicates the sign-up process more than competitors, so we give Petplan the nod here.

Plan Customization Winner: Petplan
Price Of Policy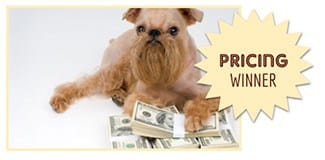 Embrace has a one-time fee of $25 and a $1 per month transaction fee if you pay monthly. Petplan has no one-time fees and has a monthly transaction fee of $1.50 or $3.50 for monthly policies, depending on where you live.
Below are some pet insurance quotes we pulled in September 2021. All information is for pets with no pre-existing conditions or multi-pet discounts.
| | Breed | Birthday | Gender | Location | Deductible | Reimbursement % | Annual Payout | Price Per Month |
| --- | --- | --- | --- | --- | --- | --- | --- | --- |
| Embrace | Yorkshire Terrier | December 2017 | Male | Ohio (43205) | $300 | 90% | $15,000 | $36.30 |
| Petplan | Yorkshire Terrier | December 2017 | Male | Ohio (43205) | $300 | 90% | $15,000 | $51.90 |
| Embrace | Labrador Retriever | April 2017 | Female | California (90024) | $500 | 80% | $5,000 | $57.24 |
| Petplan | Labrador Retriever | April 2017 | Female | California (90024) | $500 | 80% | $5,000 | $100.36 |
| Embrace | Medium Mixed Breed | January 2015 | Female | Illinois (60604) | $500 | 70% | $15,000 | $59.45 |
| Petplan | Medium Mixed Breed | January 2015 | Female | Illinois (60604) | $500 | 70% | $15,000 | $91.64 |
| Embrace | American Pit Bull Terrier | September 2018 | Male | New York (10012) | $300 | 80% | $5,000 | $88.22 |
| Petplan | American Pit Bull Terrier | September 2018 | Male | New York (10012) | $300 | 80% | $5,000 | $65.20 |
When comparing apples to apples, we found that Embrace was less expensive more often than Petplan. However, this may not always be the case, which is why we recommend getting quotes for your specific pet.

Price Of Policy Winner: Embrace
Coupons
Embrace
Embrace offers a few different discounts:
If you have multiple pets, each one gets 10% off (5% in NY).
Pay annually and get 5% off in NY.
USAA customers are eligible for a discount of up to 15% off.
No discount code needed -
click here
to take advantage of these offers. You can also visit our
dedicated Embrace promotions page
.
Petplan
There are no Petplan promo codes at this time.
Sign up online to receive the best possible price from Petplan
. Alternatively, call
800-237-1123
if you prefer to speak to a person.
What's The Verdict?
Overall, Embrace wins our comparison due to its shorter waiting periods, better customer service reputation, faster claim repayment, and more affordable pricing. However, if you want a company that can cover your newly insured 14+ year old pet for illnesses, you may want to consider Petplan.
If you didn't find what you were looking for, our experts dig even deeper into each company in our individual reviews of Embrace and Petplan.

Overall Winner: Embrace
Our experts have spent hundreds of hours researching to bring you our comprehensive and frequently updated pet insurance reviews, including our top picks and details for each of the most popular pet insurance companies.
If you prefer to see winners by category, see our best pet insurance comparison. We give awards for the best price, multi-pet discounts, 100% reimbursement, unlimited payouts, and other "best for" categories, including puppies, older dogs, dental, wellness coverage, bilateral conditions, behavioral therapy, vet direct pay, and more. You'll even see winners for exotic pets and cats as well as for breeders.
Would you choose Embrace or Petplan for your dog? Why?