To sustain this free service, we receive affiliate commissions via some of our links. This doesn't affect rankings. Our review process.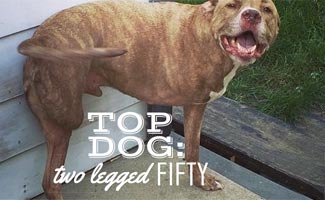 In September 2007, Fifty fell victim to Pit Bull breed discrimination and was shot with a gun by a police officer in both of his right limbs. This led to a double amputation but Fifty survived with two strong legs. He was put in a shelter and was adopted 9 months later by his current mom. Fifty now lives happily in his forever home in Chicago, Illinois where he is an ambassador for pit bulls and dogs everywhere to make sure they are treated with respect and dignity. Let's learn from our mistakes and stop history from repeating itself. His smile and spirit is likely to help you understand why you should never, ever judge a book from its cover.
Now, let's get to know Fifty the two-legged pit bull in this exclusive interview!
1. How did you and your parents find one another?
My mom had just started a new job at Integrative Pet Care in Chicago, a rehabilitative/holistic vet for pets and someone showed her my photo online. She applied for me immediately and was able to pick me up for adoption two days later.
2. What do you think is the most important message to share about your 2-legged way of life?
Don't let things hold you back. Be resilient. Dogs don't let things bring them down. Humans should learn from that.
3. How did you find your way into the spotlight?
I had my Facebook page (editor's note, Fifty's Facebook page is no longer active) made for me in order to gain more exposure and find my forever family. When my mom adopted me, people still wanted to keep up with me, and here we are almost 6 years later.
4. What is the coolest show or event you have been a part of and why?
That is a tough call. I get to do so many fun things, like take road trips and stay in fancy hotels and go meet kids at schools and people in retirement homes. I got to go to Pitchfork Music Festival a few years back with my mom, and it was fun getting to go see music together. We really enjoy meet & greets and fundraisers where people can come and meet me because everyone deserves to experience my awesome energy in person. Plus raising money for homeless animals is our favorite hobby. Last year I had the opportunity to be a part of the NYC Pride parade but we couldn't make it, I'm hoping this year I can get out there for it!
5. What's your best trick?
I can walk on two legs on the same side, what else do ya'll want from me?
6. What is your resolution for the year ahead?
Save more dogs. See new cities. Meet more people. Enjoy "The Summer of Fifty" and do everything fun that we can. Oh, and to meet a cat and not lose my chill.
7. What do you feel is your best feature and why?
My handsome jowls. They're so droopy and majestic. I look so distinguished.
8. Pit Bulls are often misunderstood. What would you tell the haters?
Suck my stump. (If that's not appropriate, I'd ask them to meet one and spend time with them before hating.)
9. Who's your favorite fellow celebrity dog?
Champion on Parks and Recreation. (Check out this video of him being awesome!)
10. What's your advice for other dogs looking to make a difference in the world?
Be positive, educate with your actions, not with hurtful words. Be kind.
11. Is there anything else you'd like to share with our readers?
Check out our foundation on Facebook: the Live Like Roo Foundation.
What inspires you most about Fifty the dog?
Disclaimer: This website contains reviews, opinions and information regarding products and services manufactured or provided by third parties. We are not responsible in any way for such products and services, and nothing contained here should be construed as a guarantee of the functionality, utility, safety or reliability of any product or services reviewed or discussed. Please follow the directions provided by the manufacturer or service provider when using any product or service reviewed or discussed on this website.