To sustain this free service, we receive affiliate commissions via some of our links. This doesn't affect rankings. Our review process.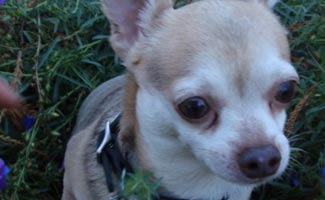 Top Dog fans, you are in for a real treat this month, or should I say this tweet?! We interviewed the one, the only Frankie Wah of twitter fame and he had some interesting thoughts to share with you. Find out why 96,000+ twitter fans follow him and have added his dose of humor to their lives.
Who is Frankie Wah?
@Frankie_Wah joined Twitter in June 2010. It is the soapbox for his ramblings and also his route to fame. The twitter page is written by Deborah Beale who also helped him with this interview. In addition to being a dog translator, she is also a book publisher, writer and mother. The real-life Frankie is a big character in a little (chihuahua) body and pretty close to the jokes his (bad) behavior inspires.
Word of warning from Frankie: If you choose to buy a dog via the internet, you may not get exactly what you expect. "After a while, his character started showing itself in how cleverly he was choosing places to pee on. He marks everything for his own and does so with skill and ingenuity. He is your house's worst nightmare," declares Deborah. Since adopting Frankie, Deborah and her husband Tad have decided rescue pets are a better option and have adopted 2 dogs and a cat.
But enough talk, let's hear what Frankie_Wah has to say for himself during this exclusive interview with Canine Journal.
1. What does your typical day look like?
MAMA SAYS I TAKE AFTER IDI AMIN, SO WHATEVER'S GOING DOWN 4 HIM I GUESS : )
2. Who's the bigger celebrity? You or Tad Williams?
WHO? DO YOU MEAN #THEMAN? THERE IS NO QUESTION WHO IS THE WINNER IN OUR HOUSE. HE SAYS THINGS LIKE 'Why is Frankie looking at me with a tragic, pre-clubbed baby seal face?' WHICH NATURALLY GIVES ME THE MORAL HIGH GROUND NO MATTER HOW OFTEN I AHEM VISIT THE SPARE BEDROOM.
3. Who's your favorite playmate and why?
YESTERDAY #LITTLEBRO #WALTER PLANTED HIS BUTT OVER 2 PILLOWS JUST AS THEY WERE SLIDING APART. HE HELD POSE AAALL THE WAY DOWN. IT WAS SO CUTE AND STUPID HE WAS A JOKE ALL BY HIMSELF. SO WALTER'S PRETTY COOL. PLUS I CAN SIT ON HIM. LIKE, WHENEVER HE NEEDS AN EXCUSE TO HANG OUT WITH ME.
4. What's your best trick?
FOOLING HUMANS. I DON'T MEAN TO BE A FORCE FOR PERPETUAL DISRUPTION. THERE ARE TIMES WHEN I TOO AM VERY SAD. THE RUINATION OF THE NEW SOFA, THE JURY IS STILL OUT ON THAT ONE. PEOPLES, GIVE ME THE BENEFIT OF THE DOUBT PUHLEASE.
5. How do you feel about cats?
OK, IF U SERVE 'EM WITHOUT THE CLAWS.
6. What's your favorite treat?
BEING ABLE TO GO A REALLY LONG TIME AT THE SAME BATHROOM SPOT B4 THEY NOTICE. I'M SUCH A CREATURE OF NATURE.
7. Which other celebrity dogs do you follow?
@sockington IS ALWAYS A JOY. & YES, I FORGIVE HIM THAT FUR.
8. Would you consider yourself a twitter expert? Any tips?
I AM AN EXPERT AT LOVE. I HAVE 2 B. #THEMAN SAYS IT'S THE ONLY THING KEEPING ME ALIVE. BUT O HOW CUDDLY ARE HIS KNEES. I CAN'T RESIST, EVERY TIME.ANY TIPS? SEND YOUR TWEETS TELEPATHICALLY. #FTW
9. How Old is Frankie Wah?
When we asked this question, he declined to answer. Deborah shared, "He's currently too vain to admit his age but his demographic on Twitter is 13 – 95 years old."
Disclaimer: This website contains reviews, opinions and information regarding products and services manufactured or provided by third parties. We are not responsible in any way for such products and services, and nothing contained here should be construed as a guarantee of the functionality, utility, safety or reliability of any product or services reviewed or discussed. Please follow the directions provided by the manufacturer or service provider when using any product or service reviewed or discussed on this website.