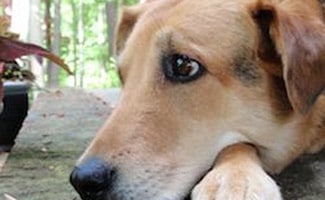 Dog Tales is an ongoing column on featured guest writers and readers who are sharing the stories of their beloved canine chronicles.
"My wife, Kim, and I have donated to Best Friends Animal Society for 15 years. We really like their positive, upbeat approach to communications and their vision of a "no kill" nation through education, spay and neuter programs and rescue organizations. We volunteer at their international headquarters and sanctuary in southern Utah as often as we can.
In the spring of 2005 we set off on a plane trip from Kansas City, Missouri to volunteer at the sanctuary for a week. On the trip down my wife was reading the Best Friends magazine when she started to cry just a little. I'm used to this. It doesn't take much to tug at her heart when it comes to animals.
Shane, you have to read about this dog.
That is a warning signal. See, we already had two rescue dogs and a cat and I was not at all interested in adding to the family. We were urban dwellers, not farmers or ranchers. And we weren't running a rescue group.
I don't want to read about the dog.
Please, just read her story. Kim forced the magazine on me.
On the page was the picture of a German Shepherd/Retriever mix with a left front leg bandaged from shoulder to paw. She was laying down with her head up, ears down and a solemn face. She had been found in the desert with rope around her neck and all of her legs broken, nearly starved. Her body had sustained extensive cuts and scraping, indicating that she had been drug by a vehicle. Even her tail was broken. The rope was frayed, not cut, so her life – such that it was – was spared by accident. I was moved by her story and thankful she had been rescued. But that was it.
We have to walk this dog. Warning number two from Kim.
We're not getting another dog.
I know. I just want to see her. I want to know she's doing ok.
We're not getting another dog.
I'm not saying that. We'll just visit her. Maybe walk her. The third and final warning from Kim.
We are absolutely not getting another dog. If she's around when we volunteer at Dog Town then we can see her.
We spent five terrific days at the sanctuary volunteering with cats, rabbits and farm animals. We spent a half-day at the aviary caring for homeless parrots, macaws, cockatoos and other large domesticated birds. And, even though we spent a day at Dog Town, we hadn't visited the dog in the magazine yet. I was dreading it. I didn't want to go through the tough conversation about not taking on another pet and I knew Kim would not relent on the subject.
On our last day we went to the communal dog run where she was housed with four others. When we walked into the run we were greeted with furiously wagging tails, slobbering mouths and reaching paws. Well, at least four of the dogs greeted us. Alone, on top of a dog house in the middle of the run lay the dog we read about in the magazine. She gave us a furtive look, a small wag of the tail, and then continued her vigilance over the rest of the compound. She was missing the bandaged leg we saw in the photo; apparently it could not be saved.
The highlight of the day for these dogs – and for volunteers – is walking them among the several trails around the sanctuary. Kim got a big, black lab mix to walk and I, of course, got The Tripod. The handler told us to go slow with her since she was still learning to walk on three legs.
We took to the trails, Kim walking ahead since The Tripod had to stop frequently to rest. Hopping awkwardly on the remaining front leg took a toll on this dog but she didn't want to stop, thoroughly enjoying the entire walk and trying to keep up with the other dog. I would stop with her and sit on the ground while she caught her breath, often losing sight of Kim and her dog. For all she had been through, this dog showed real spirit and a quiet dignity. And she still liked humans.
It took a while to get through our walk but we finally reached the run. I got down on one knee to unleash her and looked in to her eyes.
Kim, we have to have this dog.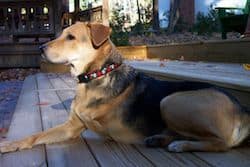 Eight years later Gracie sits on our deck almost daily, holding vigilance over our back yard. She has three other dogs and two cats in her pack now. And every night she is the first in bed, making sure to grab the pillow next to the man who walked her along a desert path several years ago and instantly fell in love."
Shane Johnston is in client services at Capstrat, a communications agency in Raleigh, North Carolina. He and Kim continue to be active in several animal rescue organizations, including Best Friends Animal Society.