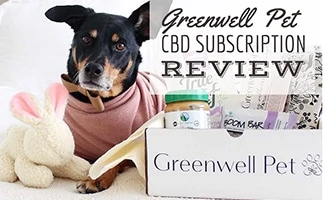 Have you been hearing all the buzz about CBD (cannabidiol) for dogs but unsure which products to choose? A monthly subscription box is an easy way to try out this all-natural alternative.
Greenwell Pet offers a monthly subscription box full of CBD and other wellness products for dogs. Are the CBD products and other items of the highest quality? And is their box worth it?
Are You New To CBD For Dogs?
If you don't know much about CBD and pets, you can learn more in our comprehensive reviews of the best CBD oils for dogs. Plus, we explain the difference between CBD and THC (tetrahydrocannabinol), which is the chemical responsible for producing the "high" associated with marijuana. CBD doesn't produce that high.
Greenwell Pet Review
Summary
Greenwell Pet's monthly subscription box or one-time purchase offers a great value for the high-quality and quantity of products included. You can save up to $25-$30 on the retail price of all the items. While the subscription box is an enjoyable way to test different wellness products, if you're solely interested in receiving CBD products, other options are available.
Our team determines the overall rating based on several factors, including quality of CBD and ingredients, variety of products, third-party testing of products, pricing, customer support, and more.
Pros
Excellent value
Great way to explore a variety of brands and products
Website has 3rd-party lab results for all CBD products
All CBD products contain the federally legal limit < 0.3% THC
Free shipping
Cons
Not all items are CBD products
It's unclear on their site if you can skip months
No prepay discounts
Key Features
Each box contains 5-7 high-quality items (at least 2 are CBD/hemp products)
Boxes include CBD/hemp oils, treats, wellness products (balms, shampoos, etc.), and toys
All products are earth-friendly
Boxes contain in-depth information about each product and their benefits
Can cancel a subscription anytime (but it's unclear if you can skip months)
Excellent information on website about the benefits of CBD for dogs
Customer support via live chat, phone, and email Monday-Friday, 8am-4pm PST
Price
One-time box: $44
Monthly subscription: $39/month
What Are The Benefits Of CBD For Dogs?
Check out this brief video to learn more about CBD and the benefits for your dog. We also have a lot of useful information in our article about the benefits of CBD.
Best CBD Oils, Treats, & More
Greenwell Pet's one-time or monthly subscription box is a great value for the number and quality of products you get each month. You can save $25-$30 off the retail value on all the items.
It's a fun way to try out a variety of wellness products, but if you're only interested in receiving CBD products, you have other options. See how Greenwell Pet compares in our best CBD subscription box for dogs article.
And if you're not sure you want to commit to a monthly subscription but still want to try out CBD, check out our separate reviews of the best CBD oils and CBD treats for dogs (and cats).
Tagged With: CBD, Subscription