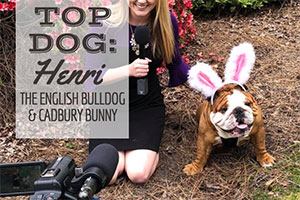 America's next top… Bunny Dog?
Yep, Henri, the self-proclaimed Super Stud English Bulldog, is an aspiring actor and dog model who recently got his first big break as the new "spokes dog" for Cadbury, winning its first ever "bunny tryouts" competition in early 2019. More than 4,000 pets auditioned, but, ultimately, it was 18-month old Henri the Bulldog from Wilmington, NC who earned the opportunity to film the latest commercial for the Hershey-based chocolate brand. The new campaign is a fresh take on a 35-year-old classic clucking bunny ad which is synonymous with Spring. Henri also scored $5,000 in prize money and Cadbury donated $10,000 to the ASPCA, one of our favorite pet-advocacy organizations.
Despite his busy schedule, we were lucky enough to sit down with Henry for this exclusive interview. Get to know this pudgy pup and what it was like behind the scenes as a TV star.
How did you and your human meet?
Mama and Daddy created me! Well, my real mama is still alive too. My parents took one look at me and decided they just have to keep me!
I guess when you've got, you've got it! And I've got it!
How'd you get the name Henri?
Well, mama first named me King Arthur. My brother was named Sir Lancelot and my sister was named Lady Guinevere. But mama said I looked more like a Henry. So she decided to call me Henry with a Y! But then she saw a statue from the Henri Studios of a beautiful Bulldog, and she changed my name to Henri with an I!!
What was the audition process like?
I knew mama was up to somethin' when she got those ears and fluffy bunny tail. I tried them on and they just felt right. She started to take pics of me because I looked so cute. She was gonna save them for Easter, but she saw a contest on Facebook that talked about being in the Cadbury Bunny Commercial! She just couldn't resist! So she entered my beautiful face. And fluffy tail too!
When you were selected how did you feel?
When I found out I won, I had excitement overload! We were jumping and barking and just so, so happy!
Tell us about the commercial filming
I went into a big room of people who were so excited to see me! They all wanted to squish my wrinkles. I get that a lot. And it feels kinda good, so I don't mind.
I wasn't scared at all because everyone was so nice. And all I had to do was sit and lay down on a green piece of soft fabric. They just wanted to see me smile and take all kinds of pictures of me! It was really fun!
They even had lunch brought in and I got in line for the buffet! And guess what? I got steak! Mmmmm…
What's it like being a bunny?
Being the bunny is super duper easy. I feel like I might be part Bunny because it came so easy to me. And it makes everyone really happy!
Watch Henri the Bulldog's Cadbury TV commercial here:
Ironically, dogs can't eat chocolate. So what are some of your go-to treats?
I like sweet potatoes and chicken snacks. Watermelon too! (Learn more about the risks of dogs eating chocolate).
What are your tips for winning competitions?
You have to be happy. That's the best trick. And patient with the humans because they want to smooch you all the time. So those are the only trick I'd say to be really good at.
What are some of your favorite spots in Wilmington to hang out?
I go to Freeman Park (in Carolina Beach) with my humans. We take pictures. We don't get to walk too much because a lot of people want to talk to me! We also love the park on College Road. It's so pretty.
What is your favorite toy?
I love my Jolly Ball! Bestest toy ever! Mama even ran it over with the car and guess what?? It still works!! Good as new. Sort of.
What's next for you?

I want to be in more commercials and visit children in the hospital. Maybe I could do a movie, learn to surf and raise some money for humans and fur babies too!
So that's it. That's all I've got.
Thanks Henri for sharing your story with us! Follow Henri on Instagram and Facebook to stay up to date with the latest and let us know in the comments below if you have any questions for him.