To sustain this free service, we receive affiliate commissions via some of our links. This doesn't affect rankings. Our review process.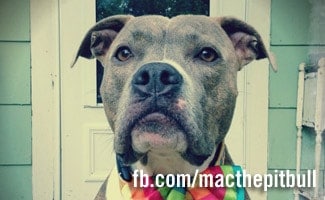 Mac the Pitbull is an inspiration to all pitbulls and misunderstood dogs around the world. He is pitbull strong and makes his bark heard as he shares his story of rescue and greatness. Pitbulls are often trained to be aggressive dogs but they can also be trained to be awesome pets. That's the sign of a smart dog breed and Mac is no exception. We were so excited to meet this special dog who we first learned about from his recent feature in The Huffington Post. But this interview gave us an even better insight into his canine personality and initiatives. You should check him out too but get started by reading our exclusive Canine Journal interview with Mac the Pitbull.
How did you find your forever home?
My mom saw a cardboard sign nailed to a light pole outside the yard I was in one day in a not so great neighborhood for dogs: "pit bulls $200." I was with a BUNCH of other pit bull puppies running all over the sidewalk and she spotted me just sitting near the steps! She stopped and inquired about me. The guy had named me RUNT and it was true, I was 3 months old and only 4 pounds while my brothers and sisters weighed 20-25 pounds!!! I also had nearly no hair because of mange and mom said the life in my eyes was almost gone. She told the guy she wanted me and he said there were other "better" puppies still available. Mom said NOPE, that I was the one. My parents and my aunt Requi scraped up and paid $80 to get me to safety. The plan was to foster me through the local shelter, get me healthy, and get me sent to rescue. Too bad I had other plans and I changed mom's entire world that day when she touched me. I was quickly a foster failure mom said. She said this kind of failure was the best kind and then adopted me!!!
How would you define your cause and when did it start?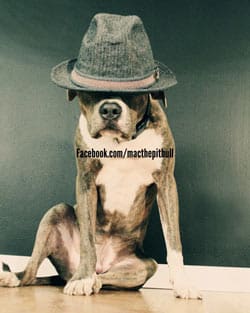 My cause, "Mac's Mission" is simple! Act in a positive way to change the world to be a better place! All of this started when mom realized my back legs were "bad" when I was about 7 months old, she just knew I had something going on and after lots of diagnosing and treatments surgery was the only option. My parents are far from rich so coming up with 4 thousand dollars for my first surgery was devastating to them. My other parent worked full-time and is in grad school!! My mom worked three jobs during the summer of 2012 to make up the money and since she knows how to screen print and is an artist she started making t-shirts with me on them! They SOLD!!! We sold them everywhere, the internet, the farmers market in town and then they just kept selling after I hit my $4,000 goal!! Then it was, "What are we going to do with the money we keep making"? It didn't feel right to us to just spend it on silly stuff for us. We decided as a team she would work for free and I would give all the money away to OTHER pit bulls in need. It has snowballed into such an epic MISSION, Mac's Mission, with dozens working their hearts out for FREE to further my Mac's Mission!! We have given away over $25,000 since the start of this and that is far better than spending this money on "stuff" for us!! We are sending off our 501c3 within the week and will then apply for our rescue license in the state of Missouri for rescuing pit bulls!!! Our plan is to continue being pit bull awesome, giving away money, and having a very small-scale rescue operation(1/2 dogs at a time in my home or a trusted foster home). The good news about this pack though: Me, Zayda (my adopted sissy), and Brinkey (my other adopted sissy) all three NOW have health insurance!! BOL!!
What's your favorite treat?
I LOVE BULLY STICKS!!! I love everything really and lots of people send me great stuff that I share with my shelter friends. I LOVE to get treats and when I do these crazy photo opps with my mom she makes sure to load my belly up!!
What is the coolest event you have been a part of?
I have been crate or house bound for so long, nearly my entire life (3.5 years) with bad legs so I don't really have any cool places that I have visited other than my aunts lake. My mom on the other hand got to go to the One Million Pibble March this summer!!! It was EPIC she said and she was so charged to be around so many other pit bull people and will carry that added passion for my mission and pit bull advocacy for life!! Mom is also lucky and has scraped money together to go to the Best Friends National Conference in Vegas this year!!! She won't take me because she is flying and she will never put me in the belly of a plane (I would probably poop myself I would be so scared in a plane, I am a bit of a chicken).
What's your best trick?
I can balance anything on my face or head. I also allow my mom to dress me up in ridiculous outfits so we can make my friends all across the world laugh or feel better about things they may be going through.
What do you feel is your best feature?
My best feature is my soul. I have buckets of good to give. I love the feeling when I make people smile and when I pay it forward. Mom says I am an "old soul" and I am not really sure what that is but the girls dig it! I also have a SUPERB team of "grunts" who work for me and that is a pretty awesome thing to have!! We have heard from many friends through my page that we have kept them from leaving this earth…. powerful. To know that people feel my love and HOPE is really what this is all about, to be the change.
Who's your favorite fellow celebrity dog?
I don't really have one favorite! I love all of my fellow dogs on Facebook and then the dogs I meet without a page. I love any dog that makes a positive difference in this world for any cause, "pit bull advocacy", "adopt don't shop", "canine cancer", "shelter dogs", "service dogs", etc, all of them, they are my favorite because it takes us all to make a difference!!!
What's your advice for other dogs looking to make a difference?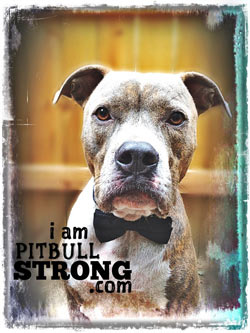 I say the best advice for other dogs is to ACT. Each small thing you do positively causes a ripple and then those acts become larger and larger. Take a jar of peanut butter to your local shelter or rescue. Go walk a dog in the shelter, tired dogs are happy dogs!!! Share an urgent dog needing a home. Shelters have to put dogs to sleep because their aren't enough homes for them so help the shelter find the dogs homes by going to photograph or network they dogs!! DO all of this with a positive way about yourself! I stay far away from anything bad in our lives. Now I don't mean the "bad things" that happen in the world. I talk about those things but I always try to find the GOOD in them or I find a way to make it better next time. Rescue work and advocacy can be really hard work and I share all aspects of it on my page! I mostly mean I stay away from drama, vulgarity, and negativity. My page has a ton of kids reading it and I have actually heard they can follow me because I stay PG, funny, and I am a bright spot in the day. I take GREAT pride in knowing this!!
Is there anything else you'd like to share?
I would like to finish with: we all have a spark, find it and ignite it. Make a change, for your cruddy situation, others, the world, SOMETHING positive. Be PITBULL STRONG and own it for the better!! And remember you matter and are loved.
Follow Mac The Pitbull On Social Media
Keep up-to-date on Mac's activities via Facebook and enjoy his cute face and antics on Instagram.
Disclaimer: This website contains reviews, opinions and information regarding products and services manufactured or provided by third parties. We are not responsible in any way for such products and services, and nothing contained here should be construed as a guarantee of the functionality, utility, safety or reliability of any product or services reviewed or discussed. Please follow the directions provided by the manufacturer or service provider when using any product or service reviewed or discussed on this website.