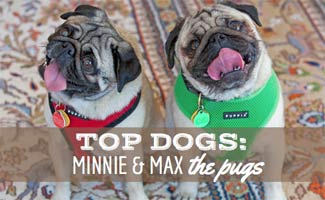 Max and Minnie the Pugs are sister and brother, litter mates and best friends. They are probably best known for their viral video The Pug Head Tilt (check it out below!), which has been featured on The Tonight Show, Ellen, Regis & Kelly, Good Morning America and Animal Planet's "America's Cutest Dog," among others. Their collection of YouTube videos have been viewed over 22,000,000 times and many of these are available for viewing on their own playlist at Disney.com. With over 1,000,000 followers on Facebook, Minnie and Max are among the most recognizable pets on the Internet.
Max and Minnie are big supporters of animal rescue organizations and "Central Coast Pug Rescue of California" in particular. They promote and attend fundraiser events up and down the west coast. They've used their world-wide influence to publicize crowd-sourced funding campaigns for special hardship cases at various rescue organizations throughout the country. They continue to look for ways to raise awareness and support for these organizations and the amazing work they do.
1. Why Do You Always Tilt Your Heads?
Pugs are a naturally curious breed. Trying to figure out what humans are talking about requires getting as much information to our tympanic membrane (aka ear drum) as possible. We made a YouTube video called The Pug Head Tilt that went viral a few years ago and it has become our signature look. Folks like posing for photos with us while we do it. (They sometimes tilt their heads too.) It comes naturally to us and we're happy to do it.
2. In Your Opinion, What Makes Pugs so Very Special?
Pugs are unique creatures. We have a ton of personality and interesting looking faces. A lot of people say pugs all look the same but that's not true at all. We have a lot of character in our faces and we come in all shapes and sizes. We are often described as "stubborn." (We prefer to think of ourselves as strong-willed.) We can also be quite entertaining!
3. How did You Know You Were Destined for Fame?
Our viral video was only posted on YouTube because it wouldn't fit as an email attachment and was only meant to be seen by a few close friends. However, when ABC's Good Morning America asked if they could show it, we knew we had something special. After that, YouTube invited us to be partners and encouraged us to make more videos. Disney created a playlist of our videos on their website and commissioned our Pug Avengers video, which is a Disney exclusive. Now, we keep our 1,000,000+ Facebook followers entertained with our daily antics.
4. What is the Coolest Show or Event You Have Been a Part of?
We love pug rescue events and attending fundraisers but one of the "coolest" events we were part of was a TV program called "Puppies vs. Babies" on Animal Planet. It was a "sweet sixteen" style bracketed competition between puppy and baby viral videos. We watched it live with friends cheering us on as we narrowly defeated the "Talking Twin Babies" video (a worthy opponent we might add.) That was a lot of fun.
5. What are Your Best Tricks?
We don't really do "tricks" in the classic sense. We can get some serious air (for pugs, anyway) jumping for our ball at the beach but the one thing we are really good at is posing for photos and tilting our heads. We do it regularly for fans and folks we meet almost daily.
6. What do You Feel are Your Best Features and Why?
For pugs, we are very attentive. We have been pretty "tuned-in" to humans since we were puppies. We have a large vocabulary and enjoy interacting with humans and other dogs. We are always listening to what is being said whether it's directed at us or not! We are also pretty good travelers.
7. Have You Two Always Been Super Close/Bonded?
Absolutely! We're what's known as a "bonded pair" and have never been apart. We sleep and play together and our closeness shows up in our videos and photos. At the same time, being littermates presents some challenges. It's not always fun and games with twins!
8. What do You Think is the Most Important Message to Share With Others?
Don't get a pet for the wrong reasons. Too many people act impulsively without considering the time, money and effort required to take care of a pet. Pugs especially are high-maintenance dogs. We always tell folks that adopting a mixed-breed from the shelter is a great option to consider.
9. Who's Your Favorite Fellow Celebrity Dog?
We have made so many great friends in person and online! We love Manny the Frenchie, Doug the Pug, Boo, Tuna, Jiff, Mishka, Parker Pup, Tillman, and Chubbs the Wampug. Our favorite has to be Matti the Pug, though. She's going to be a star.
10. What's Your Advice for Other Dogs Looking to Make a Difference in the World?
Remember what's important. Don't forget to use your celebrity to raise awareness for worthy causes and to help others. Being entertainers is only half of our job.
11. Anything Else You'd Like to Share With Our Readers?
Yes! Please support your local shelters. There are incredibly dedicated and selfless people in your community looking out for the most helpless among us. They deserve our support! Volunteer, adopt, foster or DONATE!
The Infamous Pug Head Tilt
Watch Max and Minnie's well-known pug head tilt in action! This is the video that started it all!
What do you love most about Max and Minnie?