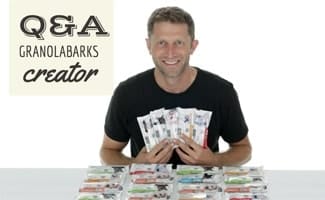 Michael Quaranta is a California native and creator of Granola Barks granola bars for dogs. He over-indexes on the values of empathy and emotional intelligence.
His experiences in life have taught him that the human decision-making process is very often driven more by emotion than by logic.
Applying this perspective to his own life, he can make better decisions both professionally and personally. Read on to learn how Michael built this healthy dog treat company, what he's learned along the way and how you can get your paws on Granola Barks.
Read our Review of Granola Barks | View Granola Barks on Amazon
Where did the idea for Granola Barks start?
I love cooking – for me it borders on the spiritual to work with raw ingredients and transform them into something new, delicious, and healthy. My Mom used to take me with her to cooking classes when I was a kid and I loved how at the end of the class we ate what we had just learned how to make. The famous Hippocrates quote "Let food be thy medicine, and medicine be thy food" also had a profound impact on me many years ago and is still a guiding principle for me when I am sick.
In 2009, my 2 small dogs had some health issues so I began making their food at home using fresh ingredients, and to my surprise were cured almost immediately. Not only did they recover fully but they had more energy and seemed more alert when eating the fresh meals versus when I fed them only mass-produced dog food. Seeing that incredible health transformation was a big part of my motivation to create a treat for them because I no longer wanted to feed them any mass-produced food items. Once I perfected the treat recipe at home and began testing (with the pickiest dogs I could find), I felt very inspired by both the dogs' and the owners' positive response to develop the concept further.
How did you go from concept to where you are today?
Once the idea to create a "granola bar for dogs" rooted in my mind in 2009 during a business school brainstorm session, I began prototyping in my home kitchen and eventually developed a recipe and small-scale manufacturing process. With persistence, Granola Barks went on sale in Whole Foods and 35 other food retailers in the Nashville, TN area, as well as on Amazon.com.
However, I was not satisfied with the packaging and lack of purpose or cause for the business to exist other than to sell dog treats. So in 2011, I put Granola Barks on the back burner to pursue an opportunity in the information technology space.
A few years later I randomly saw a product called Kombucha Dog that featured adoptable dogs on their kombucha labels. I had an 'Aha' moment, realizing that Granola Barks packaging could riff on that idea. Using the online design service 99 Designs I recruited a designer to help create the new packaging, and a short while later we were off to the races again. That is the short version of how we went from idea/concept to where we are today.
What is the most popular flavor?
Currently, the Variety Box is our most popular item and it includes the five current Granola Barks flavors: Bison, Chicken, Peanut Butter, Salmon, and Veggie.
What are some of the biggest challenges you've faced?
One of the biggest challenges we grapple with is scaling the business up. Currently, we are at a fork in the road. The choice we face is to either:
Invest in our own manufacturing facility (like Quest Bar, one of the most successful bars on the market) ORb)
Work with an existing manufacturing facility (like many bar companies do).
The challenge of scaling up is something we will always be contending with as long as we are in business, and staying in that mindset is how we deal with the challenge.
Love the adoptable dogs on the labels. Any success stories?
Yes, so far 2 of the 5 dogs (on the packaging) have landed in forever homes: Rico and Dexter. Rico, a sweetheart of a pit bull mix, had been at DAWG (Dog Adoption & Welfare Group) for years so we were really happy to see him get adopted into an amazing family with kids who are the right age for him. However, we do miss him because he had become one of our close buddies at DAWG.
Any advice for entrepreneurs?
If anyone is looking to get into a certain industry, specifically the pet/food industry, I recommend visiting a few trade shows. They don't need to be the biggest trade shows, but they should have several dozen to several hundred vendors. The networking and product/service information gathering opportunities are priceless. There is no substitute for showing up in person to one of these events. Connect with lots of people, get email addresses, and begin building an industry-specific network to help get started on the right foot.
Also, listen to classical music. It helps me stay calm, especially in traffic.
Who are some of your favorite "dog-preneurs"?
One of our favorites is a YouTube Channel called Hope4Paws that shares videos of homeless dogs they rescue and nurture back to health. The videos pack a lot of emotional punch, more than most Hollywood movies, and they don't hard sell any products or services, they simply ask for $5 donations. What I admire about that business model is that kind of work probably feels incredibly fulfilling, and you don't have to deal with the challenges of a traditional product or service business like inventory and clients.
Video: Hope4Paws
See a sample rescue video of Amelia who was rescued off the streets after she was found hiding under a car.
Where can we get our paws on Granola Barks?
Read our Review of Granola Barks | View Granola Barks on Amazon
Online at Amazon or directly from us on our website gbarks.com. We also run Instagram (@granolabarks) contests regularly where we post a picture of an adoptable dog and consumers search for its name. Then they can use the dog's name as a coupon code for a free Granola Barks 2-pack from our website. The dog's name can be found by looking on our shelter partner's website.
Our intention with the contests is to raise product awareness but also to drive traffic to the page of adoptable dogs and inspire adoptions. This is one way we fulfill our mission of increasing awareness about dog adoption.
What's next for Granola Barks?
We are excited about growing the network of pet-friendly hotels that offer guests complimentary Granola Barks!

Thanks again Michael for sharing your story.
Why do you think your dog would like to try Granola Barks?