To sustain this free service, we receive affiliate commissions via some of our links. This doesn't affect rankings. Our review process.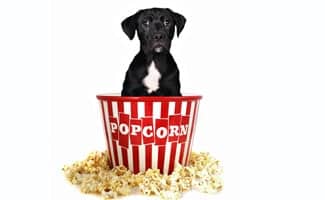 Question: What do I do if my dog was fed popcorn? Now he is having a hard time walking, and he is crapping all over and has a bloated stomach.
Answer from our Pet Doc: It sounds as though the popcorn may not be the only problem. It also does not sound like the most important problem. Your pet should be evaluated by your local veterinarian as soon as possible. It is impossible for me to make any recommendations without a more thorough history.
Have you had your pup eat something strange like popcorn? Maybe they were upset that you didn't put on Best in Show for the 3rd time in a row, so took a bite out of one of your nice shoes. Leave a comment below and share your exotic pup dining experiences with us! And please – if they ate something that makes you concerned for their health, see a veterinarian as soon as possible.