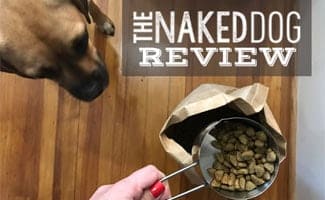 *Editor's Note: Naked Dog Box appears to have gone out of business in 2018, we are monitoring the situation.
Have you ever gotten down to the last scoop of dog food only to realize you've run out? Or do you find yourself wondering if the food you feed your furry friend is even good for them? Naked Dog Box (a new subscription offering from Naked Dog Shop) takes the worry out of both by delivering fresh, healthy dog food to your dog every two weeks. The subscription service is not only nutritious, but it's also doggone delicious. Plus, each delivery comes with a surprise for your pup. Read on to learn more in our Naked Dog Box reviews.

Naked Dog Box Reviews
The Naked Dog Box was founded in 2017 by its parent company The Naked Dog which has been creating grain-free, gluten-free pet food and treats in Southern California since 2014. The founders wanted a way to distribute their popular products to pups everywhere, and through the Naked Dog Box subscription service, they can do just that. Now dogs across the country can enjoy the benefits of their balanced recipe that promotes better health.
Key Features
Delivered to your doorstep twice per month (every two weeks)
Comes with custom-sized dog scoop to get correct portion based on the age, activity level and weight of your dog
Optional add-ons of eco-friendly pet-care items from trusted partner brands
Surprise toy in every box (up to $10 value)
Low glycemic diet helps prevent dog diabetes
Three flavors to select from: beef, turkey or salmon (change at any time)
Pros

Cons

No grains, potatoes, corn or soy (hence the name "naked")
Affordable, personalized and convenient
Free shipping
Money-back guarantee
Made in USA
Cancel or hold shipments
Phone and email support

No discount for multiple dogs
Can't select shipping date
Naked Dog Box Price
Starts at $18 for 2 week supply (cost varies depending on the size of your dog)
All boxes include free shipping
Naked Dog Box Coupon
We are not aware of any Naked Dog Box coupons at this time.
Our First-Hand Experience with Naked Dog Box
Naked Dog sent us a free bag of their food for an honest review of their product. We loved how the food was delivered right to our doorstep (similar to home meal subscriptions for people, but without the cooking). The plain, brown paper bag it comes in is sturdy, neutral and natural. However, there was no built-in way in the packaging to tightly reseal the bag which could make it lose its freshness more quickly. The box it came in had a description of the product along with the nutritional info and a little fun cutout bowtie for the pup. And the best part is Harry, the dog who taste tested it, gobbled it up!
What Do Customers Think of Naked Dog Box?
Don't just take our word for it, here are some other customer reviews of the product.
Positive Naked Dog Box Reviews
I really enjoyed this box and Buddy did too. Buddy isn't particular with food, but I really loved that this was a healthy food. Buddy isn't the most active dog, so I like getting customized food for his age, and activity level. – Subscription Box Mom 3/9/2017

Georgie ate every bite in about 2 minutes flat, and then she begged for more! I was shocked, and I'm happy to report she's definitely been more interested in mealtime since we've started getting The Naked Dog Box! – Christina, The Lazy Pit Bull Blog 4/5/17
Negative Naked Dog Box Review
I love that it's made in the USA, all natural and grain free. But that's where it stops! As for the customer service I am not Impressed, ordered my first box for my dog to try. Seemed like it took for ever to get here! I recommend it to some family and friends who's dogs only eat grain free I helped them order there first boxes to try. Well to day one of them informed me they received an email stating they were refunding the money and would not be sending the boxes however they could reinstate my subscription. We are different people with different dogs and homes. They then made the suggestion to my friend to try my dogs food what company does that. They proceeded to say that if their dogs like the food then they can start the subscription up. Isn't the whole purpose of the promotion to try the food to see if you fur baby likes it?? After all of this my business and everyone that I have mentioned the NAked Dog to will be made aware to not to give there business to! I'm sure there's other companies out the that would be glad to have our business! -Jessica B., Facebook 1/26/17

Video: Naked Dog Box
So you're considering going Naked? Well here's a quick video that shows you how happy you and your pup could be as a result of a subscription.
Is Subscription Dog Food the Future?
We think so! With the rise of healthy, subscription meal services for humans it's only a matter of time before the pet food industry catches on. Naked Dog is certainly not the first to think of this idea though. Check out our review of other companies that auto ship dog food as well as our pet box subscription comparison review for some additional options.
Have you considered a grain-free diet for your dog?