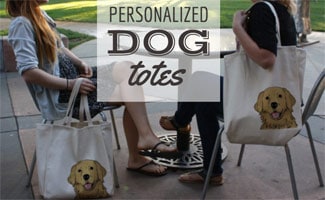 If you're like my husband and me, you probably take your dog everywhere. When we visit family for the day, our Sally our dog totes along with us. That means we need to bring her food, food dish, water dish, treats, leash, harness and any toys she wants to bring along. Our back seat gets chaotic with everything just thrown in the vehicle.
Having a dog tote bag for all of her stuff would make trips easier and more organized. And what's cuter than getting a pet tote bag with your dog's face on it? Check out these customizable pet totes to help you keep everything in one easy to grab spot. A personalized dog bag would also make a great gift for your favorite dog lover!
Pet Inkery Review
Visit Website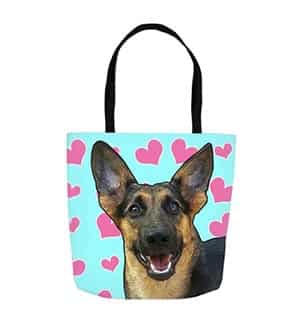 Pet Inkery allows you to put a photo of your pup on a variety of products, including canvas bags. Just drag and drop a photo of your pet (preferably on a simple scene) and the art team will crop it and put your pet's image on a stylish background (up to 40+ colors and patterns from which to choose). Another option is to get a tiled image of your pet.
The company has a 7-day money-back guarantee and 24/7 customer service. Plus, 10% of proceeds benefit animals in need.
Pricing
13×15" Canvas tote: $24.99
Shutterfly Review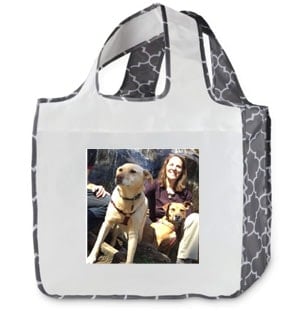 Shutterfly offers a reusable shopping bag in various colors and trendy patterns. Add a photo of your favorite furry friends for a great gift for pet lovers.
The bag can hold up to 50 pounds and is made out of water-resistant polyester. Unlike most custom tote bags, you can machine wash this bag if it gets dirty.
Pricing
Reusable shopping bag: $16.99
Snapfish Review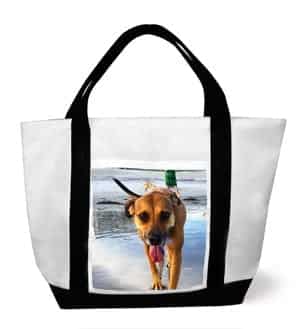 Snapfish offers four different totes. The first is a canvas tote bag, which is 20.5″ x 15.5″ x 6″ in size. It is bright white with a black trip. The 8.5″ pocket on the front displays a square image of your choosing. The second bag is a collage reusable grocery tote bag, which is 12″ x 13″. Photos can be printed on both sides of the 100% recycled bag.
The third bag offered by Snapfish is the everyday canvas tote, which is 15.5″ x 15″. It is made out of 100% natural cotton canvas and has an 11.25″ x 11.25″ custom print area. The final bag is a reusable grocery tote bag, sized at 12″ x 13″. It is durable enough to hold up to 30 pounds and is 100% recycled, environmentally friendly. Your photo can be printed on both sides of the bag.
Pricing
Canvas tote: $29.99
Collage reusable grocery tote: $12.99
Everyday canvas tote: $11.99
Reusable grocery tote bag: $12.99
These Bags Are Multipurpose
These pet tote bags can be used for more than your dog's stuff. You can use a custom pet tote bag at the grocery store, to hold a change of clothes, your kid's books or for any other occasion. Dog totes are durable and adorable.
Looking for more gift ideas? Check out these top picks for dog lovers.
What do you plan on using your pet tote bag for?