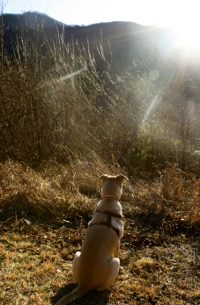 If you're like us, life would be better with your dog always by your side, especially on travel adventures. So when we started planning our trip to Asheville, NC, we were blown away to find so many pet-friendly hotels, restaurant, coffee shops and dog park options right in town! If you have not been to Asheville before, you are missing out. Period. It is the mountain town equivalent of the "hipster granola awesomeness" that is Austin, Texas, but with a smaller community feel. The views of the Pisgah and Smoky Mountains are breathtaking, and your palette will savor the locally-sourced, seasonal menus at top-rated restaurants. But let's get back to the topic at hand – there are some great pet-friendly hotels in Asheville to choose from when planning the perfect family trip with your pup.
Where To Stay In Asheville
From pet-friendly hotels to bed & breakfasts to cabins, you are sure to find the right fit for you somewhere in this lovely North Carolina mountain town. We were lucky enough to try out two options on our recent visit and both were such a wonderful surprise – not only were dogs allowed but they were welcomed!
Engadine Inn And Cabins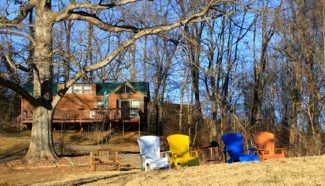 Located just 17 minutes west of Asheville, you will find a gorgeous old mansion called by its original owner the Engadine, after the lovely mountain range in Switzerland that this stretch of NC mountains reminded him of more than 100 years ago. My husband Alex was born in Switzerland and instantly warmed to this charming detail.
The mansion serves as the Bed & Breakfast portion of the lodging. However, the pet-friendly part of the stay takes place among the 12 acres of hills and sweeping mountain views, where you will find several cabins to choose from, 3 of which welcome dogs.
The cabins include one bedroom with a queen bed, a queen pull out sofa and one small full bath. There is also a little kitchen complete with a cooktop range, oven, sink and fridge so you can make yourself at home in no time. Breakfast is not included in the price of the cabins but with the ability to cook right in our cabin, we did not miss it for a second. And, when in dog-friendly Asheville, this actually opens up another meal to enjoy with your canine companions!
And, did I mention the peaceful view of the mountains that will take your breath away? The pictures hopefully will speak for themselves. Engadine Cabins, and really all of Asheville, offer a relaxing escape for you and your dogs from the busy day-to-day in our modern world. We will be back for sure. In fact, our dogs may not have left if they had been given the choice!
1847 Blake House Inn – NOW CLOSED/FOR SALE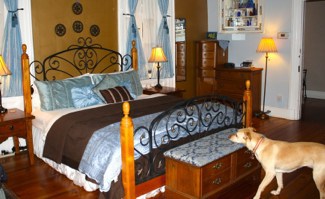 Located about 10 minutes from the Biltmore (and Biltmore Village), and a 15 minute drive from downtown, this 167 year old gem of a mansion has been converted into a lovely bed and breakfast that caters to its four-legged guests. Sure the humans are well taken care of with fresh-baked cookies in the afternoon and a 2-course gourmet breakfast in the morning. But the Blake House Inn really shines when it comes to the dog beds, water and food bowls and even dog toys in every guest room! They have 6 well-appointed and unique guest rooms, 5 of which invite dogs to stay, and there are no size or breed limits. So, if you have a dog, they are welcome at Blake House. We actually brought both our pups and they had fun playing with the house dog Andy as well.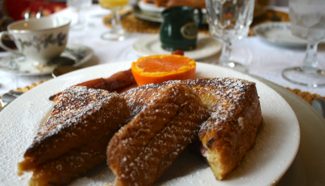 An extra convenience that we really enjoyed is the 1.3 acres of land on-property as well as the nearby Jake Rusher Park just down the hill. It is less than a 3 minute walk to be at the park and what a great way to give the pups and you a safe and beautiful area to play! Oh, and I almost forgot, this is a very historic building: the Blake House is one of the oldest houses in the city of Asheville! History + dogs + relaxation + mountain air = ultimate family vacation.
Address: 150 Royal Pines Drive, Asheville (Arden), NC 28704
Phone: (828) 681-5227
Other Pet Friendly Hotels In Asheville, NC
Of course there are additional places to stay with your pup, but it will be hard to beat the special experience we had at the two unique spots described above. That being said, if you are searching for another, more traditional hotel option,
Hotel Indigo
might be a good choice as they are a hotel chain that is also dog friendly. Be sure to call and make sure their policies are still welcoming for your pup as their terms change by location.
What is your favorite dog-friendly activity in Asheville?