To sustain this free service, we receive affiliate commissions via some of our links. This doesn't affect rankings. Our review process.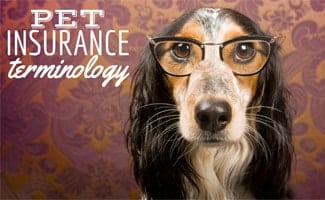 We know that insurance can be a confusing topic. But it's also an important one, and we want to make sure you're comfortable with all of the lingo we throw around in our various pet insurance articles. We recommend you keep this page open in a separate tab and use it as a reference as you read about dog insurance and related topics. We will add to this list of over time, and of course if you see something that's missing, or have a question about a specific term, please let us know in the comments.
Insurance Terms You Should Know
Chemotherapy and Radiation Treatment Allowance: The schedule of benefits will also list the maximum reimbursement limit for chemotherapy and radiation treatment as they apply to specific conditions. These two amounts are generally split into two allowances with the allowance for radiation being much higher than that for chemotherapy.
Code: The word "code" is listed on your schedule of benefits with most pet insurance companies. Underneath this term you will see a number listed. This is the "code" the company uses to identify the diagnosis given to your pet.
Co-Payment: The co-pay is the amount of out-of-pocket expense you must cover per incident after your deductible. The co-payment is usually listed as a percentage, for example 80/20 means that the insurance company will cover 80% of the remaining balance after your deductible is paid and you must pay the remaining 20%.
Deductible: The deductible is the amount of money you must pay out-of-pocket before you are eligible to receive reimbursement from your pet's insurance plan. For most companies this deductible must be paid per incident rather than per year. Be sure to understand your agreement, as the annual vs per incident deductible is a big deal.
Endorsements: Depending upon the insurance company you choose, you may be given the opportunity to purchase an "endorsement." Usually this comes in the form of a cancer endorsement. This is like an add-on to your purchased insurance plan and extends the amount of coverage your pet receives for the specific illness listed – in this case, cancer.
Exclusions: Exclusions are items that are not covered by your policy. This can include: pre-existing conditions, certain musculoskeletal disorders, congenital disorders, hereditary disorders, intentional injuries caused by you or your family and elective or cosmetic procedures. Again, be sure to request a quote and go over any exclusions in detail before signing up.
General Anesthesia Allowance: On the schedule of benefits, companies will also outline themaximum limit for general anesthesia costs as they apply to specific conditions.
Pre-Existing Conditions: Every major company in this category excludes pre-existing conditions from their coverage. This means that any ongoing condition your dog or cat was diagnosed with prior to being covered by their policy will not be covered in future claims. For example, if your dog has already been diagnosed with hip dysplasia, any costs associated with this condition will not be covered by most insurance.
Incidents: The term incident is used to refer to the condition that is causing you to visit the veterinarian. Chronic conditions such as skin allergies are considered to be a single incident even if you pay your veterinarian multiple visits.
Primary Diagnosis or Condition: This term will appear on your schedule of benefits and refers to the financial limit that the company places on a primary diagnosis or condition which includes injections, hospitalization, exams, surgery and treatment.
Primary Diagnostic Testing Maximums: This term also appears on your schedule of benefits and refers to the cost limit the company places on primary diagnostic testing. This allowance is generally made per bodily system. In many cases, this benefit limit does not extend to specialized diagnostic tests.
Schedule of Benefits: The schedule of benefits is a document that is provided to you when you sign up for your policy. This document outlines conditions that are covered under your plan and the monetary allowance you are provided for each diagnosis.
Secondary Diagnosis or Condition: If your pet is treated for a second condition that occurs as a result of the primary diagnosis then it will be covered under the benefits listed as a secondary diagnosis or condition. This secondary condition will receive financial reimbursement in addition to the primary diagnosis or condition.
Clear As Mud?
Do you need further explanation on any of the terms above or is there anything else you're confused about that we should include here?
Disclaimer: Information regarding insurance company offerings, pricing and other contract details are subject to change by the insurance company at any time and are not under the control of this website. Information published on this website is intended for reference use only. Please review your policy carefully before signing up for a new pet health insurance contract or any other contract as your unique circumstances will differ from those of others who may be used for example purposes in this article.