To sustain this free service, we receive affiliate commissions via some of our links. This doesn't affect rankings. Our review process.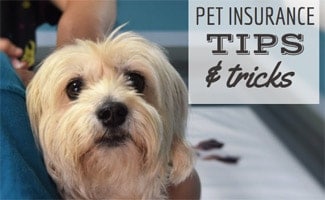 With the new year upon is, we've been thinking a lot about current trends in the pet insurance category and how they may affect our readers who are thinking of buying a new policy. You'll want to read through our discussion below for some cost-savings tips and other things you will want to make sure you consider while making your choice on how to financially plan for your pet's unexpected health needs.
1) What are the biggest factors in the cost of a pet insurance policy?
Overall the biggest factor is the animal's unique characteristics (i.e. age, breed, pre-existing conditions, geographic location, etc.).
2) What are the top things pet insurance buyers should consider?
Read every character of your contract. Contracts are great places for fine print and asterisks. It's important that you read everything so you know what is expected of you to ensure eligibility and what you can expect from the pet insurance company. For example, some providers require your dog have a yearly checkup. If you fail to do so, they can withhold coverage.
Make sure it covers what you need it to cover. Don't buy pet insurance just to buy. Make sure you're getting the plan your pet needs. If that means spending an extra $5/month to have cancer treatments covered because your dog's mother and siblings have died from cancer, spend the extra $5/month.
3) Why are fewer than 1% of pets covered by insurance when so many are viewed as members of the family?
A big misconception about pet insurance is that it's too expensive. We spend hundreds of dollars on ourselves each month for insurance, yet we don't get coverage for our furry "children." In reality, spending $25/month for pet insurance can end up saving your dog's life. Instead of being hit with a $6,000 vet bill because your dog was diagnosed with cancer and needs treatment you can have almost all of that covered through pet insurance. The worst thing that can happen is learning your dog has cancer, but then having to turn down treatment because you can't afford the bills. No one wants to be faced with that decision and signing up for pet insurance takes care of it. Pet insurance allows you to make the best choices vs. the least expensive when an emergency arises.
Unfortunately, most of us have this idea that we will set money aside to cover emergencies like this for our pets instead of paying a monthly fee. However, in reality, 66 million Americans have no emergency fund. Money is tight for many Americans and pet insurance is viewed as an option and not a necessity. We are in the mindset that if we hope for the best, all will be right. However, it's better to plan for the worst and hope for the best.
4) What are the top 3 things you can do to save money on pet insurance?
Two words: buy online. Get quotes from at least three companies to find the best value (best coverage for the price). Just because the pet insurance company is a household name doesn't mean it's the best for your pet.
You should also start coverage at a young age. It is less expensive to sign your dog up for pet insurance when she's a pup than when she's 7 years old. The older the dog, the more likely she has preexisting health concerns or will fall ill, which makes her more of a liability for the pet insurance company. That means the monthly fee is higher right off the bat. By signing your dog up for pet insurance when she's a puppy, the monthly rate will most likely increase slower, and you will be covered when your high energy puppy gets into everything!
The other more obvious options are choosing a higher deductible, lower reimbursement and paying up for an annual plan upfront. Many also offer multi-pet discounts.
5) What recent pet insurance trends are you noticing?
Read our Pet Insurance Reviews
Companies have started to move towards unlimited annual claims and more options. Also, more companies are offering wellness plans. These are two items pet parents have wanted for a long time, and now it's an option for them.
We are also seeing more insurance companies entering the pet insurance category. This is stimulating better pricing and coverage. It is a buyer's market right now with pressure on the companies to provide more comprehensive product options and better coverage/claims reimbursement at better prices.
As a consumer, what do you find most confusing about pet insurance?
Disclaimer: Information regarding insurance company offerings, pricing and other contract details are subject to change by the insurance company at any time and are not under the control of this website. Information published on this website is intended for reference use only. Please review your policy carefully before signing up for a new pet health insurance contract or any other contract as your unique circumstances will differ from those of others who may be used for example purposes in this article.