To sustain this free service, we receive affiliate commissions via some of our links. This doesn't affect rankings. Our review process.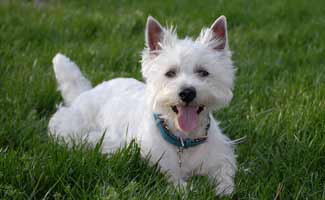 Top Dogs is a regular segment where we feature a Q&A session with a famous canine.
Preston is a West Highland White Terrier (a Westie) and has found fame by creating his own website called PrestonSpeaks.com. He is an Internet star, model, and actor. Preston lives in western Kentucky with his parents, Elvis (his dog brother), Daisy (his dog sister), and two cat siblings, Mr. Pibb and Dr. Pepper.
Want to learn more about Preston Speaks? You can join his 43,000+ Facebook fans or follow him along with 29,000+ of his closest Twitter friends.
1. What's Your Favorite Treat?
I have so many favorite treats! In my house, treats are for good dogs. So I am thrilled anytime my rents (parents) think I am being good and I get a treat. As terriers, we Westies have a naughty streak in us… hehehe. I call it Westitude! One of my favorite dog treats are Rachael Ray Nutrish Soup Bones (View on Amazon)!They come in beef, chicken, and turkey. I also love getting Bacon or cheese human food, but I only get those when I'm training and Mom needs a "high value" treat to get me to really pay attention!
2. How Old Are You (in people years)?
I'm five, so let me get out my calculator… hmmm… so that makes me about 35 in dog years.
3. Who's Your Best Playmate and Why?
My best friend is Bella. She is about the same size as me and is a mixed breed black dog. We met in puppy training class. Actually, we totally disrupted training class because all we wanted to do was play all the time… hehehe. We have regular play dates and she comes over to my house to stay when her dad goes out of town. She is my best friend!
4. What's Your Best Trick?
My favorite trick is left and right. I know which paw is which and I will wave it. People sometimes try to outsmart me by saying left, right, left, left, left, but I usually get it right. Mom's favorite trick for me is "watch". She can say "watch" and point to where I need to look and my eyes never leave it. That trick comes in handy for when I do photo or video shoots. My favorite trick to make my humans do is to put a toy under the couch and bark and bark until they get it out and give it to me. Then, I put it right back under there and bark again. My record is eleven times that I was able to get them to do this before deciding it was enough. Then they hid my toy on top of the bookcase.
5. How Do You Feel About Cats?
I love cats. But unfortunately, cats don't like me. Mom says it is because I like to chase them and try to get them to play. They don't like fast moving jumpy dogs. I have a sister cat named Dr. Pepper and a brother cat named Mr. Pibb. I admit, I have been scratched by both of them, but I keep trying to be their pal. Maybe one day…
6. What's Your Favorite Role, To Date?
My favorite so far was when I played the role of a sick dog that had to go to the vet. I had a make believe family… a mom and a little girl. I am a method actor so I really got into character. The video was shot in a real vet's office. When I was placed on the exam table I actually looked all worried like "are you going to give me a shot?" I also looked up at my "family" as if I was asking them if I was going to be ok. The "vet" prescribed me prescription dog food. Then, I got to eat a big bowl of it on camera (that was fun!). The commercial ended with me hanging out in a grassy field with my "family" and running through the grass in slow motion. That was my favorite part of the whole video. I got to run and play in that field over and over again while they got the perfect shot.
7. Who's Your Favorite Fellow Celebrity Dog?
I personally love Beast (Facebook founder Mark Zuckerberg's pup). Through his Facebook page we have seen him grow up and grow a lot of hair too. I asked mom if I could let my hair grow out and get dreads like Beast, but she said no way! Also, he rocks social media. He has over 1.7 million fans! It makes my 40,000 fans look pitiful… hehehe.
8. What's Your Advice For Other Dogs Looking to Make it into Showbiz?
My advice is to get a lot of training (in classes, through a trainer, or have your rents train you). I love to learn new things. Whether you want to be in video, modeling, or even run your own website like I do, you have to know at least basic commands. Also, it is important to know the "watch" command very well so they can always give you direction on where they want you to look.
Finally, have at least one social media account. Now days, having a following helps you get noticed, and hopefully booked for those fun roles!
Disclaimer: This website contains reviews, opinions and information regarding products and services manufactured or provided by third parties. We are not responsible in any way for such products and services, and nothing contained here should be construed as a guarantee of the functionality, utility, safety or reliability of any product or services reviewed or discussed. Please follow the directions provided by the manufacturer or service provider when using any product or service reviewed or discussed on this website.