To sustain this free service, we receive affiliate commissions via some of our links. This doesn't affect rankings. Our review process.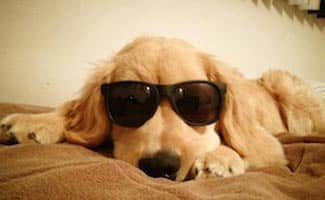 Top Dogs is a segment where we feature a Q&A session with a famous canine.
This week's Top Dog is Ray Charles, a Golden Retriever born blind in December 2012. Ray was the only boy in a litter of three puppies, and when he wasn't running around playing with his sisters like a normal pup, his mom took him to the vet and found out he was blind. Once Ray was adopted, his new dad took him to Angell Memorial Hospital in Boston where they found out that, while Ray's eyes function fine, there's a disconnect between them and his brain which prevents him from seeing. That doesn't slow him down though. Ray runs and plays in Boston, MA with his big brothers, Harley and Jack, and big sister, Maggie. He inspires others with disabilities – and his 86,000+ Facebook followers – to live life to the fullest every day.
1. What's your favorite treat?
My favorite treat is a frozen peanut butter filled bone!
2. Who's your best playmate and why?
My best playmate is my fur brother, Jack. He is only two and still has as much energy as I do to play with me all the time!
3. How old are you (in people years)?
I'm about seven years old in people years. (one year on this earth)
4. If you could be any dog for a day, who would it be?
I would be myself, but would have eyes that worked so I could see the world I live in.
5. How do you feel about cats?
I like cats about as much as I like skunks!
6. We see you like to dress up. What's your outfit of choice?
I like to wear hats and glasses the most, but the onesie I wore when I was a baby was really comfy.
7. Who's your favorite fellow celebrity dog?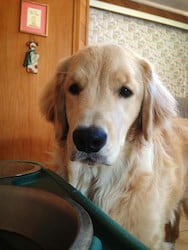 My favorite fellow celebrity dog is my friend Chase who is a blind golden retriever like myself!
8. Your favorite Ray Charles' song? (We had to ask.)
Georgia On My Mind!
9. What's your advice for disabled dogs everywhere?
Never give up and always live your life to the fullest with what you are given.
Nominate A Top Dog
Have a Top Dog you think is worthy of being featured on CanineJournal.com? Post your nomination below and a brief description on why your nominated pup deserves the spotlight too.
Disclaimer: This website contains reviews, opinions and information regarding products and services manufactured or provided by third parties. We are not responsible in any way for such products and services, and nothing contained here should be construed as a guarantee of the functionality, utility, safety or reliability of any product or services reviewed or discussed. Please follow the directions provided by the manufacturer or service provider when using any product or service reviewed or discussed on this website.