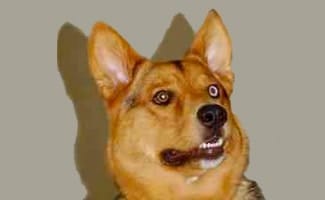 Dog Tales is an ongoing column on featured guest writers and readers who are sharing the stories of their beloved canine chronicles.
Judy Winkler is both a reverend and life coach. She says sharing a space with Blue is "easy, fun, and a real privilege." Visit Judy's website: CoachJudyWinkler.com
"Eight years ago I moved to a large home and wanted a very small dog. I visited two shelters many times but never seemed to be there at the right time. In desperation, I asked the kennel keeper if she could suggest a dog for me. She said a 40-pound, year-old stray was on 'death row' and might be a good fit if I had no children at home.
She brought a very skinny, coyote-looking dog into the yard. I sat down and watched this crazy dog run around, sniff every inch of the yard then he finally come over, stretched out at my feet, laid his head on my shoe and looked up with one blue and one brown eye. My heart opened.
My little grandsons named him Blue. They over came often, so I watched the dog carefully. He snapped at them. I saw he snapped because he got scared. His behavior told me his history: He was hurt by boys, hit with brooms, hands, had things thrown at him in plastic bags, he was frightened of people with long, dark hair, people who did not speak English and the list goes on and on. I remained patient.
I never dreamed he would transform into Wonder Dog. He gained 40 pounds and looked like a husky/shepherd.
True bonding happened three days after I got him. I took Blue to a backyard party where he romped with another dog and drank out of their pond. On the drive home, Blue started to whine. I got off the freeway and let him out. He had explosive diarrhea which lasted two days. Because my two-story home had white carpet, I was ready for the inevitable. He never had an accident. He whined when he had to go out. (I soon put in a dog door and we were in heaven.)
Blue eagerly learned basic commands, then added fun tricks. He lost most of his fears in the first year. He transformed into the greatest dog.
People who swore they were not 'dog people' fell in love with Blue. Friends now beg me to let them walk him. Some friends arrive and immediately stretch out on the floor to hug and pet Blue.
He is a joy to live with. He is gentle with infants and children, obedient, eager to please me and even supports me in my work. When I do coaching or counseling, Blue senses when people need comfort or calming. He moves over to them so they can pet him. He makes clients laugh when I say, 'Let's close with a prayer.' Blue make a long grunt sound like an old man trying to get up.
Every day I thank God for this wonderful 'find' at the shelter. Blue brightens my life and the life of everyone who meets him. Thanks for the opportunity to share."