To sustain this free service, we receive affiliate commissions via some of our links. This doesn't affect rankings. Our review process.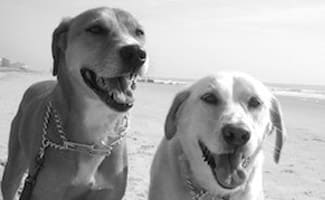 Dog Tales is an ongoing column on featured guest writers and readers who are sharing the stories of their beloved canine chronicles.
Angie and Dana live in North Carolina with their doggie mom and pop, Nicole and Brian, as well as their human brothers, Will and Wyatt.
"I will never forget the day that we brought home our rescue pups, Angie and Dana. We had just bought our first house one month earlier. My husband, Brian, knew I wanted a dog but said that we needed to get settled first before adding to our long list of new responsibilities. That bright Saturday morning, I thought I was going on yet another house shopping trip with Brian, with a big grin on his face, turned into the pet store parking log where they were having an adoption fair. I just smiled at him and asked, 'Really?!'
Yes was the answer. We couldn't decide on which of the last two puppies who needed to be adopted to take home. I wanted the pretty little blonde who jumped into my lap the minute I sat down, and Brian wanted her timid red-headed sister. Their foster mother let us know what "a pair" these two girls were, and how they were best friends. How could we be the one's to split them up? So we ended up with the package deal.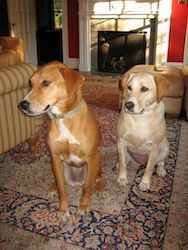 Angie and Dana soon became 'our girls,' our first kids. They were so much fun, and even though having two puppies at once is a lot of work, it was always worth it. We realized quickly that the key was out their energy. So daily morning and evening walks were the new regime in our house. To this day, all you have to do is say the 'W' word and their tails start wagging.
Fast forward 12 years, two children, 'our boys,' a new house, so many other changes, and some things are still the same. The girls still want to go for a walk, even if you've already taken them twice that day, Dana still gives you as many kisses as you want and Angie still follows me around the house all day. Every day I am so glad that we brought them home. It was really a rescue that day; it was more like the piece of our lives that we didn't even know was missing. I can't imagine, now, what my life would be like without my girls."
Disclaimer: This website contains reviews, opinions and information regarding products and services manufactured or provided by third parties. We are not responsible in any way for such products and services, and nothing contained here should be construed as a guarantee of the functionality, utility, safety or reliability of any product or services reviewed or discussed. Please follow the directions provided by the manufacturer or service provider when using any product or service reviewed or discussed on this website.