To sustain this free service, we receive affiliate commissions via some of our links. This doesn't affect rankings. Our review process.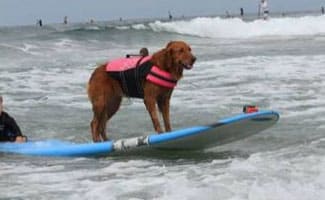 We recently had the opportunity to hang ten with one cool pup: Ricochet the Surf Dog! Yes, she is, in fact, a surfing dog and she has even won surfing contests. But, her real claim to fame is that she SURFS WITH PURPOSE. While Ricochet can surf alone, she finds the most happiness when surfing with kids who have special needs, adults with disabilities, veterans and wounded warriors. This unique gift is what makes her the world's only SURFice dog®.
She's a therapy dog who loves nothing more than helping others by 'pawing it forward' while raising awareness & offering support to human/animal causes. You can learn more about her by reading her interview below and visiting her website.
Ricochet, How did you get started surfing?
I started surfing when I was 8 weeks old. I was in a kiddie pool, and my mom invited me up onto a boogie board. I climbed right on, and had amazing balance. So, we continued building a foundation by progressing to a larger pool, then a bay, and then small waves in the ocean.
What's your favorite food?
I like anything! But I get especially excited when the neighbors have leftover chicken.
What is the coolest event you have been a part of and why?
It would have to be when I was requested to surf with a 15-year-old boy for his Make-A-Wish. He had a stage 4 brain tumor. He saw me on ESPN and decided he wanted to do that too. It was a very spiritual surf session between two souls full of purity. Everyone was moved. Sadly the boy died 6 weeks later. But that day made an impact on all of us.
What's your best trick?
Well, it's not really a trick, but what I am best at is empathy and intuition. I am able to reach deep into people's souls and touch them in ways they never have felt before. Incredible transformations and healing have been possible.
What do you feel is your best feature and why?
My heart because it's pure.
What is your best water sport tip (for dogs and/or people)?
Safety should be a priority. Wear a life jacket.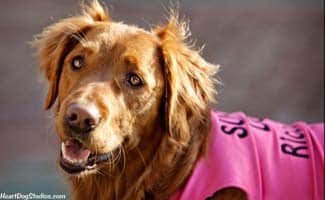 Who's your favorite fellow celebrity dog?
Parker Pup. He is an advocate against cancer.
What's your advice for other dogs looking to make a difference in the world?
Do what YOU want to do, not what others expect of you. Everyone has their own purpose, so don't walk in the path of someone else, create your own unique path.
Video Of Surfdog Ricochet In Action
What impresses you most about Ricochet?
Disclaimer: This website contains reviews, opinions and information regarding products and services manufactured or provided by third parties. We are not responsible in any way for such products and services, and nothing contained here should be construed as a guarantee of the functionality, utility, safety or reliability of any product or services reviewed or discussed. Please follow the directions provided by the manufacturer or service provider when using any product or service reviewed or discussed on this website.