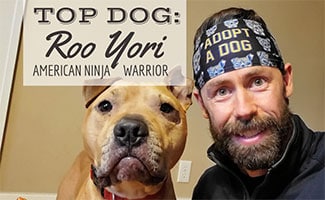 Roo Yori competes on the hit NBC TV show American Ninja Warrior as the K9 Ninja to raise awareness for homeless dogs.
His rescue pit bull Wallace became a National and World Champion Frisbee dog. He also adopted Hector from the Michael Vick dogfighting case (who trained to be a Certified Therapy Dog).
Roo continues to build quite an impressive resume. Learn about his inspiring story and what led him down the path from rescue advocate to American Ninja Warrior.
What inspired you to become an American Ninja Warrior (ANW)?
I saw the show on TV, and I immediately wanted to try it. Once I realized that I could use the platform to bring awareness to all the dogs sitting in shelters waiting for their forever homes, I knew it was something that I needed to try.
Do you have any dogs?
Currently, we have 2 dogs, Johnny and Juju.
Johnny is a pit bull who was rescued from a dog fighting situation. He's very glad that he was rescued because he would much rather play with other dogs than whatever they had planned for him instead.
We think Juju might be a corgi mix, but not sure. She was hit by a car, and instead of her owner taking her to get medical attention, he was looking for somebody to shoot her. Fortunately, a rescue stepped in and was able to prevent that from happening. She needed to have her rear leg amputated because of the accident, but she's not letting that slow her down one bit. Most people don't even realize she's missing a leg because she gets around so well, and she and Johnny are best buds.
Why did you choose dogs as your cause of choice?
When my wife, Clara, and I went to adopt our first dog, we were exposed to how many dogs are out there needing to be adopted. We couldn't decide on just one, so we ended up choosing 2, Ajax and Angus. Realistically, we couldn't adopt them all, but we felt we could at least help some of the millions of dogs out there waiting to find their forever home as well.
How has "Adopt A Dog" benefited from your time on ANW?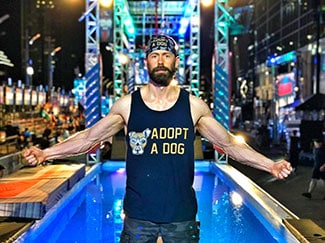 Being on ANW has allowed me to reach a whole new audience to help support the dogs in need, so hopefully, more people consider adopting a dog the next time they are adding a dog to their family. On the show, we aren't allowed to wear any logos, websites, etc., so I decided to wear a shirt that simply said what I wanted people to do – Adopt a Dog. Getting that exposure in front of millions of people will give more dogs a chance of getting out of the shelters and living a better life.
Do you volunteer with a dog organization?
I am the Founder and President of Wallace the Pit Bull Foundation, named after our late dog Wallace. Wallace was a pit bull who was being targeted for euthanasia at the shelter. He gained a large fan base after becoming a National and World Champion Frisbee Dog.
Learn About Hector & Wallace In Our Previous Interview
Learn more about Wallace in the book, Wallace: The Underdog Who Conquered a Sport, Saved a Marriage, and Championed Pit Bulls– One Flying Disc at a Time.
I've continued to leverage that audience to support and help raise money for organizations and programs that I know are doing great work within their communities. For example, I created a fundraiser where people can pledge or donate for each obstacle that I complete on ANW. We've reached over $1K per obstacle, and the movie Secret Life of Pets 2 had a surprise for us after I completed the Atlanta qualifier course in the form of $20K to add to the total.
The Atlanta City Finals just aired and I am proud to announce that the total raised through my fundraiser was $40,684! I'm looking forward to putting that money to good use.
What inspires you most about dogs as a species?
Among many things, I admire their resiliency. Some of the situations that I've seen dogs endure are pretty tough to stomach, but seeing how so many of them can bounce back and enjoy the things that life has to offer after being rescued is inspiring to me. Obviously, not every rescue dog had something traumatic happen to them, but they still ended up homeless through no real fault of their own. Seeing these dogs continue to move forward and find joy despite their circumstances reminds me to focus on the good that is going on rather than the negative.
Have you ever designed a dog ninja course?
I have actually designed and built a dog ninja course for Johnny in our backyard. Since he learned how to hit a buzzer very quickly, it was only natural for me to build some obstacles for him to complete to earn his buzzer. The course had the floating steps, cargo crawl, tire beam, zip line (this was pretty amazing), tunnel run, and of course the mega wall to finish it off. You can watch Johnny complete the course in this video:
Which qualities help most on a dog ninja course?
Physically, it helps to be strong, fast, and agile, but I think the most important quality is the desire to want to take on challenges. We see all different shapes and sizes of humans taking on the course and succeeding. It all comes down to the fact that they wanted to see what they were capable of and made the decision to step up to the start line. I believe that quality is within every dog and every person.
Any advice for those looking to rescue a dog?
Be patient and make sure you get a dog with personality traits that fit your lifestyle. Many times people want a dog based on looks or because they think a certain breed will act a certain way. I believe that each dog is an individual, so it's important to get to know the specific dog. Gather any information you can from the shelter or rescue, and work with them to make sure it's a good fit for both you and the dog.
Learn more about how you can help rescue dogs in need including pit bulls.
Such an incredible story! Thanks for all the amazing work you are doing for the pet adoption community, Roo.