To sustain this free service, we receive affiliate commissions via some of our links. This doesn't affect rankings. Our review process.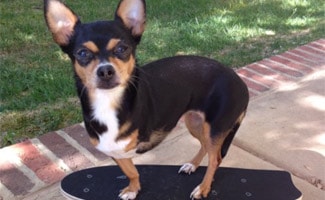 Sadie Tripawd is a purebred Chihuahua, who came from a negligent breeder. Sadie was taken from her mother way too young and had already been in two homes by the time she joined her forever home at only 10 weeks old. She was smaller than a coke can when she came home! Her family did not think they would be getting a puppy anytime soon when they came across Sadie on Craigslist.
Her Mom noticed a trend from one user that would post puppies for sale that she knew she had seen listed weeks earlier as 'free to good home' puppies. Sadie was in the post with several other puppies that the person was attempting to sell. Long story short, the Craigslist User was getting free dogs and selling them for profit. Her observant Mom could tell from the pictures that were posted that the dogs were living in unsafe & poor conditions. She and her family helped put a stop to the person's scheme, got several animals safely out of that home and into foster care or other fur-ever homes. And, they we ended up with Sadie!
A year later, Sadie broke her front leg. The veterinarian they used at the time made a mistake during surgery and was forced to amputate. Sadie's family was devastated. Sadie barely survived and recovery was a long hard road. But after a few months of a lot of love and a lot of healing, Sadie was back to herself- with a new "leash" on life. Sadie lived life like any other normal pup – running, jumping, and playing for many years.
Last year, Sadie lost her balance, fell off her favorite living room chair, and broke her front leg. Once again, her family's hearts were broken that Sadie had to go through the pain of a broken leg again and they were fearful of losing her. But her amazing social media followers from both Vine & Instagram started a fundraising campaign that raised funds to cover her surgery and physical therapy too! The family is eternally grateful to each of Sadie's fans and can never express their love and appreciation to the followers who believed that Sadie's life was worth it and felt the same love for her that her family does – even without having met her.
The surgeon had hopes that she would walk again, but did not have high expectations that she would to return to the running, jumping, playful tripawd she'd been for so long. Sadie decided to prove him wrong and bounce back beyond anyone's expectations! Sadie is back to her running, jumping, playful tripawd self once again.
Per Sadie's mom, Liz, "She doesn't realize how fragile she is, but we do and we make sure she lives within some new boundaries (even though she still thinks she should be allowed to jump on and off whatever she wants!). She's been an inspiration in our lives and in the lives of so many. We've been blessed to be able to call her ours and go on this journey with her. She may be a small tripawd, but her life has been so big!"
Sadie Tripawd's Interview
After our exclusive Canine Journal interview with Sadie Tripawd, we could not agree more with her family and her follower's adoration of her and all she stands for in making the world a kinder and more accepting place for all creatures.
Tell us more about your claim to fame
My mom heard about this new app called Vine that had just been released a month or so prior to us downloading it. She took Vine videos of us for fun, not thinking anyone would ever see them. Then Curtis Lepore revined one of my vines & my followers jumped from a few hundred to ten thousand over night. Then my Vine just kept growing to what it is today! We currently have 112 thousand followers on Vine, which still blows my mind!
How old are you in calendar years?
I'll be 7 in March. 🙂
What do you think is the most important message to share about your 3-legged way of life?
Stay PAW-sitive! No matter what disability you may have or what obstacle life may put in your way, keep your head up. You have people who love you and you are going to make it and be one tough pup in the end.
What's your best trick?
My best trick is a wave! It gets me the treats every time 😉
(We think this trick is pretty good too, Sadie!)
What do you feel is your best feature and why?
All of me duh! Just kidding, I think my eyes. I've been told I have a "puss n' boots' look with my eyes when I'm really trying to butter people up for those treats!
Who's your favorite fellow celebrity dog?
Tough question! My favorite Vine dog is Jax the Puppy. He was the first Vine pup I followed and we became best friends pretty quick. Then this year I met Turbo Roo on Instagram and we have a common bond and mission to help handi-capable pups… so I love them both equally!
What is your New Years resolution for 2015?
Eat as much as I possibly can. Food is delish.
What's your advice for other dogs looking to make a difference in the world?
Be kind always. You may not think that is making a big difference, but being kind to others can make bigger waves than you may think. Also, it doesn't hurt to team up with other pups who want to make a difference too! Finding a team to spread some good around is so much better than doing it alone!
Is there anything else you'd like to share with our readers?
The best part of my 'fame' isn't the toys, followers, or treats (though the treats are definitely the second best part)… instead it's the emails and comments from people who have told me that I've actually made a difference in their lives. Many of these people are facing their own physical, mental, or emotional struggles & have found ways to relate to me seeing what I've been through and how I refused to let it bring me down. The lives and stories of so many people I would never have known otherwise touch my heart and bring me joy. Knowing I can bring a smile to others through their own personal struggles is the biggest blessing I could ask for.
Thank You, Sadie
Many thanks to Sadie Tripawd for agreeing to interview with us here at Canine Journal. We were thrilled to get to know you better and wish you all the best in your plans to make the world more handi-capable for all. If you want to keep up with Sadie, be sure to check her out on Instagram.
Disclaimer: This website contains reviews, opinions and information regarding products and services manufactured or provided by third parties. We are not responsible in any way for such products and services, and nothing contained here should be construed as a guarantee of the functionality, utility, safety or reliability of any product or services reviewed or discussed. Please follow the directions provided by the manufacturer or service provider when using any product or service reviewed or discussed on this website.