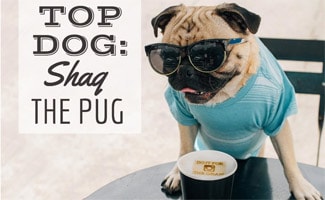 Our next Top Dog interview is with a dog who comes to us from Hollywood. Shaq the Pug (aka Allstar Shaq) is an adopted 4-year-old dog based in Los Angeles, California. His trendy photos and short yet hysterical captions make us laugh out loud. This is why we knew he'd be a great fit for our interview series. He's short in stature (and with his answers!) but hilarious and we hope you enjoy learning more about his celebrity life and his rise to internet fame.
How did you and your human meet?
Me and my human met at Pug Nation LA in October 2016. I consider that to be the best day of my life.
What advice do you have for other rescue pups?
My advice for other rescue pups is to stay calm and patient. And when a human walks in looking to rescue, make sure you put on your best act. 🙂
How'd you get the name Shaq?
My dad named me after the famous LA Laker's Shaquille O'Neal. I'm built like a tank. All muscle, baby.
Have you ever met the real Shaq?
I have yet to meet Shaquille O'Neal; Dad says he will take me to a basketball game if I pay for my own seat. 🙁
How did you gain so many fans?
I got my fans by lookin' cute and my witty captions. 🙂
Any tips for other animals looking to be a Hollywood star?
Network, Network, Network. Reach out to other influencers with similar followings and collaborate to take photos and work together.
What's your favorite hobby and why?
I LOVE to eat. What else would you expect from a Pug?
Where do you find all your adorable pug-sized outfits?
I generally get all my clothes from the baby section in Target. 🙂 (Great tip, Shaq!)
What's LA life like?
LA life is amazing. The beaches, the babes. It's always sunny to get my tan on. I live the model life for sure 🙂
Who are some of your favorite fellow celebrity pups?
My fave celebrity pups are Sir Charles Barkley and Manny the Frenchie (we interviewed both). And of course Jiffpom.
Anything else you'd like to add?
If you see me walking around LA, come up and say hello. I don't bite, I just LICK 🙂
Thanks Shaq! Now time to work on that jump shot. You can see more cute photos of Shaq the All-Star Pug on Instagram. Then read more celebrity dog interviews right here on Canine Journal!
What questions would you ask a celebrity pug?