To sustain this free service, we receive affiliate commissions via some of our links. This doesn't affect rankings. Our review process.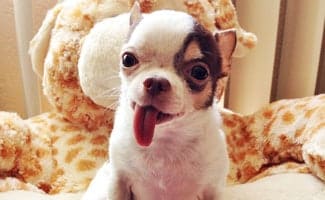 This month you are in for a treat with our Top Dog interview series as we get to know a cute little pup named Speedy Boy Boy! He wastes no time jumping into interview mode and we were just lucky to hold on for the ride! Get to know him better now.
Who Is Speedy Boy Boy, Anyway?
My name is Speedy Boy Boy. My birthday is coming up on February 28 and I will be turning 7 years old. I weigh 3.8 pounds and I am a little chubby for my small size. I like making people happy so I registered to be a therapy dog.
Where Did You Get The Name Speedy Boy Boy?
I used to run so fast around the house when I was younger and that's where I got my name Speedy. Boy Boy is my middle name. I know a lot of people have middle names so why can't I have one (or two) too.
How Did You Find Your Forever Home?
My human at that time had 3 dogs and a cat and had no plans of getting another dog but then she saw me. I was with a couple other dogs and I was just sitting in one corner while all the other dogs were playing around me. My human fell in love and got me right then and there.
How Did You Become Interested In Being A Registered Therapy Dog?
I got very sick before and received an overwhelming support from my friends during that time. I felt so touched and blessed so I wanted to say thank you by giving back to the community. I was 5 years old when I passed the test and became a registered therapy dog.
What's Your Experience Like Volunteering At Libraries And Senior Homes?
It is such an amazing feeling. I can tell the kids like reading to me. When I go to senior homes, I see their faces light up when they see me and it is the best feeling in the world. The seniors share with me their stories about the dogs that they have had and they tell me how much they appreciate me being there. I love volunteering because it is such a rewarding experience.
What's Your Greatest Talent?
My greatest talent is giving live interviews. You can check them out on Instagram using hashtag #speedyinterview.
Below is my interview after being a featured star on Instagram.
Besides Volunteering, What Are Some Of Your Favorite Pastimes?
I love to sleep and eat a lot. I also like playing with Daisy, my best friend.
What Other Dogs Do You Admire And Why?
I have a lot of dog friends that I admire and I love dogs that can make people happy. Pepino (@iampepino on Instagram) makes a lot of people smile because he is a cutie like me who has his tongue hanging out too. I also like Kingston (@hellokingston on Instagram). Kingston is a rescue advocate and likes to spread positive pitbull awareness.
What's Your Favorite Place To Hang Out In San Diego?
I go to Grape Street dog park which is 5 acres big and Fashion Valley which is a dog friendly outdoor mall. I also love going around North Park because most of the stores and restaurants there are dog friendly.
Anything Else You'd Like To Add?
I'm a ladies man. Although I don't bark much, I will only bark at guys. On a serious note, I would like to add that you should always wag your tail or greet people with a smile to brighten someone else's day.
Want to Stay in Touch with Speedy Boy Boy?
If you are interested in keeping up with Speedy Boy Boy beyond this interview, you will get a kick out of following him on Instagram and YouTube.
Disclaimer: This website contains reviews, opinions and information regarding products and services manufactured or provided by third parties. We are not responsible in any way for such products and services, and nothing contained here should be construed as a guarantee of the functionality, utility, safety or reliability of any product or services reviewed or discussed. Please follow the directions provided by the manufacturer or service provider when using any product or service reviewed or discussed on this website.