To sustain this free service, we receive affiliate commissions via some of our links. This doesn't affect rankings. Our review process.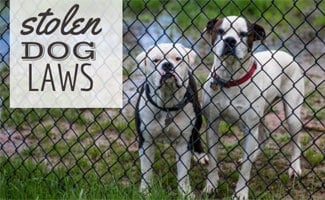 Do you often leave your dog unattended in your yard? If so, you're unknowingly giving dog thieves an open invitation. Dog theft has been on the rise for several years now.
What laws are in place to punish pet thieves? How can you keep your pet safe? What do you do if you think someone stole your pet? We'll answer these questions and more.
Article Overview
How Prevalent Is Dog Theft?
An estimated two million domestic animals are victims of dog theft each year in the U.S., and, unfortunately, only about 10% of owners recover their dogs. Why do dogs get stolen in the first place, and what breeds are most at risk?
Why Steal A Dog?
What are the main reasons thieves steal dogs? Money is the driving force. Most dogs are stolen by dog flippers: people who realize the high monetary value of specific breeds and can re-sell them as pets for a significant profit.
Some thieves steal dogs to sell them to illegal fighting rings and training methods, or they sell them for medical research purposes.
Top 10 Most Stolen Dog Breeds
The majority of thefts involve purebreds. Here are the 10 most commonly stolen dog breeds. Thieves steal these breeds for their $2,000+ re-sale value — the exception being American Pit Bulls, which people often take for illegal fighting purposes. 1
Pomeranian
Maltese
Boston Terrier
Chihuahua
Labradoodle
American Pit Bull Terrier
Even if your dog is not on the most stolen breed list, you may want to review these other expensive dog breeds that may draw unwanted attention from thieves.
Stolen Dog Laws
Although 91% of pet parents consider dogs as members of their family, most state laws don't agree. You may have heard the term "dognapping," but it's misleading from a legal standpoint.
Kidnapping a person is a severe criminal offense, but in the law's eyes dogs aren't considered kidnapped when stolen. Why? A majority of states don't even have specific stolen pet laws. Dogs, instead, are seen as personal property.
That's why pet theft most often falls under a state's general theft and larceny laws. In these states, stealing a pet isn't distinguished in any way from taking a tv, jewelry or other possessions.
States That Have Stolen Dog Laws
Only 15 states specifically address the theft of dogs in their criminal codes. These include:
California
Connecticut
Delaware
Louisiana
Michigan
Mississippi
New Hampshire
New York
North Carolina
Oklahoma
Rhode Island
Virginia
Texas
Washington
West Virginia
Legal Penalties For Dog Theft
What are the charges for stealing a dog? Criminal charges and penalties vary widely by state, even in those that have specific criminal codes for dog theft. Most states consider pet theft a misdemeanor, and the penalties include relatively small fines and little to no jail time.
Some states, like California and Louisiana, impose different charges and penalties based on the monetary value of the stolen dog.
A select few states, however, have stepped up their laws with more severe charges and penalties.
Top 5 States With The Best Stolen Dog Laws
We've done extensive research into each state that has specific stolen dog statutes. Based on this analysis, here's our list of the top five states with the most severe dog theft criminal statutes and penalties.2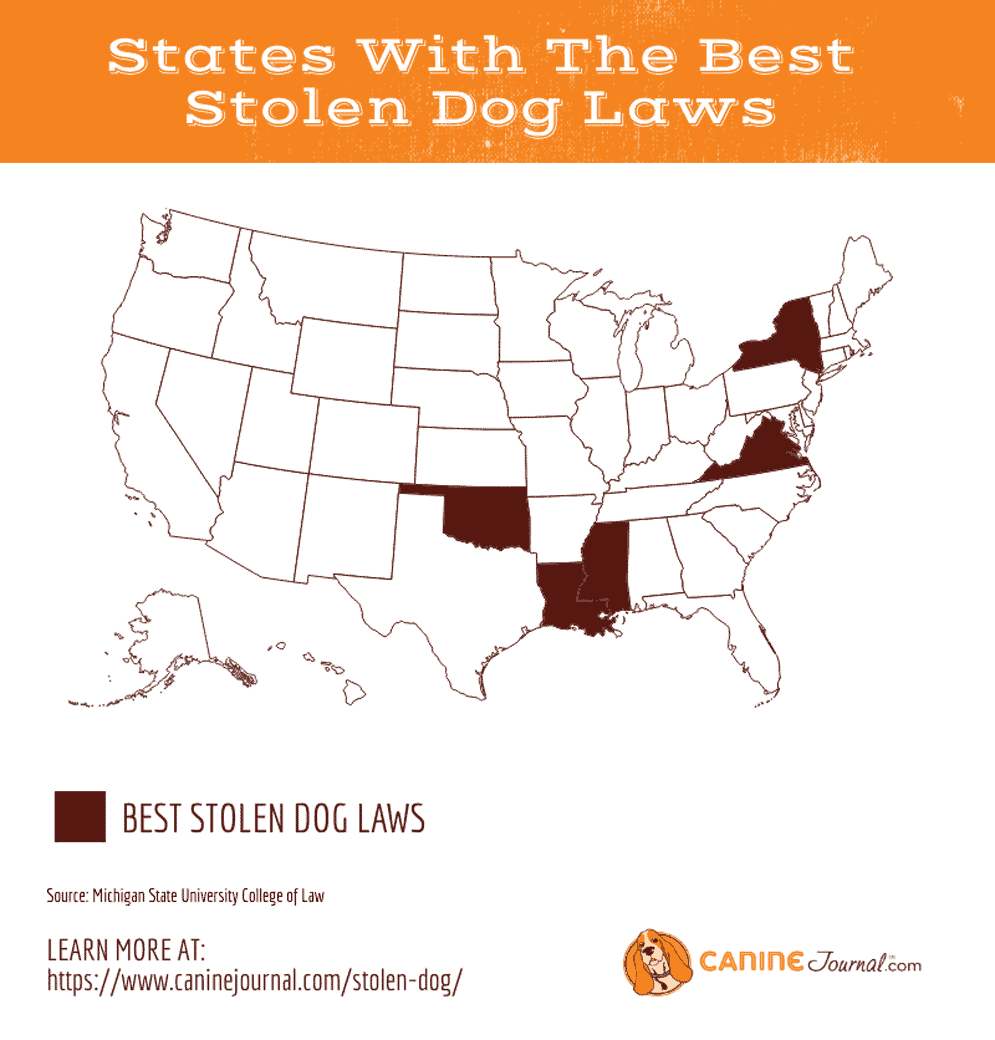 To share this infographic on your site, simply copy and paste the code below:
1. Virginia
In Virginia, stealing a dog is a Class 5 felony, punishable by up to 10 years in jail, regardless of the monetary value of the dog.
2. Louisiana
Louisiana is one of the states that separates dog theft charges by the value of your dog, but their penalties are harsher than many other states.
If the stolen dog is worth $500 or more, you can be imprisoned, with or without hard labor, for up to 10 years, or be fined up to $3,000 (or both). If the stolen dog is worth less than $500, you could still face a stiff fine and imprisonment but less so than for higher value pets.
3. Oklahoma
If you're found guilty of stealing a dog in Oklahoma, you face a felony conviction with a punishment of confinement in the state penitentiary for a term not less than 6 months or up to 3 years.
You can also face a fine that is equal to three times the value of the animal you stole (up to $500,000).
4. New York
In New York state, stealing a dog is a class E felony that could land you in jail for up to 6 months. In 2014, New York raised its fine for dog theft from $200 to $1,000, regardless of the dog's monetary value.
5. Mississippi
If you're found guilty of dog theft in Mississippi, it's a felony punishable by a fine of not more than $ 500, or imprisonment in the county jail for not more than 6 months, or both.
How Do I Protect My Dog From Theft?
Here are some tips to help you keep your dog safe from thieves.3
Pet Theft Awareness
Educate yourself about the riskiest situations. Dogs left unattended are more vulnerable to pet theft. Don't leave your pet alone in your yard or your car or tie them up outside of a store while you go inside.
National Pet Theft Awareness Day is February 14th each year, which helps to raise awareness on a national scale.
Proof Of Ownership
Make sure you have current documentation that proves you own your dog. These include adoption papers, licensing documents, veterinary records, proofs of purchase for animal care supplies and recent identifying photographs.
Keep Tags Updated
Make sure you update your dog's collars and ID tags with your current phone number and other contact details. If you recently moved, make sure you update this important accessory immediately.
Get Your Dog Microchipped
Most animal shelters or veterinary clinics can microchip your dog. If you're on a tight budget, look for free or low-cost microchip opportunities that your local shelters, rescue groups, and other organizations  hold.
A key component to microchipping is to register the chip with the manufacturer's registry, as well as universal microchip registries, like Michelson Found Animals' registry.
You also must update your contact information with these registries if you move or change your phone number.
Someone Stole My Dog: What Can I Do?
If you suspect that someone stole your dog, it's critical to take the following steps immediately:3
1. File A Police Report
Call the police and animal control in the area where your pet disappeared and be sure to file an official police report. However, don't stop there with your efforts. A stolen dog is likely a low priority for your local authorities.
2. Post Your Dog's Microchip Number
If your dog has a microchip, ask to have their unique serial number, along with the dog's description, posted in the "stolen article" category on the National Crime Information Center.
3. Canvass The Area
Since stolen pets are usually a low priority for police, you should do the investigative legwork. Talk to people in the immediate vicinity where your pet went missing. You never know who may have witnessed the actual theft or seen your lost dog.
4. Distribute Flyers
Always make sure you have a recent photo of your pet so you can quickly make flyers if they go missing. Post your flyers around your neighborhood, on social media and local websites to get as much visibility as possible.
5. Search For Sale Ads
Your stolen dog might end up on a local for-sale ad online if taken by a dog flipper. Check your local message boards and for-sale ads.
6. Check Local Animal Shelters
Dog flippers may leave your dog at an animal shelter if they realize selling it is not a lucrative option. It's always a good idea to visit your local shelter in person to see if your stolen pet is there.
7. Contact The Media
Call or email your local TV station, radio station and newspaper and request that they place a post on their website about your missing pet. Here's a local story in Tulsa, OK, about how one man was able to get his story out to hopefully recover his stolen Cavalier King Charles Spaniel.
How Can I Track My Lost Or Stolen Dog?
Another measure you can take to recover your dog is to invest in a dog collar GPS tracking device like Whistle. See our Whistle review to learn more. However, if the collar is removed, you will not be able to track the location.
Video: Stolen Dog Laws
Watch and share this one-minute video we created to help spread awareness about dog theft prevention.
How Can I Keep An Eye On Thieves?
Don't assume that your home is safe from pet theft. Some burglars will enter your residence to steal a valuable dog. How can you protect your pup — and your home?
Be sure to check out our reviews of the best doggie cameras, which include WiFi cameras with live-streaming video, to find out which would be best to install in your home.
Why are you concerned about someone stealing your dog?
Sources: [1] iHeartDogs; [2] Michigan State University College of Law ; [3] Animal Legal Defense Fund
Disclaimer: This website contains reviews, opinions and information regarding products and services manufactured or provided by third parties. We are not responsible in any way for such products and services, and nothing contained here should be construed as a guarantee of the functionality, utility, safety or reliability of any product or services reviewed or discussed. Please follow the directions provided by the manufacturer or service provider when using any product or service reviewed or discussed on this website.