To sustain this free service, we receive affiliate commissions via some of our links. This doesn't affect rankings. Our review process.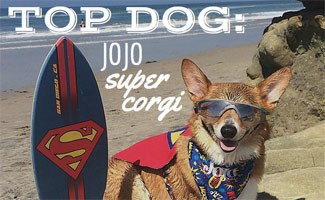 Super Corgi JoJo is a Pembroke Welsh Corgi that was born in Washington. He loves tennis balls and lasers. He's lives in San Diego and roots for all the local teams, especially the Chargers and Padres! About a year and a half ago he and his mom were attacked by two large dogs. At the time, my dad was deployed and both parents did everything in their power to help save him. They took a lot of money out for surgeries and rehabilitation. Vets said it would be lucky if JoJo survived but he did. They also said he would be lucky if he walked again and he did! In addition to walking, he surfs because it helps to keep him active and he loves it.
His name is Super Corgi Jojo because he was knocked down and got back up. His message is that you shouldn't let what others think or say affect your true person. You should always stay strong and positive and support one another. He wants to show furfriends and people that they too can bounce back, even when something bad happens to them. I guess, in a way, he wants to show them that there's always hope! JoJo wants to help out others similar to the way the Corgi Instagram community supported him.
1. How did you earn the title of Super Duper?
I added Super Corgi Jojo to my name about a year and a half ago when we started my Instagram. We saw that Superman helped others and we wanted to help others, too. Just like Superman never gives up and overcomes everything, Mom and Dad said that's exactly like me and my name was born.
2. How did you find your forever home?
I didn't find my forever home, it found me. I came from a breeder and spotted my CORG mom about four months after I was born. She has not only been my pet owner but truly a mom to me.
3. We noticed you paddle board. What's your favorite paddle board stance? Can you hang 8? 😉
I paddle board. I surf. I hike. In fact, I go anywhere these stumps will take me! At SoCal Corgi Beach Day, I was surfing 10 foot waves! When paddle boarding my favorite stance is downward dog. Yes, I do yoga on a surfboard but if I get hot, I'm Corgi flopping into the ocean! I throw up a hang 8 every once in awhile!!!
SoCal Corgi Beach Day
Learn more about this huge and amazing event in Huntington Beach every year that is all about these lovable little cuties: The Corgi! Jojo attends too as part of the beach dog crew and BuzzFeed stopped in to check it out and share so you can see the cuteness too.
4. What is your favorite treat?
My favorite treat is Beggin' Strips
or Zuke's
. They are both so yummy. I'll do any trick for these!!!
5. What's your greatest talent?
My greatest talents include smiling, helping others by volunteering and being a therapy pet. I volunteer at the USO in San Diego to help those that keep us free.
6. Besides paddleboarding, what are some of your favorite past times?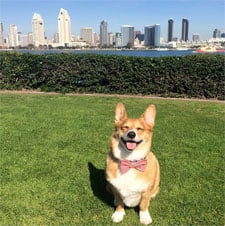 I love to hike from either Cowles Mountain to Cedar Creek Falls or a celebrity trail hiking to the Hollywood sign in Los Angeles. I surf every chance I get. I'm like a fish at the beach – I'm either in the water, playing ball, surfing, or swimming around. I will be in the SoCal surfing competitions this year. Last year I competed in the Helen Woodward dog surfing competition and Huntington Beach dog competition. I like going to Disneyland, the zoo and other amusement parks. I like to travel and I love to try things humans doubt us dogs can do!
7. What other dogs do you admire and why?
I admire Lassie because he saves people! But, in truth, I really admire every dog, because each dog has a special character to them. There's not one that stands out as the best because we are all PAWSOME in our own way!
8. What's your favorite place to hang out in San Diego?
I like running on Pacific Beach with my CORG dad, surfing at Del Mar Beach, getting a burger patty at Slaters 50/50, and chasing the ball at every dog park in San Diego. You name it, I've been there!
9. What advice would you offer aspiring celebrity dogs?
The advice I would give to aspiring dog stars or celebs is to use your fame to help others. That's our main reason for Instagram, to brighten your day with my smile or help our furfriends in need.
10. Anything else you'd like to add?
Thank you for doing this interview!
Disclaimer: This website contains reviews, opinions and information regarding products and services manufactured or provided by third parties. We are not responsible in any way for such products and services, and nothing contained here should be construed as a guarantee of the functionality, utility, safety or reliability of any product or services reviewed or discussed. Please follow the directions provided by the manufacturer or service provider when using any product or service reviewed or discussed on this website.