To sustain this free service, we receive affiliate commissions via some of our links. This doesn't affect rankings. Our review process.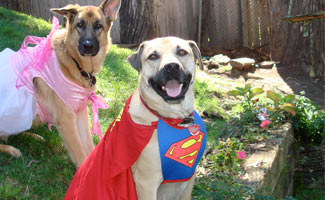 Top Dogs is a segment where we feature a Q&A session with a famous canine.
Super Smiley is this month's Top Dog. He is a mixed breed pup with a killer smile that will charm the pants off of just about anyone. Perhaps this is how he can convince so many people that adopting rescue dogs is really the best way to go (and we could not agree more, Smiley!). His wide grin has captured the attention of Betty White, Katherine Heigl, Dick Van Patten and other celebrities too. He also has been the inspiration behind an award-winning radio show and documentaries (or "dogumentaries" as he likes to call them), has received an Honorary Mention award from the Humane Society of the United States, and is the creator of nationwide touring flash mob and a humane education program for kids called The Super Smiley® Kindness Program.
Want to learn more? You can like Smiley's Facebook page and become a part of his movement to educate and encourage more rescue dog adoptions.
1. What's Your Favorite Treat?
I love carrots. I have a pony and we share a big horse. Mini HaHa and Starfire are my family and best friends. We all enjoy crunching carrots together. And Megan says they are good for us!
2. How Old Are You (in people years)?
I think I am 6. But I live in the moment for now, so if you ask me what time it is, I will say NOW!
3. Who's Your Best Playmate And Why?
I have two best playmates. One is my person, Megan. She thinks of lots of good games and I run and smile and pant when we play. My other best playmate is Angel, my German Shepherd girlfriend. She is very beautiful. I get to roughhouse with her. We jump and slam into each other and chase each other. We play growl and then we lie down to take a nap. It is sooooo fun!
4. What's Your Best Trick?
My best trick is smiling. I know that doesn't seem like a trick, but I get lots of people's attention that way. Then they look at me and I tell them how great adopted dogs are. That is a very good trick. People tell me I'm like a secret weapon. I pull them in and then, pow, they are hooked and have to go adopt a dog!
Oh, when I was the celebrity dog presenter at the Hero Dog Awards, I presented to Ryan O'Neal for Farrah Fawcett. The humans who spoke for me were Victoria Stilwell and Megan Blake. When I walked out on stage with them, I did the high-five and the audience liked that very much!
5. How Do You Feel About Cats?
I love kitties! I had one for the whole time from when Megan adopted me. Tout Suite The Travel Kitty. We loved each other, but he went to Rainbow Bridge last year. Megan is still sad and I miss him too. When she says his name, I still look for him.
6. What's Your Favorite Role, To Date?
I'm sooooo Super Honored to be the National Spokes-Dog for the American Humane Association Hero Dog Awards! We celebrate the Pawsome Bond between Dogs and their People. From Therapy Dogs to Military Dogs, they are all heroes. And, I know that when people look down at their dog, they are looking at their own personal Hero Dog! And I also have to say I LOVE leading the Super Smiley Flash Mob 4 Pet Adoption!!! They are the best in the whole world! And we now do the Super Smiley Flash Mob 4 Kindness with a whole teaching program, The Super Smiley Kindness Program. I'm a very good teacher. Woof!
7. Who's Your Favorite Fellow Celebrity Dog?
I've met lots of celebrity dogs, and this is very hard because they all are Super Amazing!!! All of them! So I have to pick two! They are both beautiful girls. Elle is the 2014 American Humane Association Top Hero Dog! She is very beautiful and loves reading with kids. I read with kids too! We have sooooo much in common! But when I go from Malibu to NC, I get to visit with Susie of "Susie's Hope." We play and she is one of my very good friends. She let me be in her movie too! I love them both!
8. What's Your Advice For Dogs Looking To Make It In Showbiz?
Oh, that is a very good question. The first thing and the very most important thing is that you have to be true to your own talents. Angel, my German shepherd girlfriend, started out being Megan's spokes-dog. She is soooooo beautiful and sooooo gentle. It seemed she would be perfect. But actually, I kept getting in the very front on the Red Carpets. And I had the giant smile. And people kept talking to me. That's because I was being me, and Angel was being her. I was meant to do what I do, and Angel is meant to do what she does. So my advice is to be yourself and see where that fits into the world. All dogs are healers and teachers, no matter how or where you do it.
Disclaimer: This website contains reviews, opinions and information regarding products and services manufactured or provided by third parties. We are not responsible in any way for such products and services, and nothing contained here should be construed as a guarantee of the functionality, utility, safety or reliability of any product or services reviewed or discussed. Please follow the directions provided by the manufacturer or service provider when using any product or service reviewed or discussed on this website.