To sustain this free service, we receive affiliate commissions via some of our links. This doesn't affect rankings. Our review process.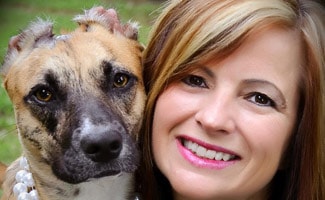 Top Dogs is a segment where we feature a Q&A session with a famous canine.
Our Top Dog for June is sweet little pit mix, Susie. If you don't know her yet, you will soon: Susie's story was recently made into a major motion picture, "Susie's Hope." After being lit on fire and left for dead by her owner, Susie was found weeks later in a park in Greensboro, NC. The community rallied around her, donating funds for the surgeries that would save her life. Soon after, Susie found her forever home and she and her mom have been making big changes across North Carolina ever since. But I'm going to let Susie tell the story. It is her's to tell, after all.
1. Can you share a little bit of your rescue story?
On August 20, 2009, I was found burned, severely beaten, and close to death in Greenfield Park in the southern part of Greensboro, North Carolina. For nearly two weeks I had lain hidden away, suffering alone with second and third-degree burns over 60 percent of my body. My jaw was broken, some of my teeth were knocked out, my ears were burned to nubs, and scars ran all the way from the top of my head down my back to my stomach and butt area.
I was only eight weeks old when the violent incident happened; I was so little and very afraid. Death was just around the corner. Yes, my owner did this to me. He set me on fire by pouring lighter fluid on me and striking a match, all because I licked his baby in the face. Licking is what I do to everyone I meet to show my love and affection. Somehow I had managed to survive for nearly two weeks without any food or water. Finally, when a passerby in the park spotted me, my open wounds were covered with more than 300 maggots, which had to be removed, one by one, from my tortured skin. Later the veterinarian said that the maggots probably saved my life, because they ate away most of the infection.
I was immediately taken to the Guilford County Animal Shelter where I began to receive the care that saved my life. The community showed great support, rallying together in order to pay for the expensive surgeries and ongoing treatments. Leftover funds were used to start Susie's Fund, which helps pay for similar life-saving procedures that other abused animals need.
For a couple of months, I had to endure daily treatments for my burns, initially having to be anesthetized to survive the pain. I was placed in foster care, and my foster parents were instrumental with my recovery. While in their care, I met my forever parents. Donna and Roy Lawrence adopted me in December of 2009. I was only three months old at the time. Before adopting me, Donna took care of me for a week while my foster family was on vacation. She also started keeping me on the weekends as well. We grew very fond of each other and developed a special bond. It had been a year since Donna was attacked by her neighbor's neglected pit bull, an attack that nearly ended her life. Donna knew right away that she and I were kindred spirits, and each of us helped the other heal the emotional scars while our physical scars started to fade.
Three months after I was found, the perpetrator of my abuse was caught and arrested thanks to a tip through Crime Stoppers. However, justice would not be served. North Carolina's structured-sentencing guidelines only allowed the guilty party, to serve four to five months of a suspended sentence (probation) for a Class I Felony of Cruelty to Animals. Shocked by the outcome of the hearing, concerned community citizens began asking what they could do to make the animal-cruelty law tougher. My mom and foster parents began to educate themselves on our state's animal-cruelty laws and went on a county-by-county crusade to get support of North Carolina house Bill 1690 and Senate Bill 254. A letter to our legislators was drafted, and countless letters and e-mails from constituents began pouring into our state representatives offices.
Donna and I accompanied some other animal activists, including North Carolina Senator, Don Vaughan, to garner support for Susie's Law. The Law made the kind of abuse I suffered a Class H Felony in the state of North Carolina. The grassroots campaign was long and challenging, but Governor Bev Purdue signed it into law on June 2010. I even got to sign the bill with my paw print! On December 1, 2010, Susie's Law went into effect.
2. Who is your favorite playmate and why?
My sister, Baby-girl. She loves chasing me all over the yard, and we have so much fun. Baby-girl has always accepted me for who I am, and never seemed to be bothered by the way I look. She just overlooks my scars and no ears as if I was just a normal dog like her.
3. What do you like most about being in front of the camera?
Being able to tell my story, to help other dogs, and of course all the good treats I get for my superb acting.
4. What's your favorite treat or reward?
Peanut butter. I love peanut butter.
5. If you could be anyone for a day who would it be?
I wouldn't want to be anybody but myself, because I have learned so much through my experience: the joy of love and forgiveness, helping so many other dogs find their voice. So, being me has become pretty cool. Although being Scooby Doo would be pretty awesome, too.
7. How do you feel about cats?
I love cats. I live with seven felines and they are awesome. We have so much fun playing and chasing each other. I think I like cats better than dogs…well, except for Baby-girl.
8. We've noticed you like to dress up. What's your favorite outfit?
I love wearing my tutu, with my pearls.
9. Who's your favorite fellow celebrity dog?
Lassie.
10. Anything else you'd like to share?
I have recuperated very well, and I spend most of my time alongside my mom in her hair salon, surrounded by people who love and appreciate me. I am now a registered therapy dog. I hope to work with burn victims and to help teach them that anyone can go from being a victim to living a victorious life.
Since the new law has been passed, my mom and I have been very busy. We go all over North Carolina visiting schools, churches, pet adoption fairs, and fundraisers. We teach people about preventing animal abuse and the importance of pet care, as well as animal-safety tips. We want to continue to bring awareness to animal-cruelty issues. I am most excited about my new movie "Susie's Hope," which my mommy says will be a great tool to bring awareness to animal cruelty on a national level. The movie tells the bond of my mom and I and the tragedies we both went through, how we healed one another and helped get a law changed in North Carolina.
I also want to share with everyone that I have been nominated to participate in the 2013 American Humane Association Hero Dog Awards, and I would love to be 2013's American Hero Dog. So please cast your vote for me! You can vote everyday through July 30th. I am nominated in the Emerging Hero Dog category. Thank you and please share with all your friends.
Thanks for sharing your story, Susie. To keep up with her adventures, follow Susie on Facebook, or visit her website SusiesHope.com.
Nominate A Top Dog
Have a Top Dog you think is worthy of being featured on CanineJournal.com? Send your nomination and a brief description on why your nominated pup deserves the spotlight too.
Disclaimer: This website contains reviews, opinions and information regarding products and services manufactured or provided by third parties. We are not responsible in any way for such products and services, and nothing contained here should be construed as a guarantee of the functionality, utility, safety or reliability of any product or services reviewed or discussed. Please follow the directions provided by the manufacturer or service provider when using any product or service reviewed or discussed on this website.