To sustain this free service, we receive affiliate commissions via some of our links. This doesn't affect rankings. Our review process.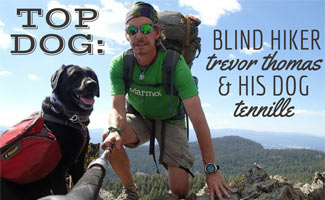 Tennille was Born on November 27, 2010, at Guide Dogs for the Blind (GDB) Kennels in San Rafael, CA. After spending the first year of her life with GDB puppy raisers, she returned to campus for another year of intensive training to become a guide dog and was partnered with Trevor Thomas, the only blind professional long distance hiker in the world. The pair received additional training during school along with several years of further customization developed by Thomas. Tennille is currently the only dual mode dog capable of performing backcountry guide work in addition to her standard guiding duties. Her skills are continually evolving based on new environments and situations the pair encounter.
The pair have been partners for over 3 and a half years and have hiked more than 6,000 miles together on many of North America's most difficult and demanding long trails. Their excursions included the completion of thru hiking the Mountains to Sea Trail, the Long Trail, the Tahoe Rim Trail, and the Colorado Trail. Tennille has also reached the summit of Mt. Elbert (Colorado's tallest summit) and the tallest peaks in both the Carson and Tahoe Mountain Ranges.
As if that list isn't impressive enough, Tennille is also a sponsored athlete and brand ambassador for SPOT, Ruffwear, Marmot, Big Agnes, and In Clover. She has been featured in numerous magazine and newspaper articles, NBC Nightly News, numerous local and regional television spots, will be featured on The Secret Lives of Dogs in January 2017, and is a feature in Service Tales Book by Ace Collins. Tennille is currently in active service and resides in Charlotte, NC, with her partner, Trevor Thomas.
It's our honor to share Tennille's experience and story with you. Read on to learn more.
How did you get started as a service animal?
I was born at the Kennels for Guide Dogs for the Blind in San Rafael, CA on November 27, 2010. After being whelped, I went to live with my puppy raiser family for the first year of my life. Tasha Laubly and Manny Diaz along with their children, Alex and Drew, raised me and taught me basic obedience and began preparing me for my special job as a potential guide dog. When I turned one year old, I returned to Guide Dogs for the Blind for my advanced training and potential matching with a human partner, assuming that I passed all of my classes and evaluations. That training lasted for an additional year. I was nearly 2 years old before I was matched with my person, Thomas.
How did you and Thomas find each other?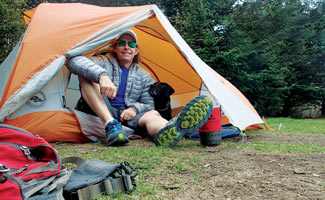 Guide Dogs for the Blind matches guide dogs, like me, with recipients based on many characteristics of both the recipient and potential guide. They want us to bond well with our human and be able to assist them with the type of work they need us to do for them. I was really active and energetic, super smart, and sometimes could be a bit head strong. As a result, the people at Guide Dogs for the Blind thought it would be hard to find me a human that would be able to keep up with my active lifestyle. While I was waiting to be matched with a human, Trevor Thomas applied for a guide dog that he wanted to do unconventional work in addition to all of the regular guide work we all are trained to do. He needed a partner to assist him while he went on really long hikes in the woods. The people at Guide Dogs thought I would be up for the task of learning these new skills, so they introduced us. I liked him a lot, and that is how our partnership began. I felt really proud because if I could not have learned all of the new skills that he needed me to help him with, he would probably not have gotten a guide to help him. We have been together for a little over 3 1/2 years and have hiked over 6,000 miles together, completed five thru-hikes, and done some really amazing and fun things since then.
How did you train for your first long hike and where was it?
What my human, Trevor, needed me to do was to perform guide work in the backcountry in addition to all of my regular guide work. This had never been attempted, so we spent additional time with our instructor at Guide Dogs for the Blind learning new techniques to teach me my new skills in addition to all of our regular class work. It was really intense. The real work started for us after we graduated from school and I went to live with him in North Carolina. Every day, we worked on my stamina so I would be able to hike about 20 miles per day when we got on the trail. We would go out every morning for long routes where we worked on my regular guide work and in the afternoon, we would go out again to work on my backcountry guiding skills. All of this was a continuation of the training we received at school and solidified our partnership. I really liked my new job, but the best thing was that I got to eat really good, all natural, high energy food. It was really yummy. After six months of constant work, we packed everything into a big backpack for him and a little one for me, then left for our first really long hike in the woods. It was called The Mountains to Sea Trail which was 1,000 miles long, starting at Clingman's Dome in the Smokey Mountains and ended in the Outer Banks on the North Carolina coast. Since then, we have hiked all over the United States and continually work on developing our skills and refining our partnership.
What is your favorite hike or event that you have been a part of?
My favorite trail that we have thru-hiked was the Colorado Trail that we completed in 2015. That one was special because Thomas had tried to do it alone in 2011 and was not able to complete the trek. With my help, we were able to finish it together. That was the main reason he began looking for a guide dog partner with my special skills in 2011.
Overall, I like that we do so many different things like going to trade shows, giving speeches, and events with Thomas' Team FarSight Foundation. I think that I like the foundation events the most because we work with blind kids.
No matter where we go or what we are doing, I feel that a big part of my job is to be an ambassador for guide dogs. Much of what we do is to educate the public about guide dogs and what we do for our humans. It is very important and exciting for me.
What do you carry when you are hiking?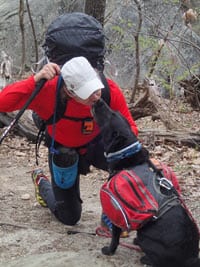 I take a lot of gear with me when we go hiking, but my human, Thomas, carries much of it for me. He carries all of my food, water, sleeping bag and my sleeping pad. What I have in my pack is my rain shell, collapsable bowl, pack towel, my boots, supplements for my coat, teeth and joint health, and my elk antler chew toy. I also have my SPOT Gen 3 satellite tracking unit attached to the outside of my pack which allows our support team to track me and if something were to happen where I got separated from my human, Thomas, people would come to find me and return me to him. I think more of us should have one of these things to keep us safe when we go on adventures in the woods.
I am a working dog, but my job is to help navigate and keep Thomas safe wherever we go. He carries most of my weight to keep me healthy and safe in return. It is a pretty good arrangement that we have.
What do you feel is your best characteristic and why?
I think that my best characteristic is that I learn things really fast which helps when we are confronted with new situations and problems when we are in the backcountry or in everyday life. We have been together long enough that I can anticipate what my human, Thomas, needs and in many cases can recognize and solve problems before he asks me to help him.
I have a pretty large vocabulary and can identify lots of things, so one of the activities that I really enjoy is shopping for my human, Thomas, at the grocery store. I can find most of the items on his list, at least the ones that he wants to buy more than once. When we go to the store, my human, Thomas asks me to find things that are on his list like Coke, Fritos, pork chops, or the particular brands of frozen pizza or yogurt he likes. Bananas are my favorite item to find because they are for me. Since the people at the grocery store continually move the items, it is like a scavenger hunt for me. We go up and down each isle until I spot what it is he has asked me to find. It really does not matter to me which grocery store we go to, I can find what he needs at any of them. The funny thing is that other humans have started following us around the store to watch me find things. They always seem to be amazed that I can do it. For me, it is just part of my job.
What is the biggest challenge you will face in the future?
We just returned from Colorado where we had to abandon our thru-hike attempt of the Collegiate Loop. Unseasonably hot temperatures made it unsafe for us to complete our attempt. As a result, we are planning on returning in the Fall to finish after temperatures become milder.
Following that, we will be heading to California to thru-hike the John Muir Trail and summit Mt. Whitney (tallest mountain in the contiguous United States). None of these treks have ever been attempted solo, by a blind person and a guide dog so it will be really exciting and rewarding for us.
Any funny stories to share from your adventures?
There are two stories that come to mind. The first one is from training at Guide Dogs for the Blind. I remember one afternoon following our field work. All of us were required to gather in a room with our humans to listen to a lecture by one of the instructors. Our humans sat on couches, and we had to lay down on the floor at their feet. The floor was really hard, and I noticed a pile of pillows not too far away from me that I really wanted to lay on. I decided that it was worth the risk to try and get one, so I slowly crawled over and grabbed one with my mouth. I inched back to where I was supposed to be without being noticed, placed it appropriately on the floor and curled up on it. One of the instructors caught me doing it and my person, Thomas, got in trouble for it. I was very proud of my ingenuity. I think that was when everyone began to notice just how smart I was.
The second story I like comes from a charity hike that we were doing in Northern California, near San Francisco. We had hiked about 15 miles, and the hike was nearly over when we came upon a lone mud pit in the middle of the trail. I warned my person, Thomas, that it was there. It smelled really bad, but I still wanted to get in it, so I did. I sank all the way up to my neck. It was heaven to me. The bad thing was that we had a long ride back to our hotel in our driver's car, which I got foul smelling mud all over. What made things worse was that it was late on Sunday afternoon, and we had a really early flight home in the morning. We had to find special soap to bathe me in the bathtub at the hotel so I could get on the plane. Thomas was not happy with me, but I finally got clean, and we made our flight. I knew that I would get in trouble for doing it, but it was worth it to me and if given the chance I would do it again.
Video: Trevor and Tennille in Action
Watch this one minute video to step in the shoes of Tennille and Trevor hiking in Virginia. This is quite an impressive feat, even for someone who isn't visually impaired!
What is the most important message to share about service dogs?
I think that it is the responsibility of all humans who have a service dog to educate the general public about us and our special jobs that we perform for our partners. Throughout my travels, I have encountered many people who have never met a service dog and have no idea what we do, how to interact with us, or what is involved in training us to do our special jobs. If our humans would take a moment to inform people about us, many of the problems we encounter could be alleviated. It is our human's obligation to protect us as much as it is our responsibility to take care of our humans. For those people we encounter in everyday life, I would encourage them to ask questions about us. So many people do not realize that we are different from pet dogs and that when we are in public, we are working. People need to respect the boundaries regarding interaction with us and ask our human what is permitted before attempting to engage us.
Another concern is our legal right to access public places. Many people do not understand that because of the special jobs that we perform, we are allowed access to all public places such as restaurants, hotels, and all businesses. Many people are getting their pets certified as service animals these days which is causing problems for dogs like myself who are legitimate service dogs. Laws need to be changed so that only properly trained dogs can receive this legal certification. This could help alleviate access problems for our disabled humans who need us simply to make their lives manageable.
Which fellow service dog do you admire the most and why?
I do not like to single out any one service dog because we all are making a difference in our human's lives. There are some amazing stories out there, however. Recently, Ace Collins published a book called Service Tails where he shares stories about many amazing partnerships between service dogs and their humans. I would recommend that people read it. Our story is featured there, along with several others.
Any advice for other dogs looking to make a difference in the world?
The best advice that I can give to other dogs looking to make a difference in the world is to be patient with your human partner. They are starting to realize that we can do so much more than they originally thought we could. We need to work really hard to show them that there are really no limits to what we can do, as long as our humans are willing to work with us to develop our true potential. No matter what type of service dog you are, you can make a difference in your human's life.
Is there anything else you would like to share with our readers?
As a guide dog, I wanted all humans to know that September is National Guide Dog Awareness Month. I encourage everyone to learn more about us and some of the amazing ways we are assisting our humans accomplish things and achieve goals that would not be possible without our help. The jobs that we perform for our humans are very important, and we appreciate being recognized for all of our hard work.
What inspires you most about service dogs?
Disclaimer: This website contains reviews, opinions and information regarding products and services manufactured or provided by third parties. We are not responsible in any way for such products and services, and nothing contained here should be construed as a guarantee of the functionality, utility, safety or reliability of any product or services reviewed or discussed. Please follow the directions provided by the manufacturer or service provider when using any product or service reviewed or discussed on this website.