To sustain this free service, we receive affiliate commissions via some of our links. This doesn't affect rankings. Our review process.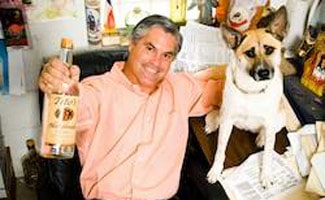 Tito Beveridge, founder and CEO of Tito's Handmade Vodka in Austin, TX, built his distillery 15 years ago with his companion DogJoe, a white shepherd mix, right beside him. At the time, Tito did not realize that the distillery, which is located in a large, open field, would be an attraction for so many abandoned dogs. Since this discovery, Tito and his team have taken responsibility for caring for each of these animals and have since rescued over 30 stray dogs. Some of the dogs even live at the distillery today. On any given day you will see dogs roaming the marketing offices or the property, and feeling right at home.
Buy a Leash, Donate a Leash
One employee in particular, Elizabeth Bellanti-Walker, a member of the Tito's Marketing team for the past ten years, sought extra measures for animal rescue by documenting her experiences through her blog UpWithMutts. On this site, Beth also designs and sells dog leashes, donating one dog leash to a shelter dog for every one sold. As a side to her Tito's role, Beth is an active doggie foster mom. She recently appeared in a commercial for Nutro dog food with her own rescued dog named Stella who appeared at the distillery with a pack of wild dogs and coyotes four years ago and had seven babies in a woodpile on the distillery grounds. After health issues were addressed with both mom and pups, the company had a huge party for Tito's 10th Anniversary and everyone that wanted a puppy took one home. "It has been easy for me to place dogs," she says. "Other than working at Tito's it's what I'm supposed to be doing."
Catahoula – A Special Breed of Dog
Beth had always adopted mutts until she found out about Catahoula's. "Native American legend has it they're the oldest traced dog in America," she says. "I don't know why that spoke to me, maybe because I have Native American blood in me." In addition to rescuing several herself, she also transports and fosters pups for Catahoula South Central, and is starting a Catahoula meet-up group this fall in Austin to raise awareness for the breed and hopefully find more foster homes for the organization's dogs. She's currently working to launch an extension to the Tito's website, VodkaForDogPeople.com, that will raise money for national low-cost spay and neuter programs through the sales of dog-related Tito's merchandise.
Dog Rescue
Beth currently has three dogs that she's adopted, and a foster stray that she saved this past Independence Day. "I can't drive past a sick, starving dog and not pick it up," she says. "Most everyone that works at Tito's rescues dogs as well. It's a village." Of her tireless work with dog rescue, she says: "Maybe I just feel like it's all possible. I get my heart broken a lot but I just keep going. I don't have kids, but this is the way that I mother."
Tito's Vodka's Dog Rescue Efforts
Tito's Handmade Vodka is highly active in Austin-area rescue organizations, including but not limited to, the Austin branch of Emancipet, Austin Pets Alive — the city is now the largest to go no-kill and boasts a 90 percent save rate — Love-A-Bull, the Humane Society, Pinups for Pitbulls, Puppy Mill Awareness Day, among others.
About Tito's Vodka?
Some of the country's top bartenders and mixologists have called Tito's "one of the smoothest expressions of the spirit." The Austin-born-and bred liquor was rated higher than Ketel One, Absolut, Belvedere, and Grey Goose by Wine Enthusiast with a score of 95 points. But more than their retail success, Tito's prides themselves on the work they do with rescue dogs.
Disclaimer: This website contains reviews, opinions and information regarding products and services manufactured or provided by third parties. We are not responsible in any way for such products and services, and nothing contained here should be construed as a guarantee of the functionality, utility, safety or reliability of any product or services reviewed or discussed. Please follow the directions provided by the manufacturer or service provider when using any product or service reviewed or discussed on this website.