To sustain this free service, we receive affiliate commissions via some of our links. This doesn't affect rankings. Our review process.
Tuna the dog melts my heart and is sure to melt yours too. He's a sweet little rescue dog (our favorite kind!) who was found on the side of the road in San Diego, California. Tuna (aka Tuna Melts my Heart) was taken by the rescue organization to a farmers market where he met his forever home Mom, Courtney. She fell in love on the spot and decided to share Tuna's adorable overbite smile with the world to encourage more rescue adoptions as well as love for all living things. As it turns out, the very thing that made Tuna such an unadoptable dog to many (that infamous overbite) actually makes him the most recognizable and famous and, thus, is his second most valuable asset. His #1 best asset of course is his big heart.
When we interviewed Tuna he was touring the east coast of the U.S. along with another Canine Journal fave: Barkbox and you can meet him out on the road when he comes to your town. If he's not coming to town, you can also get to know Tuna the dog better in this exclusive Top Dog interview! And, if you like what you see and read, be sure to join his 1.7 million+ fans on his social media channel of choice: Instagram.
Canine Journal Interviews Tuna the Dog of Tuna Melts My Heart
And, without further ado, here are Tuna's answers to the questions you have been dying to ask. We were so excited to have the chance to talk with him and to learn more about the life of this top dog!
What's your favorite treat?
Cheese and popcorn!
How old are you (in people years)?
24.5 years old
Who's your best playmate and why?
Old Colin and New Colin! One of my aunties gave me Old Colin when I was a puppy. But a few years later, my mom accidentally left him at the park :/ My mom put a "missing persons" sign up in the park to try to track him down. Then, as a cover up, she a bought me a new one. But fortunately a few days later, old Colin was returned to us from a nice lady who saw our missing persons sign. Now I have 2 and I love them equally!
What's your best trick?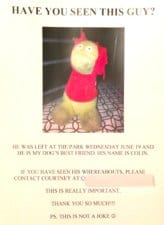 I will retrieve either of my Colin's when my mom slaps her hands on her knees. I will run right over to them and then bring them over to her so we can play catch.
How do you feel about cats?
What's a cat?
What is your best modeling tip?
Make sure to really push your chin down so that you can get a really exaggerated shrivelneck.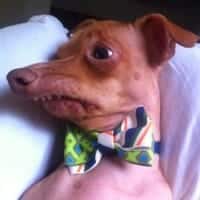 Who's your favorite fellow celebrity dog?
I love Digby and Alo Van Winkle! Not only do they have fantastic names, but they really know how to dress!
What's your advice for other dogs looking to make it into showbiz?
Just be natural. You're adorable just the way you are so don't overdo it or try too hard. People will like you for who you are.
VIDEO: Photo Collage of Tuna Melts My Heart
Disclaimer: This website contains reviews, opinions and information regarding products and services manufactured or provided by third parties. We are not responsible in any way for such products and services, and nothing contained here should be construed as a guarantee of the functionality, utility, safety or reliability of any product or services reviewed or discussed. Please follow the directions provided by the manufacturer or service provider when using any product or service reviewed or discussed on this website.