To sustain this free service, we receive affiliate commissions via some of our links. This doesn't affect rankings. Our review process.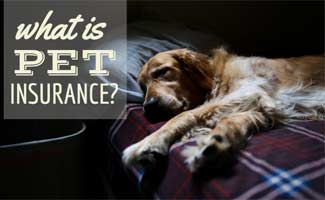 Pet insurance is very much like health insurance: although the policies will differ with each provider, pet insurance covers some basic exams completely and other medical activities on a limited basis. Some policies have a yearly limit while others have a lifetime limit, so it's important that you get the pet insurance policy that is right for you and your family. If you don't have a pet yet, a good place to start is reviewing your pet insurance options to see about the cost per species or breed.
In this article: What Is Pet Insurance? My Experience | Indirect Benefits of Having Insurance | Video Overview | Compare Providers | Understand Your Plan | Reader's Experiences | Would I Get Pet Insurance Again? | Got Questions?
And if you haven't yet, you may want to visit our pet insurance overview page – view it as a portal to all things pet insurance.
What Is Pet Insurance: My Experience
Pet insurance is something I considered with my previous dog, but was never able to get. My dog was too old and had pre-existing conditions so coverage, at the time due to policy limitations, was not a possibility for me. With that said, I did get pet insurance for my current dogs. I had no idea that when I took my newest rescue dog Lily to the vet for her first shots and checkup, she would soon be in an emergency situation that required quick and expensive choices due to a poisonous bite from a Copperhead snake. Luckily, within a week of adopting her, I signed her up for a pet insurance policy and boy oh boy was that ever the correct choice. But I had no idea that so soon in the future – only two months later to be exact – we would have to make such heart-wrenching choices of whether or not to give our dog anti-venom due to financial concerns. We made the quick call and she made it. We were covered and thus, we were lucky. With just one frightening incident, Lily paid for her entire lifetime policy because our carrier, Petplan, covered her.
Pet insurance is such a wonderful option, yet many pet parents don't know about it or don't understand why it's worth the money. If you've been on the fence, wondering whether or not pet insurance is worth it, here are a few things to consider.
Accidents Happen
It doesn't matter how well you take care of your pet, accidents happen. Whether it is a toenail that gets caught in the couch cushion or a cruciate ligament that gets torn from jumping off the bed, it's always possible that your dog could have an accident that leads to large vet bills. When you carry the basic form of pet insurance, your dog is covered in case of an accident. This is the perfect option for those with puppies who would normally only need to visit the vet on an annual basis. Even if you can't afford full-coverage for your adult pets, it pays to carry insurance that will cover emergencies. This ensures that your pet gets the care they need and that you can afford the cost. A pet accident can cost thousands in vet bills, but having a good emergency pet insurance plan will ensure that you're able to recoup up to 80% of the costs.
Some Breeds Have Health Conditions
A number of breeds have health conditions that develop as they age. For example, Pomeranians are prone to hypoglycemia (source: Pet Pom). While not all pet insurance companies cover breed-specific health conditions, some do. If you're the type that loves purebred dogs, this is something you should definitely consider. Purebred dogs are much more at risk for developing health conditions than mixed breeds. Do some research and see what conditions your breed is susceptible to and then research the costs to treat the condition. Chances are you'll find that carrying pet insurance will greatly increase your ability to care for your pet.
A Chronic Illness Can Become Expensive
As I mentioned above, I wasn't able to get coverage for my older dog because she had a pre-existing condition. However, that was before I knew about the variety of pet insurance companies that exist. There are companies out there that will insure pets that have pre-existing conditions. Had I known that, I could have had her insured even though she had breast cancer because when she developed kidney disease after, the costs would have been covered. Don't let pre-existing conditions prevent you from insuring your pet. Do your research and find a company that offers coverage to meet your pet's needs.
Basic Pet Care Costs Increase as Your Pet Ages
Caring for a pet can become much more expensive as your pet ages. Chances are you'll be going to the vet more than one time per year and there may be more unexpected expenses. Full-coverage insurance covers almost all of your vet costs. Whether it's vaccinations, wellness exams, or accidents, your pet will be covered. To get the most out of this type of coverage, and to ensure you get the best prices, you should begin coverage when your dog is an adult, but before becoming a senior. There are companies out there that will not increase the monthly premium as your pet ages, which can save you a substantial amount of money.
Pet insurance is something that you hope to never need. Just like medical insurance for humans, you pay for it so that you have the peace of mind that you can cover the costs should something happen. Whether you carry basic emergency care coverage for your puppy or full-coverage insurance for your adult dog, pet insurance is something that every pet owner should have. And it pays for itself in just one trip to the vet's office after an accident. You'll also be glad you bumped up your coverage when your dog begins to age and the costs of visiting the vet for his/her chronic condition begin to reach well into the thousands. Don't wait for a reason to purchase pet insurance. Do your homework and find a provider so that you have insurance when you need it.
Indirect Benefits of Pet Insurance
Pet insurance is obviously beneficial to you and your pet, but it can also have some indirect benefits. For example, if you can get pet insurance through an existing insurance policy that covers you, your home, or your family, you may be able to get an overall discount for multiple policies. You might also find that having pet insurance can lower the cost of your homeowners insurance, even if they are through different companies. This is due to the fact that your animal may be less of a liability as far as your homeowners insurance is concerned if you have pet insurance.
Video: Pet Insurance Overview
This video we created explains what pet insurance is a bit more and some of the things you should consider when shopping around.
Compare the Leading Pet Insurance Providers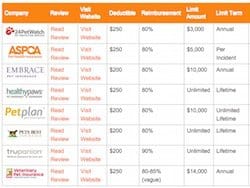 Canine Journal has compiled an in-depth comparison of the leading pet insurance providers. You can view it now by reading our article comparing pet insurance plans.
Understand Your Pet Insurance Plan
Anyone who has — and has used — their pet insurance plan will tell you that it is important to fully understand your insurance plan before you purchase and before you file a claim.
Before Your Dog Becomes Sick
Before you purchase your dog's insurance plan, make sure to familiarize yourself with what each plan offers. Compare the coverage offered under each plan with individual health concerns for your dog and your dog's breed. Even if you have a healthy puppy now, knowing what illnesses are prevalent in your dog's breed will help you to select the right plan for your dog. For example a dog that has an increased prevalence to bone cancer or cancerous tumors should have a plan that provides maximum coverage for this type of illness. While no one wants to anticipate the worst, it is the best plan of action when shopping for an insurance policy for your dog.
After Your Dog Becomes Sick
Familiarizing yourself with your dog's health coverage under his insurance plan after he becomes ill may seem redundant – after all, there is nothing you can do now right? This is true in some respects because you cannot add to your dog's coverage if a health condition has already occurred. What you can do, however, is estimate the size of the reimbursement you should expect after treatment. The easiest way to do this is to call a representative from your dog's insurance company and give them your policy number. The representative will ask what injury you are going to be claiming for and they can give you a breakdown of what type of reimbursement you can expect. This is a much easier method than trying to work out the numbers on your own since various elements of treatment can be classified differently.
Reader's Experiences with Pet Insurance
Don't take it from us, here are some real-life examples from pet owners on their experiences with pet insurance.
Better With Age
After having my own dog on pet insurance, ending her policy, and eventually, covering her with a new one, my own experience with pet insurance only got better with age — and with education.
Why I Ended Our Pet Insurance Policy
I own a black Labrador Retriever that, at just over a year old, was diagnosed with severe unilateral hip dysplasia. It was not until after a set of x-rays and painkillers that I found out this was considered a "hereditary" condition and therefore would not be covered under our insurance policy. At the time of this discovery I was irritated and frustrated; I didn't understand the point of having an insurance policy for my dog if they didn't cover the important things. This was around ten years ago and in that time pet insurance companies have come a long way in offering coverage for hereditary conditions, but back then there was no other option, so I canceled our coverage.
A Few Accidents Later
A number of years went by without veterinary insurance coverage for my dog and I was confident that I had made the right decision for us financially. That was until my adult Labrador showed his true colors – that he is as accident prone as I am. In the span of a few years he was bitten by another dog, ingested a foreign object that caused an obstruction, and developed an abscessed anal gland. It was then that I decided not to tempt fate anymore – plus, I was tired of paying for my veterinarian to take vacations to somewhere warm and sunny while I was a bed nurse for my pup.

The second time around I made the effort to educate myself on the different types of insurance policies available. I chose to go back to our original pet insurance company because their rates were fair and this time I knew what I was looking for – emergency coverage with a cancer extension. This meant that our new plan would cover major incidences at minimal monthly cost and for a few dollars extra monthly we doubled our coverage for cancer as Labradors are quite prone to the disease. My monthly cost had increased since I last had insurance, a result of my dogs age, but if the past couple of years were anything to go by, paying the $31 a month would still be more than worth the cost.
The BIG Incident
My Labrador is going on eleven years old now and in the past few years of coverage I have filed claims multiple times. No time have I been more thankful for our pet insurance plan than earlier this year however, when my senior dog tore his cranial cruciate ligament (think ACL tear.) As soon as I saw how he was walking following the accident, I knew we were in trouble. There were two options available for us for treatment: Leave it to heal itself and hope it stabilized, or pay for extracapsular repair, a surgery that carried a bill of $1800. We had just enough to cover the surgery and were able to work out enough to pay for treatment before the surgery such as x-rays, but by the end of it all, including rehab, we were in just over $3,000. I had known it would be an expensive process but I hadn't quite been prepared for a good chunk of our savings to get wiped out. There was no option but to do it, of course, but still, the numbers hurt.
Assessing the Damage
Before we agreed to a costly surgery I went home and called my insurance company. I explained to them our plan of approach: extracapsular repair with a pain control patch and hydrotherapy for four weeks following to build up muscle in the affected leg. The insurance representative broke down each aspect of the surgery that I had my veterinarian outline. He categorized each and was able to give me a reasonable number for what I could expect to see back from the insurance company once my claims were filed. I also found out that I could file claims as I went for the whole process to help with reimbursements that could go towards other expenses. Knowing what we could expect to see back helped me to budget the money I had available and being able to send in claims as I paid them helped to free up the money I needed to plan additional hydrotherapy. In total I saw around $1,100 come back from my dog's insurance policy, an amount that will be eligible during the next policy period should his second CCL tear (a common occurrence after the first.)
Would I Get Pet Insurance Again?
So, am I happy that I chose to get pet insurance again? You bet I am! $1,100 is 36 months of premiums – three years of paying $31 per month. Could I have saved that much by putting those premiums in to a savings account? Yes, but there is also a chance that over those three years I would have needed that fund for something equally as important. There are also numerous smaller incidences that occurred in the insured years prior to this instance that were all reimbursed. Take it from me, an experienced dog owner, pet insurance is worth it.
Hopefully now you know a little more about the benefits of pet insurance and how it can help your pup.
Do you have pet insurance?
Disclaimer: Information regarding insurance company offerings, pricing and other contract details are subject to change by the insurance company at any time and are not under the control of this website. Information published on this website is intended for reference use only. Please review your policy carefully before signing up for a new pet health insurance contract or any other contract as your unique circumstances will differ from those of others who may be used for example purposes in this article.