How do we keep this site running? This post may contain affiliate links — the cost is the same to you, but we get a referral fee. Compensation does not affect rankings. Thanks!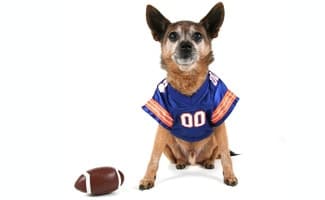 Yes, your pup will look super cool during dog day at the ballgame sporting your favorite team's NFL colors. Please purchase your pet sports products from a licensed vendor and support your sports team franchise. Team logos and corresponding materials are licensed by their respective owners.
Here is a listing of team colors submitted by users to help guide your purchasing decision. This page is for informative purposes only.
NFL Colors By League and Team:
American Football Conference (AFC):
Miami Dolphins – aqua green & orange
New England Patriots – navy blue & red
New York Jets – green & white
Baltimore Ravens – purple, black & gold
Buffalo Bills – royal blue, red & white
Cincinnati Bengals – black & orange
Cleveland Browns – brown, orange & white
Pittsburgh Steelers – black & gold
Houston Texans – navy blue & red
Indianapolis Colts – royal blue & white
Jacksonville Jaguars – teal, black & gold
Tennessee Titans – navy blue, medium "Titans" blue & red
Denver Broncos – navy blue, orange & white
Kansas City Chiefs – red, yellow & white
Oakland Raiders – grey & black
San Diego Chargers – navy blue, gold & white
National Football Conference (NFC):
Dallas Cowboys – navy blue & grey
New York Giants – royal blue, red & white
Philadelphia Eagles – dark green, grey & white
Washington Redskins – burgundy & gold
Chicago Bears – navy blue & orange
Detroit Lions – medium blue, grey & white
Green Bay Packers – dark green & yellow
Minnesota Vikings – purple, gold & white
Atlanta Falcons – black, red & silver
Carolina Panthers – black, medium "Panther" blue & white
New Orleans Saints – black & gold
Tampa Bay Buccaneers – red, grey & black
Arizona Cardinals – "cardinal red, black & white
Los Angeles Rams – gold & navy blue
San Francisco 49ers – burgundy, gold & black
Seattle Seahawks – college navy, action green & wolf gray