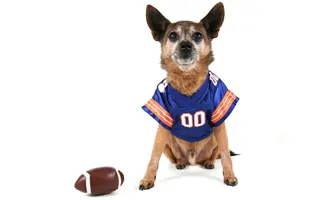 Yes, your pup will look super cool during dog day at the ballgame sporting your favorite team's NFL colors. Be sure to purchase your pet sports products from a licensed vendor and support your sports team franchise. Team logos and corresponding materials are licensed by their respective owners.
Here is a listing of team colors submitted by users to help guide your purchasing decision. This page is for informative purposes only.
NFL Colors By League and Team
There have been a number of changes in team names, locations and even team colors in recent years. So, we try to keep this list as current as possible.
American Football Conference (AFC):
Baltimore Ravens – purple, black & gold
Buffalo Bills – royal blue, red & white
Cincinnati Bengals – black & orange
Cleveland Browns – brown, orange & white
Denver Broncos – navy blue, orange & white
Houston Texans – navy blue & red
Indianapolis Colts – royal blue & white
Jacksonville Jaguars – teal, black & gold
Kansas City Chiefs – red, yellow & white
Las Vegas Raiders – grey & black (formerly Oakland)
Los Angeles Chargers – powder blue, gold & white
Miami Dolphins – aqua green & orange
New England Patriots – navy blue & red
New York Jets – green & white
Pittsburgh Steelers – black & gold
Tennessee Titans – navy blue, medium "Titans" blue & red
National Football Conference (NFC):
Arizona Cardinals – cardinal red, black & white
Atlanta Falcons – black, red & silver
Carolina Panthers – black, medium "Panther" blue & white
Chicago Bears – navy blue & orange
Dallas Cowboys – navy blue & grey
Detroit Lions – Honolulu blue, silver, black & white
Green Bay Packers – bay green & cheese gold
Los Angeles Rams – royal blue & gold
Minnesota Vikings – purple, gold & white
New Orleans Saints – black & gold
New York Giants – royal blue, red & white
Philadelphia Eagles – dark green, grey & white
San Francisco 49ers – scarlet red & metallic gold
Seattle Seahawks – college navy, action green & wolf gray
Tampa Bay Buccaneers – red, grey & black
Washington Commanders – burgundy & gold (formerly Redskins and Washington Football Team)
Tagged With: